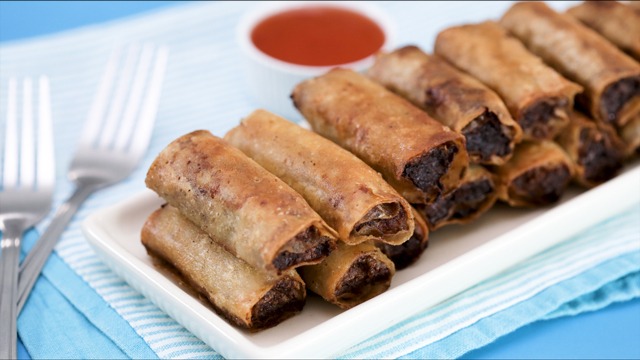 You can't attend a party without this party food staple! A classic lumpiang shanghai recipe is a savory ground pork mixture, usually with finely chopped vegetables and seasoned with Asian sauces to make the filling even more flavorful, rolled into fresh flour wrappers. These are then fried and served with a similarly tasty sauce. 
This is finger party food at its best! 
What makes these fried spring rolls so good is really the filling. It's cooked just until the filling is cooked through so each bite is an explosion of the tender pork filling encased in the crisp texture of the fried wrapper. It's also pretty easy to make a big batch with little effort. 
You can prepare the ingredients the classic way, with a knife and lots of chopping, but we think it's easier to make by using a gadget you might overlook: the grater. By using the grater, you can finely "chop" all the ingredients you need with little fuss. You can also do all this chopping in a food processor all at once but for those who don't have that appliance, the grater is your best friend for anything that needs to be finely chopped. 
You won't bite into lumpia shanghai rolls this tender, delicious, and overall fantastic every day! However, you can make this recipe and enjoy it at home. Here's the recipe: 
Easy Lumpiang Shanghai Recipe
Takes 20 minutes plus chilling 
Makes 36 rolls 
1/2 kilogram ground pork
1 small carrot, finely grated 
1 small red onion, finely grated 
4 cloves garlic, grated 
1 large egg 
2 tablespoons oyster sauce
1 teaspoon sugar
12 pieces large lumpia wrappers
salt, to taste
ground black pepper, to taste
egg, for egg wash   
1 In a large bowl, combine ground pork, garlic, onion, carrots, egg, oyster sauce, and sugar. Season with salt and pepper to taste. Mix until well incorporated. 
2 To assemble, put about 1 to 2 tablespoons filling near the lower part of the wrapper. Fold the wrapper over and roll the wrapper thin, sealing the edges with egg. Slice the lumpia into three using a sharp knife.
3 When ready to cook, heat oil in a pan over medium heat. Place the lumpia in the hot oil, and cook for around 5 minutes each side. Fry in batches. Remove from heat, and drain on paper towels.
4 Serve with sweet chili sauce, banana ketchup, or your sauce of choice. 
Lumpia recipes can be made with almost any filling you want! Try any of these equally delicious recipes using lumpia wrappers: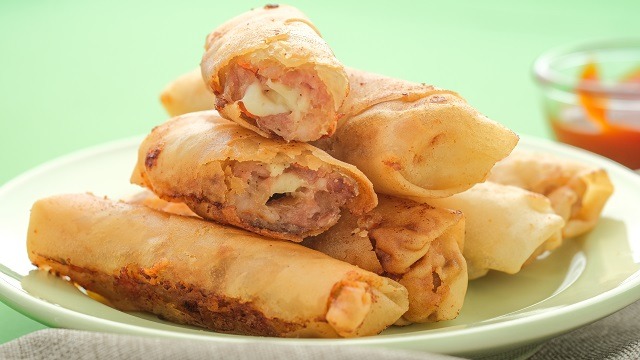 Cheesy Pork and Shrimp Lumpia Recipe
Posted in:
Recipe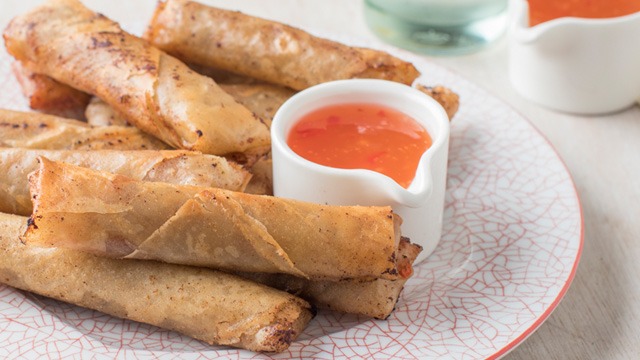 Beef Lumpia Recipe
Posted in:
Recipe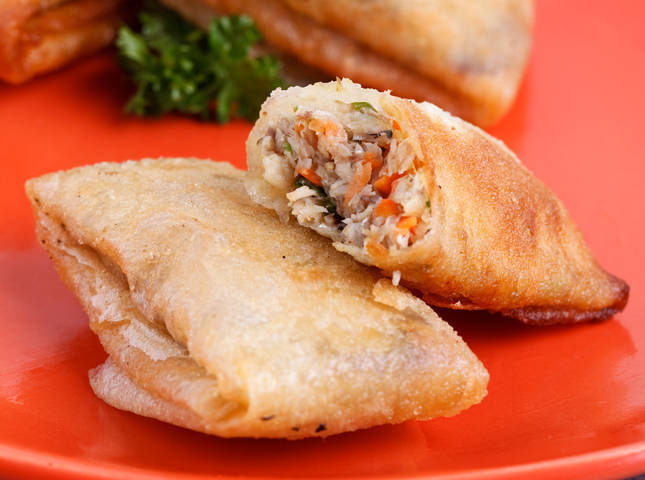 Smoked Bangus Lumpia
Posted in:
Recipe
ADVERTISEMENT - CONTINUE READING BELOW
Recommended Videos