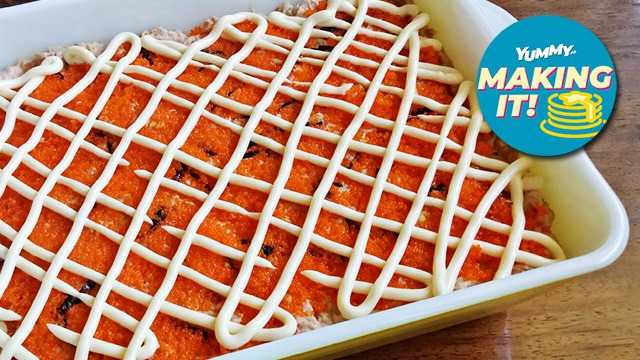 The sushi bake trend is here and it looks like it may be here to stay. While there are some scratching their heads why it is even called "sushi" when it's neither rolled nor bite-sized, this Japanese fusion dish is undeniably delicious and easy to make if you have the right ingredients. 
A sushi bake can be described as a rice casserole, a very unique one at that. It is composed of a thick layer of sushi rice, patted down on to the base of a casserole dish, and then layered with some distinctly flavorful Japanese ingredients. The flavorings and toppings on the rice start with furikake, a creamy mixture of cooked, flaked fish (salmon and crabstick are the most popular) mixed with Japanese mayo and softened cream cheese, and spread with either the orange-tinted ebiko (shrimp roe) or masago (capelin fish roe). This is baked until the tops are lightly browned and the mixture down to the rice is heated through. 
To finish this off before serving, the entire dish is treated to a zigzag of more Japanese mayo and/or sriracha or a hot pepper paste for those who want some heat in their sushi bake. This is served with sheets of toasted bite-sized nori sheets so you can scoop up the rice mixture and place it in the nori before eating.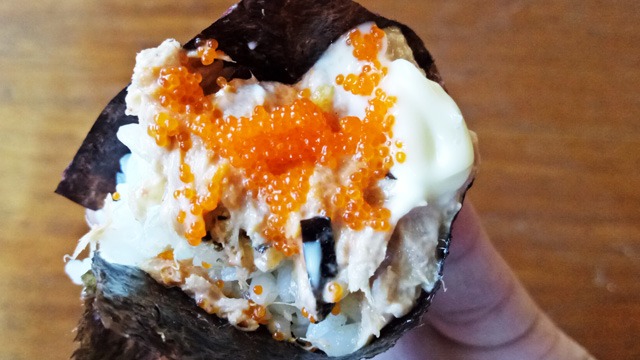 How can anyone who loves sushi resist that combination? 
For someone who doesn't like sushi, this may be their one chance to get on this unique sushi trend! The one big advantage of this trend is that those who don't like eating raw fish can eat this! Plus, it's creamy, filling, super tasty, and ultimately, easy to make at home for those enterprising enough to make the effort. 
This entire sushi bake recipe costs around only P1,296 total at your local Japanese grocery. (Note grocery prices are subject to change and differ per store.) Here's the break down of our grocery list: 
1 kilo Japanese rice = P120 
500 ml rice vinegar = P118 
2 185-grams cans canned tuna in vegetable oil = P122 (P61 each) 
1 227-gram bar cream cheese = P249 
Japanese mayo = P197  
Gochujang

 paste = P111 

  
Chicken furikake = P189
100-gram pack frozen masago = P220  
Aji nori

 

(salted nori) = P70  
Since you don't use up the entire contents of what you just bought, in reality, it's even less and you can even make another batch or two with the ingredients you do have.    
However, the ingredients for sushi bake are getting harder to source! Since the popularity of this trendy dish has skyrocketed, you, like us, might find that your local Asian or Japanese store has run out of certain ingredients. Don't worry though! We discovered that you can make your own version of certain ingredients at home. 
If you need rice vinegar for the sushi rice, try this hack: mix 2 tablespoons coconut vinegar, 1 tablespoon sukang puti, 1 tablespoon water, 2 tablespoons white sugar, and 1/2 to 1 teaspoon salt. This makes a great sushi rice vinegar substitute.     
Have they run out of aji nori sheets? Even this you can make with a normal bag of nori sheets. Here's what you do: using scissors, cut nori sheets into eight pieces. Heat a frying pan over medium heat. Using tongs, place nori sheets on the dry pan and lightly season with salt. Toast the nori lightly for a few seconds or until the sheets turn a darker, deeper color of green. Flip and lightly toast again for a few seconds. Remove from heat and repeat with remaining nori sheets. (Nori will crisp up off the heat.)  
There are two kinds of togarashi or chili pepper powder at your Japanese store, too! The basic togarashi is just the chili flakes, otherwise known as a single spice togarashi. The more flavorful version of the togarashi is the 7-spice blend or nanami togarashi which combines the chili powder, black and white sesame seeds, dried orange peel, ground pepper, ground ginger, and nori flakes. If you can get your hands on the chili powder, even this you can make at home! Just combine the chili powder, toasted sesame seeds, ground pepper, ground ginger, nori flakes, and the zest of an orange to make your version that you can store and keep.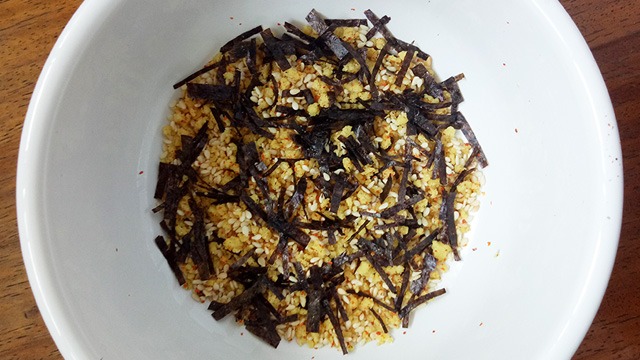 The popularity of furikake, a popular rice topping even before the sushi bake trend reached its summit, was already making packets of this rice seasoning a rare find. However, did you know it's easy to make your own? To make a homemade chicken furikake, you'll need to combine about 1 teaspoon sesame seeds, toasted, 1 to 2 aji nori sheets, cut into small strips, 1 chicken bouillon cube, crushed, and togarashi or chili powder to taste. That's it! 
ADVERTISEMENT - CONTINUE READING BELOW
Recommended Videos
You have no excuse to put off making this delicious do-it-yourself sushi bake! While fresh fish will always trump the canned version and there are certain ingredients you cannot do without, this is the easy version that you can make with worrying about where to find the harder-to-find ingredients. 
Here's how we made this easy sushi bake recipe:  
Canned Tuna Sushi Bake Recipe
Takes 20 minutes
Makes 6 servings 
2 cups Japanese rice, rinsed
1 1/4 cups water
4 tablespoons rice vinegar
3 tablespoons granulated sugar
1 teaspoon salt
2 cans tuna in oil, drained well
1/4 cup cream cheese, softened
1/4 cup Japanese mayo, more for topping
1 tablespoon gochujang or sriracha, or to taste, more for topping  
1 tablespoon chicken furikake
1/3 100-gram pack frozen ebiko or masago, thawed slightly  
Aji nori (salted nori), for serving
salt, to taste
ground black pepper, to taste 
1 In a rice cooker, cook Japanese rice with water according to appliance instructions. Preheat oven to 350 degrees F (180 degrees C) if baking.  
2 Meanwhile, combine rice vinegar, sugar, and salt in a small bowl. When the rice is just cooked, pour this mixture over the cooked rice and toss to fluff the rice. Cover and let stand 10 minutes. 
3 Meanwhile, make the tuna filling: combine drained tuna, cream cheese, Japanese mayo, and gochujang in a medium bowl. Season to taste. (We found the Japanese mayo to be quite salty. We just added ground pepper.)   
4 When the rice is fluffy and cooked, start layering in a 7-by 5-inch baking dish: rice, furikake, canned tuna mix, and masago. 
5 If baking, place in the preheated oven and bake until heated through and the tuna mixture has browned spots. Remove from the oven. 
6 Serve while still hot with nori sheets.   
ALSO READ: 
***
Thinking about what to cook next? Join our Facebook group, Yummy Pinoy Cooking Club, to get more recipe ideas, share your own dishes, and find out what the rest of the community are making and eating!
Got your own version of the classic dishes? Pa-share naman! Get your recipe published on Yummy.ph by submitting your recipe here!