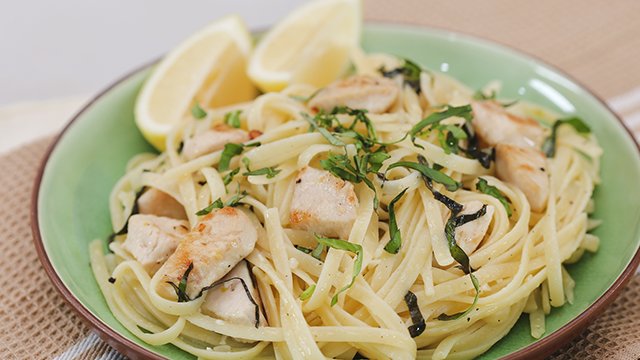 This easy chicken pasta dish has lots of lemon, garlic, and basil for flavor.  Best of all, it's ready in under 30 minutes! 
Garlic Chicken Pasta Recipe 
Prep time 10 minutes
Cooking time 15 minutes
Serves 3
1 tablespoon canola oil
4 tablespoons butter
2 cloves garlic, minced
250 grams chicken, skinless, sliced into bite-sized pieces
salt, to taste
black pepper, to taste
1 small lemon, juice only
2-3 tablespoons fresh basil leaves, julienned
1/4 cup chicken stock, or dry white wine
250 grams linguine noodles, cooked according to package directions (reserve 1 cup pasta water)
lemon, to serve
1 Heat oil and butter in a large pan over medium heat. Sauté garlic until fragrant. Add chicken. Season with salt and pepper, then cook for 3 to 5 minutes.
2 Add lemon juice and basil; mix well. Add stock or white wine and allow to reduce to half.
3 Add cooked pasta and toss. If pasta is too dry, add reserved pasta water, ¼ cup at a time, until desired consistency is achieved. Serve with lemon wedges on the side.