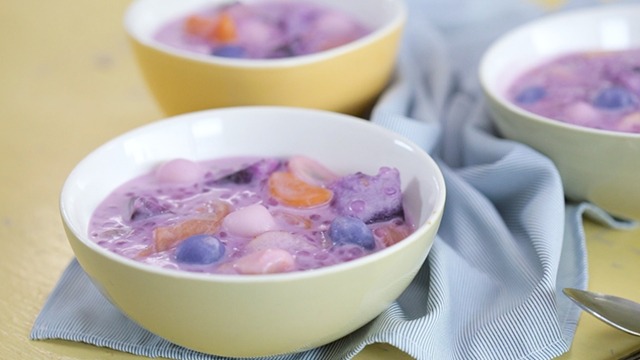 Ginataang bilo-bilo is basically a coconut pudding loaded with tender sweet potato chunks, saba bananas, sago, and rice balls or the bilo-bilo. Sometimes, langka or sweetened jackfruit are added for additional sweetness.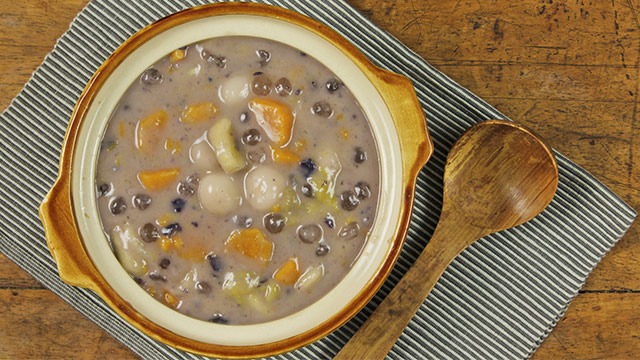 WATCH: How to Make Ginataang Bilo-Bilo
Posted in:
Cooking
It's the bilo-bilo that makes this dessert what it is. Similar to the popular mochi balls, these bilo-bilo are chewy and when boiled in the sweetened water and coconut mixture, the bilo-bilo thickens the mixture into a delicious sauce. The result? A sweet dessert soup that's chunky with all of those sweet ingredients added in. 
To make this dessert soup even more appetizing, some stir in ube halaya to add a pretty purple hue to the soup. We thought we could do better: we used fresh ube chunks to do it instead. The result is a naturally pretty violet color that seeps from the ube chunks into the sauce.
You know exactly what you're getting with each spoonful of this ginataang ube bilo-bilo recipe!  
Ginataang Ube Bilo-Bilo Recipe  
Takes 45 minutes 
Makes 6 servings 
1 tablespoon sugar
1 cup rice flour
1/4 cup water
1/4 teaspoon ube flavoring
2 cups water
1/2 cup sugar
1 small sweet potato (kamote), peeled, cubed medium
1 small taro root (gabi), peeled, cubed medium
2 saba bananas, peeled, cubed medium
1 cup ube, peeled, cubed medium
1 cup coconut cream
1/2 cup sweetened jackfruit (langka), preserved
1 cup small sago, cooked according to package directions
1 Make bilo bilo: In a medium bowl, mix rice flour and sugar. Add water and stir to form into a dough. Divide mixture between two bowls. Color and flavor one bowl with ube flavoring, leaving the other plain. Gently knead colored dough until color is uniform. Set aside. 
2 In a medium pot over medium heat, mix water and sugar. Add camote and gabi. Bring to a boil then lower heat to a simmer. Roll small pieces of bilo-bilo dough into balls, and drop in the simmering liquid. Repeat process with remaining dough. Simmer until bilo bilo float and are tender to the bite. Add ube, and simmer until ube chunks are tender and color the water. Add more water as needed.
3 Pour in coconut cream, and bring to a gentle simmer. Add and stir in cooked sago and langka. Cook until heated through. Ladle into bowls and serve while warm.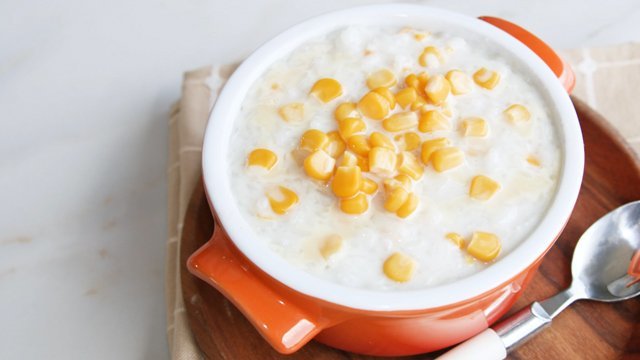 WATCH: How to Make Ginataang Mais
Posted in:
Cooking
ADVERTISEMENT - CONTINUE READING BELOW
Recommended Videos