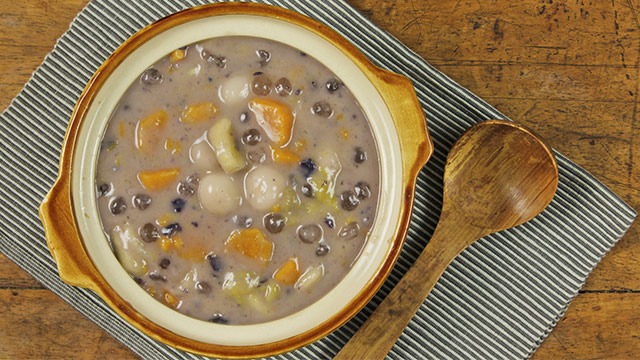 Ginataang bilo-bilo (sometimes called ginataang halo-halo) is a popular Filipino afternoon merienda made of sticky rice balls (bilo-bilo) cooked in coconut milk with sago (tapioca balls), jackfruit, sweet potatoes (kamote), saba bananas, and ube halaya.
1 cup glutinous rice flour
2 cups coconut milk,divided
1 ½ cups sweet potatoes (kamote, orange variety), sliced
1 cup saba banana, sliced
2-3 tablespoons ube halaya
1 Make the bilo-bilo: In a bowl, mix the rice flour with water until it forms into soft dough. Dust hands with flour and form into small balls.
2 In a sauce pot, bring water and 1 cup coconut milk to a boil. Add sugar and stir until dissolved.
3 Add the sweet potatoes and let it cook until softened.
4 Add the saba, sago, langka, and the rest of the coconut milk. Allow to simmer until it thickens.
5 Stir in the ube and mix until well-combined.