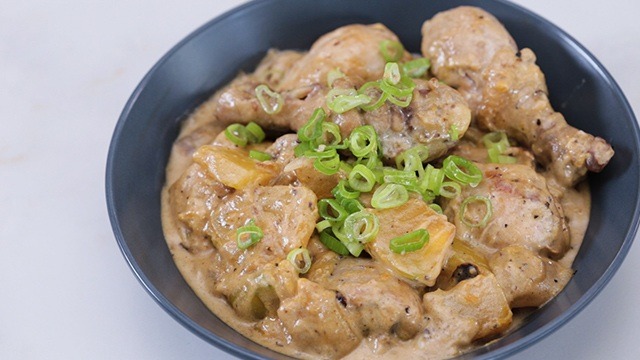 This Filipino chicken dish is a hearty dish that's easy to prepare. Most of the ingredients are likely to be in your kitchen already! Simmer gently when cooking the coconut milk and you'll get a chicken dish that's creamy and flavorful—you'll want to ask for seconds! 
Ginataang Manok at Kalabasa Recipe
Prep time 5 minutes
Cooking time30 minutes
Serves2 to 3
600 grams chicken, use legs and thighs
salt, to taste
ground black pepper, to taste
2 tablespoons canola oil
4 cloves garlic, chopped
1/2 medium red onion, sliced
1 knob ginger, sliced
1/4 cup leeks, sliced
1/4 squash (kalabasa) cut into 1-inch cubes
1 tablespoon fish sauce (patis)
1/4 cup water
3/4 cups coconut milk
ground black pepper, to taste
1 Season chicken parts with salt and pepper.
2 Heat oil in pan over medium high heat then sear chicken on all sides until lightly brown. Remove chicken from pan and set aside.
3 Using the same pan, sauté onions, garlic, ginger and leeks. Bring the chicken back to the pan, then add the kalabasa cubes and fish sauce and simmer for 3 minutes. Pour in the water and bring to a boil. Lower the heat and allow to simmer for 8 minutes. Add the coconut milk and simmer for another 5-6 minutes or until chicken is cooked. Season to taste.
ALSO READ: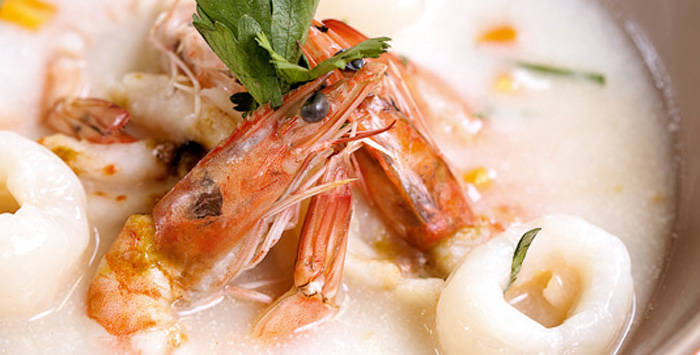 Do You Use Coconut Milk or Coconut Cream?
Posted in:
Cooking