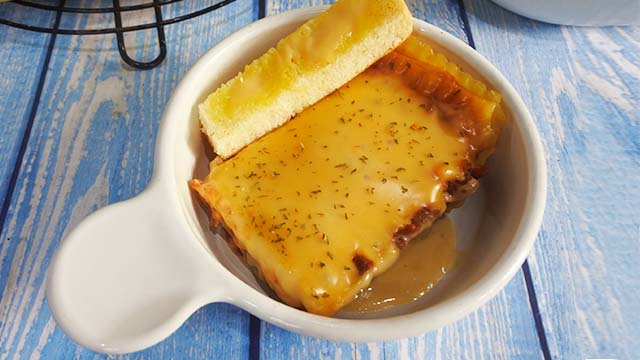 Everyone knows that Greenwich's lasagna is a melty slab of layers of pasta, a chunky meaty sauce, and melted cheese on top. The cheese is not your usual stretchy mozzarella cheese but a creamy cheese that reminds you how decadent cheese can taste. 
This combination of pasta, meat, pasta sauce, and cheese is what makes it so good! It also makes it easy to make at home, especially if you keep your kitchen stocked with pasta ingredients. You can add more mozzarella that we added for that stretchy cheese pull you might be missing but it doesn't cover up the fact that it's the creaminess of the cheese sauce that you will fall in love with. 
You can make this lasagna at home that recreates this fast food version! Just don't forget to serve it with some garlic bread. Here's the recipe: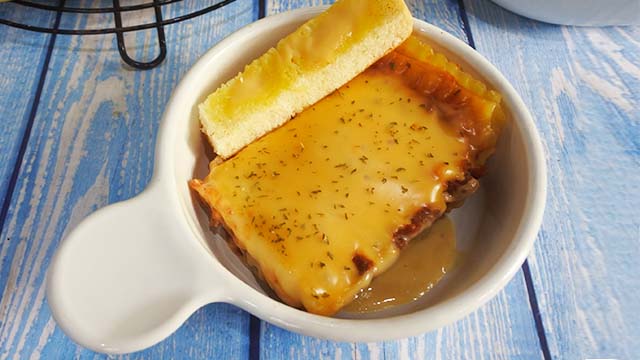 Greenwich-Style Lasagna Recipe 
Takes 80 minutes plus overnight marination
Makes 8 servings
Greenwich-Style Lasagna Ingredients
For the meat sauce:
1/2 kilo ground beef
3 cloves garlic, peeled, chopped, divided
1/2 teaspoon Italian seasoning (dried oregano, thyme, basil, and rosemary)
2 tablespoons oil
1 medium white onion, peeled, chopped
4 small native tomatoes, seeds removed, diced
1 1/2 250-gram packs sweet-style spaghetti sauce
1/4 cup quick-melting cheese, grated
Salt, to taste and as needed
Ground black pepper, to taste
For the white cheese sauce:
2 tablespoons unsalted butter
1 tablespoon all-purpose flour
1 154-ml evaporated milk
1 cup quick-melting cheese, grated
For lasagna:
8 sheets lasagna
1 cup mozzarella cheese, grated
1 teaspoon dried parsley, optional
How To Make Greenwich-Style Lasagna 
1 In a bowl, season ground beef with half the garlic, Italian seasoning, ground black pepper, and salt. Mix well. Cover and set aside overnight.
2 Preheat oven to 350 degrees F or180 degrees C. Bring a pot of salted water to a boil to cook pasta noodles.
3 In a large sauté pan over medium heat, heat enough oil to coat the bottom. Sauté sausage meat until browned. Season with salt and ground pepper, to taste. Transfer to a bowl and drain any excess fat from the pan.
4 In the remaining fat in the pan, sauté onion and then remaining garlic until just softened. Add tomatoes and cook until just tender. Return beef to the pan and add spaghetti sauce. Bring to a simmer. Season with salt and pepper to taste. Stir in cheese. Cook until cheese is just melted. Remove from heat and set aside. (Sauce will be thick and chunky.)
5 Make the white sauce: In a heavy saucepan, melt the butter. Sprinkle in the flour and whisk vigorously until well blended. Cook until the flour is cooked. Pour in the milk and water, whisking until well mixed. Stir in cheese. Bring to a simmer and let cook until thickened and cheese has melted. Season with salt and pepper. Remove from the heat and set aside. (Sauce will be thick.)
6 Cook pasta according to package directions but only for 7 minutes or until al dente. Remove pasta from the water, drain well, and set aside.
7 To assemble, in an 8×6.5-inch (20.5×16.5 cm) glass baking dish, cover the bottom of the baking dish with the meat sauce to prevent pasta from sticking to the bottom of the pan. Add a layer of pasta sheets, cutting sheets as necessary to fit. Cover with meat sauce then more pasta. Repeat one more time to make 3 to 4 layers of pasta. Cover the last layer with meat sauce. Cover the meat sauce with a layer of grated mozzarella and finally, spread the white sauce on top. Cover with foil.
8 Bake in the preheated oven for 20 minutes or until heated through and the cheeses have melted. Sprinkle with dried parsley if desired. Slice and serve.
Here are more ideas on how to make your lasagna even better, plus other lasagna recipes to try:  
***