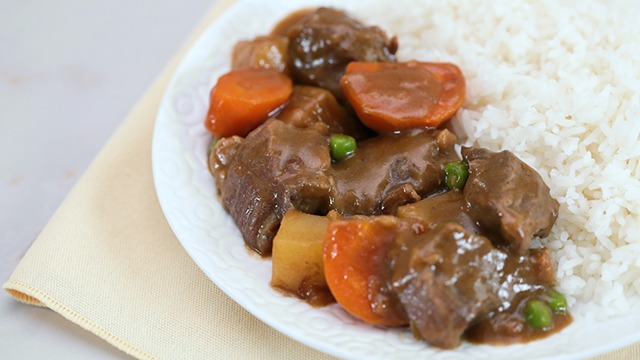 This Japanese curry version is unlike any other curry: it's sweet and savory at the same time but loaded with practically the same ingredients that make curry delicious. What makes it uniquely different from the Indian curries and even our Pinoy version is that it's sweet. Honey and apples bolstered with a little brown sugar sweeten the curry sauce. It's a perfect marriage of sweet, salty, savory, and spices.    
This version is made from scratch, but if you find yourself in the Asian or international section of your supermarket or grocery, you can also try the ready-made Japanese curry sauce versions which we found to be delicious, too.   
However, if your craving is for the homemade version, you'll want to try this easy Japanese curry version that may be just become your new favorite curry dish. 
Japanese Beef Curry
Takes 90 minutes
Makes 6 servings
1 kilogram beef sirloin, cubed
3 cups water, more as needed 
2 tablespoons salt, more to taste
1/4 cup oil
2 large white onions, peeled, thinly sliced
1/4 cup flour
2 tablespoons garam masala powder
2 medium potatoes, peeled, large chunks
2 large carrots, peeled, large chunks
1/2 large Fuji apple, peeled, cored, grated
1/4 cup honey
1 teaspoon brown sugar, or to taste
1 cup frozen green peas, thawed
1 Place beef cubes in a large pot, and cover with enough water to cover. Add salt. Bring to a boil, then lower heat to simmer. Cover and cook for at least 1 hour and 30 minutes or until beef is tender.
2 Meanwhile, in a large wok over low heat, heat oil. Add onions and let cook over low heat, stirring, until onions begin to turn golden brown, about 20 minutes. Add flour, and stir to mix. Continue cooking until the flour begins to color and the onions are browned. Add and stir in garam masala. Cook, stirring, until aromatic.
3 Add potatoes, carrots, grated apple, honey, sugar, and water. Season with salt to taste. Bring to a boil then simmer until the vegetables are tender, about 20 minutes. Five minutes before vegetables are tender, add peas and beef, and let peas cook until tender and beef are reheated through. Serve with steamed white rice.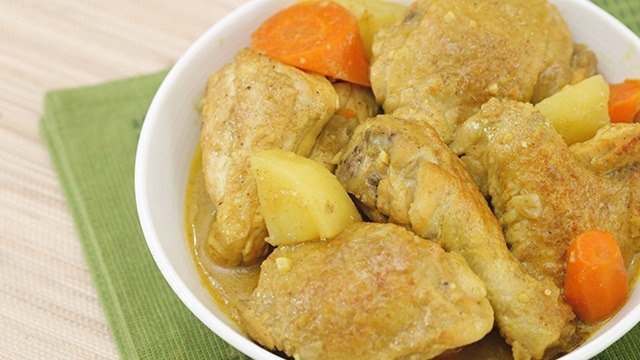 WATCH: How To Cook Easy Chicken Curry
Posted in:
Cooking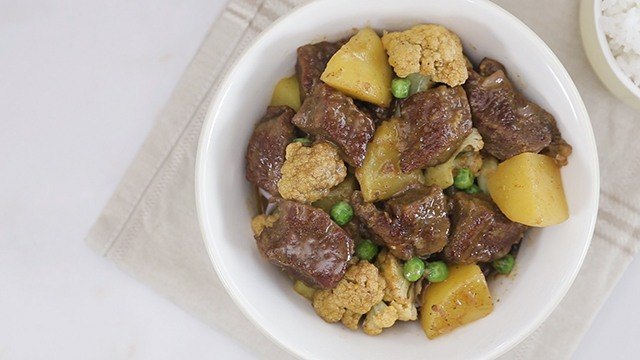 WATCH: How To Make Easy Beef Curry
Posted in:
Cooking