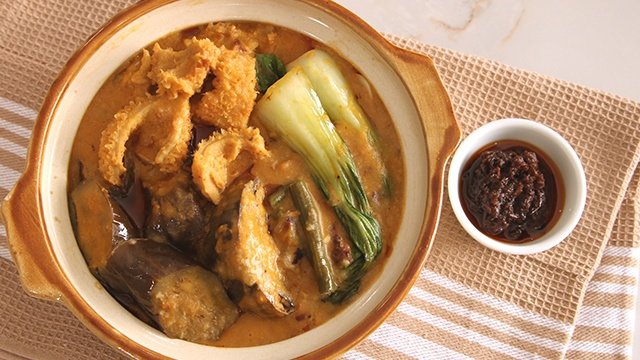 Kare-kare is a uniquely Filipino peanut-based stew. This recipe uses peanut butter and ox tripe for an easy version of the savory Pinoy party staple.
Serves 5 to 6
Preparation Time 20 minutes
Cooking Time 1 hour 30 mins
1 tablespoon vegetable oil
1 tablespoon garlic, minced
1 large onion, chopped
1 small banana blossom (puso ng saging), sliced
4 eggplants, sliced
1 bundle string beans (sitaw), cut into 2-inch pieces
1/2 cup annato water infused with annatto seeds
1/2 cup creamy peanut butter
1 1/2 kilos ox tripe, washed with salt and boiled
4 cups water
1 cup ground peanuts
1/2 cup toasted ground rice
1 bundle pechay or bok choy
Salt and pepper, to taste
1/2 cup shrimp paste (bagoong), to serve
1 Heat oil in a large saucepot. Sauté garlic and onions until fragrant.
2 Add puso ng saging, eggplant, and string beans.
3 Strain annatto seeds and discard. add annatto water and peanut butter to the pot. Simmer for 5 to 10 minutes.
4 Add ox tripe, water, ground peanuts, and ground rice. Stir gently and simmer until thick.
5 Add pechay or bok choy. Season to taste. Serve with bagoong and rice.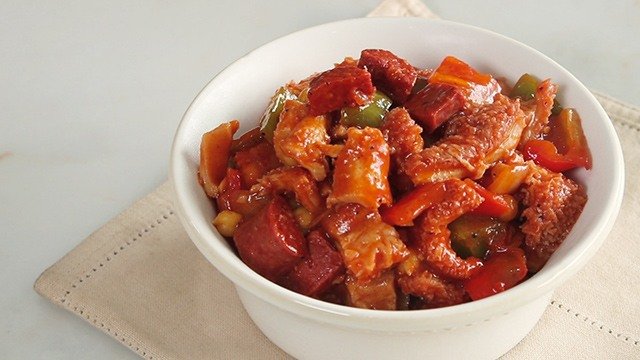 WATCH: How to Make Callos
Posted in:
Cooking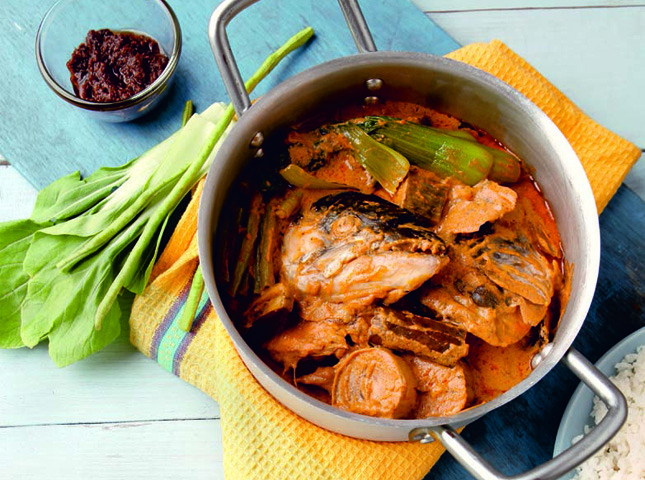 Reader Tips: Make the Best Kare-Kare
Posted in:
Cooking