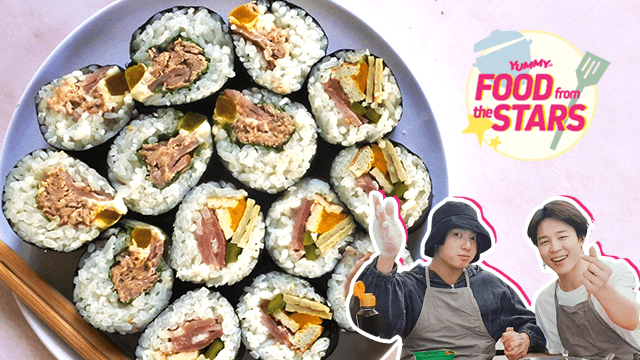 Annyeong haseyo! If you know what means, then we're pretty sure you're a fan of many things Korean. (It basically means "Hello!" in Korean ICYDK.) If you are ARMY aka a fan of the popular Korean boy group BTS, then you know that they do cook. ARMY knows that Jin is the resident cook but the other boys cook regularly too! 
In this episode of Food From The Stars, we watched a video of BTS members Jungkook and Jimin making kimbap. They're not only adorable but the kimbap they're making sounded good! Kimbap, also known as gimbap, looks similar to sushi but its origin is Korea. The difference is what's in it, and it's normally much more stuffed than your typical Japanese sushi. For Jungkook, his favorite filling is made from tuna but Jimin prefers his kimbap to be loaded with lots of ham! 
That's what we kept in mind when we made the kimbap recipes, and you can, too.  
In case you're worried about making it at home, the ingredients for kimbap were easy to find in Korean and Asian grocery stores, including the bamboo mat, but there was one ingredient that was not so easy. In Jungkook's kimbap, he also uses sesame leaves, also known as perilla leaves. We found a perfectly good substitute for it though: pechay. The leaves of the pechay are hearty enough that even when steamed or blanched, these won't fall apart. It's the perfect substitute we think!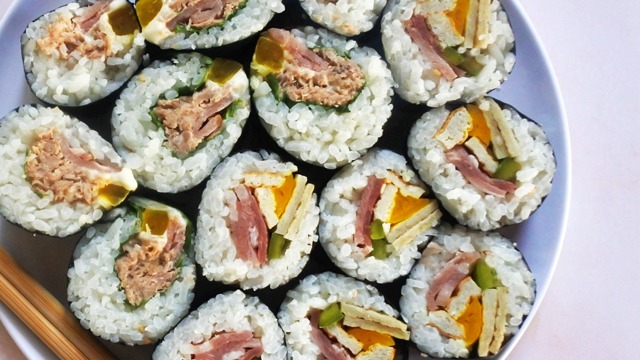 We even learned a few tips that you should learn that Jungkook and Jimin learned, too,  in the video: 
• Jungkook doesn't like his kimbap with too much rice, so do as he does and don't use too much rice. 
• Do not make the same mistake Jimin made by brushing sesame oil on the nori sheet to seal the kimbap! It won't work! Instead, use water and then coat the outside of the kimbap with sesame oil. 
Are you ready to try to make Jungkook and Jimin's kimbaps? Here are the recipes to recreate it at home: 
Jungkook and Jimin's Kimbap Recipes 
2 cups Japanese rice, cooked
1/4 teaspoon roasted sesame seeds
1/4 teaspoon salt
2 teaspoons sesame oil, plus extra for brushing
2 pieces nori sheets (dried seaweed) 
Jungkook's Kimbap Ingredients
1 pechay leaf, stem removed, blanched 
1/4 cup tuna flakes, drained, finely flaked
2 tablespoons Japanese mayonnaise 
1 strip pickled radish (danmuji)
1 slice ham, cut into strips 
Jimin's Kimbap Ingredients
2 slices ham, cut into strips
1 small scrambled egg, cut into strips
1 strip pickled radish (danmuji) 
1 fish cake, sliced 
4 slices green bell pepper 
How To Make Kimbap Recipes
1 Mix together rice, sesame seeds, salt, and sesame oil.
2 Place a sheet of the nori (shiny side down) on a plastic-wrap-covered bamboo mat. Spread a thin layer of rice over the sheet, leaving about a 2-inch space above uncovered by the rice.  
3 Arrange fillings next to each other on the top half of the rice: 
• For Jungkook's tuna kimbap: Place down a pechay leaf, add flaked tuna, squeeze out Japanese mayonnaise on top of the tuna, add pickled radish, and 1 strip of ham. 
• For Jimin's ham kimbap: Place 4 ham strips, a scrambled egg, pickled radish, 2 fish cakes, and green bell pepper strips. 
4 To seal, dab a small amount of water on the uncovered part of the sheet. Use your thumbs and gently roll the fillings in the rice towards the uncovered part, making sure that the fillings stay put. Remove the mat and brush the roll with sesame oil. Repeat with remaining ingredients.
5 Slice and serve. 
Food From The Stars features dishes from our favorite celebrities and public figures that we think you should recreate yourself at home.
ADVERTISEMENT - CONTINUE READING BELOW
Recommended Videos
***