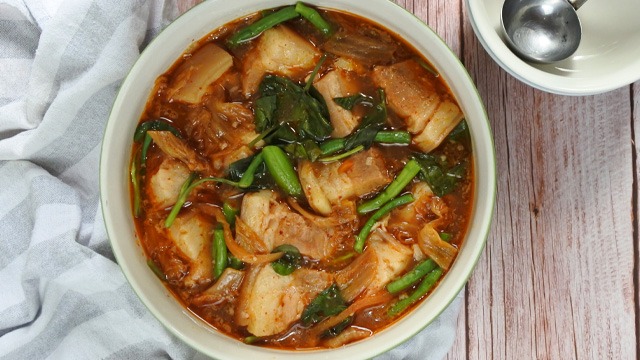 It was just a matter of time before someone came up with this clever pairing, the kimchi pork sinigang. If you think about it, the spicy sourness of the kimchi is the perfect pairing with the sourness of the tamarind of the classic pork sinigang. 
What is kimchi?
Just in case you're not in the know, kimchi is fermented spicy cabbage. The cabbage is napa cabbage or Chinese cabbage which is long with wide stems with frilly leaves on the edges of its stems. It's fermented with salt and lots of gochugaru (also spelled gochukaru) or Korean red chili flakes. This condiment is popularly served as part of the banchan or side dishes of many samyupsal buffet places.
Because it's fermented over time, the cabbage develops a sourness that is exactly what you want! This is also the reason why it's delicious when stirred into sinigang.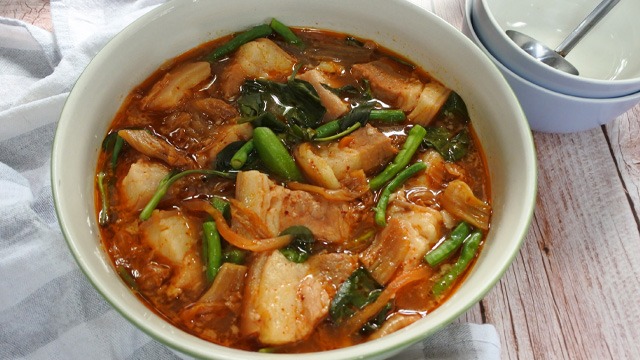 The result of this fusion Filipino-Korean dish is a spicy sour soup loaded with umami flavors. The cabbage of the kimchi seamlessly swims alongside the kang kong leaves while the sourness is masked by the sampaloc. The spiciness meanwhile is a welcome tingle for those who love some heat in their ulam dishes.
Plus, this glorious bowl is definitely easy to make, especially if you have experience in making sinigang recipes already. The genius addition of the kimchi and the extra gochugaru amps up the flavors that would otherwise fight with the powerful flavor of the tamarind soup.
If you're a fan of spicy dishes and adore Korean food, especially if it has kimchi in it, you're definitely in for a treat with this new ulam recipe.
Here's the recipe: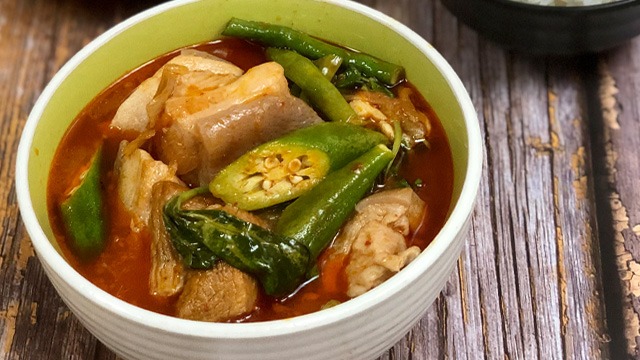 Kimchi Pork Sinigang Recipe
Posted in:
Recipe
Want more sinigang recipes or even Korean-inspired recipes? Read on!
ADVERTISEMENT - CONTINUE READING BELOW
Recommended Videos
***