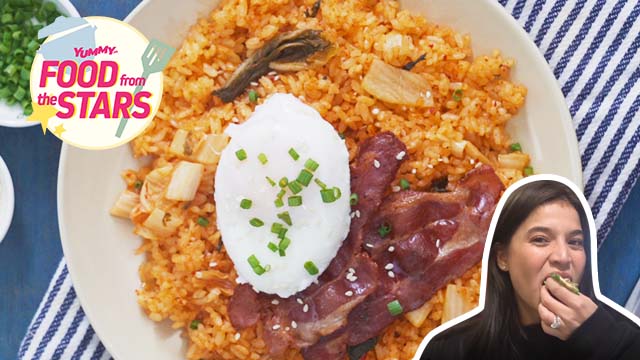 Everyone has a favorite dish, whether it's a simple one that you enjoy eating on a regular basis or a dish that you adore but cannot replicate for some reason and cannot eat more often. 
Did you know that one of actress Anne Curtis' favorite Korean dishes is kimchi rice? A basic kimchi rice is an easy recipe that anyone can easily make at home. The kimchi rice that Anne gushes over on her YouTube channel is the dish she ate at Parc Seoul 8th during her Korea trip. The dishes are from a Korean mother's recipe and what might have made this kimchi rice especially delicious, apart from it being homemade, is that this version comes with bacon and a poached egg.
Bacon instantly makes this kimchi rice better but a poached egg on top, too? Fancy! That's not a simple fried egg on that plate of rice!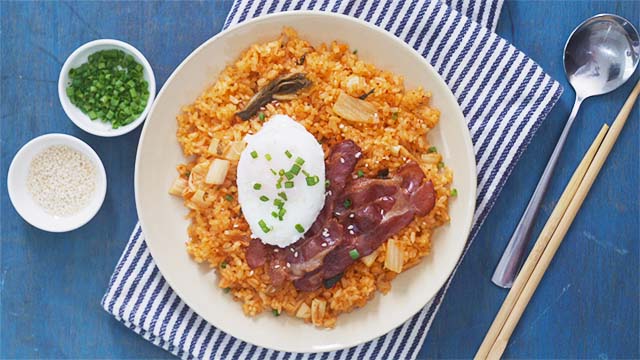 If you're afraid to poach eggs or have not been successful at it, don't worry. We have some surefire tips to make it happen easier: 
• Use the freshest eggs possible for tight egg whites. These won't be easy to break! 
• If you're greeted with watery egg whites, use a strainer to get rid of it first without harming the firm egg white and yolk before transferring to a small bowl. 
• Use the small bowl to gently place the egg into the simmering water. The water should be deep enough to let the egg float when its cooked. 
• Use a deep nonstick frying pan if you're worried about sticking. 
• Add vinegar to the water to help the egg white set firmer. 
• Gently nudge the egg from the bottom of the pan. It should gently release when it's ready. 
• Be patient! The egg will cook in the simmering water without you fussing over it. 
Are you ready to try this version of the kimchi rice that made Anne Curtis say, "Mmmmmm… so good!" with delight at first bite? Here's our recipe: 
Kimchi Rice Recipe With Bacon and Poached Eggs
Takes

30 minutes

Makes

3 servings 
Kimchi

 

Rice
 Ingredients 
1 teaspoon vegetable oil 

6 slices bacon 

3 cloves garlic, smashed

1 cup

kimchi

, chopped 

1 tablespoon

kimchi

juice, more if desired

3 cups cooked rice 

salt, to taste

ground black pepper, to taste 

3 medium eggs 

1 tablespoon vinegar

Water, as needed

Green onions, chopped, for garnish 

Toasted sesame seeds, for garnish 
How To Make Kimchi

 

Rice
1 Heat oil in a large pan over medium heat. Add bacon strips. Cook bacon until cooked through and has rendered all its fat. Set aside. 
2 In the remaining oil, add garlic. Cook until just starting to turn golden brown. Add kimchi and kimchi juice and stir. 
3 Add rice and toss to combine. 
4 Season with salt and pepper. Turn off the heat and set aside. 
5 Poach the eggs: In a frying pan over medium heat, add enough water in the pan to fill it about 3/4 up the sides. Stir in vinegar. Bring to a simmer then lower heat to Low. Break one egg into a small bowl then gently place the egg in the barely simmering water. Repeat with the other two eggs. If needed, spoon the hot water over the exposed egg yolks to gently set the whites surrounding the yolk. Cook for about 3 minutes or until the whites are set enough to remove. (To test, gently nudge the eggs from their positions. If it floats away, it's ready. If not, let cook another 30 seconds before trying again.) 
6 Using a slotted spoon, gently remove the poached eggs from the water. Set aside to drain. Keep warm until ready to serve. 
7 To serve, divide and spoon about 1 cup rice into a shallow plate, top with bacon and the poached egg, and garnish with green onions and toasted sesame seeds. Repeat with remaining rice. 
Food From The Stars features dishes from our favorite celebrities and public figures that we think you should recreate yourself at home.
ADVERTISEMENT - CONTINUE READING BELOW
Recommended Videos
***