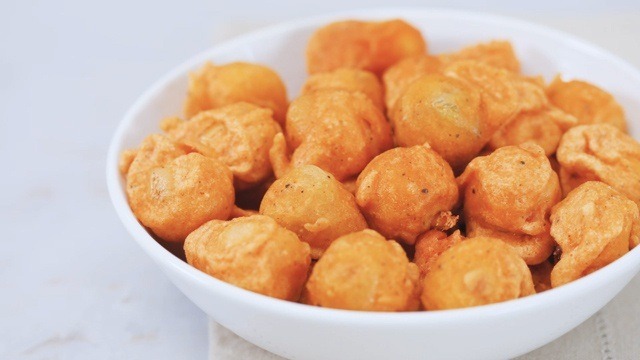 Did you know you could easily make those vividly orange-hued and battered eggs cooked and served on the street? You can! The best part is that since you're making it at home, you know exactly what goes into your version of street food eats.
How do you make kwek-kwek?
Kwek-kwek is a popular Pinoy street food that is simply boiled quail eggs coated in an orange-colored batter. That batter is usually dyed with annatto powder (atsuete seeds) or another type of food coloring to achieve the bright orange hue. If you fail to catch manong peddling these on the street or just miss this merienda snack, make your own kwek-kwek at home with this easy recipe.
Kwek-Kwek Recipe (Deep-Fried Boiled Quail Eggs)
3/4 to 1 cup water
1 cup all-purpose flour
1/2 teaspoon salt
1/2 teaspoon pepper
1 to 2 teaspoons annatto powder (add more for a darker color)
3 tablespoons cornstarch
12 to 18 pieces boiled quail eggs, peeled
2 cups cooking oil, for frying
1 Place flour, cornstarch, salt, pepper, and annatto powder in a bowl. Mix well.
2 Add water, a little at a time, to the flour mixture until you achieve a thick batter.
3 Dip quail eggs in the batter and coat evenly.
4 Heat oil in a medium-sized pan over medium-high heat. Carefully place coated eggs one at a time. Cook for about 3-5 minutes or until golden brown.