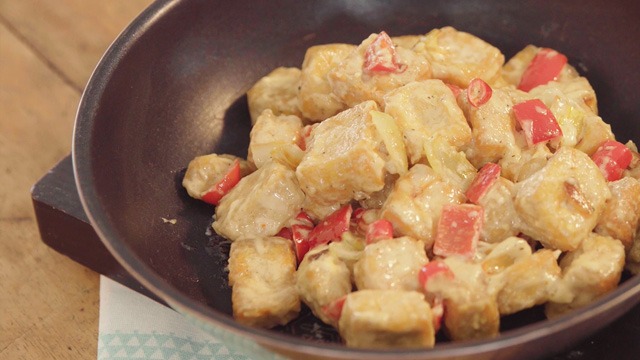 You may go to Max's restaurant for its crispy Pinoy-style fried chicken but there are more reasons to eat there for lunch and dinner than just the chicken. Among the food offerings on the menu, one of the standout dishes that you must try is the tofu sisig. 
The tofu sisig is one of the best food you can order at the restaurant if you're not craving fried chicken and for good reason. The sizzling tofu sisig is creamy with hearty chunks of firm tokwa that have been fried and tossed in a flavorful sauce. It's got a salty-tangy creamy dressing that makes it extra appetizing. 
We keep our version arguably simple with ingredients that are easy to find at any supermarket or grocery store. You are free to add a teaspoon (or more) of liquid seasoning to the mix since it's one of the original "secret" ingredients of a sisig recipe but if you don't have it, amp up the salt and pepper or even add a splash of soy sauce to give it that umami boost that you may be looking for.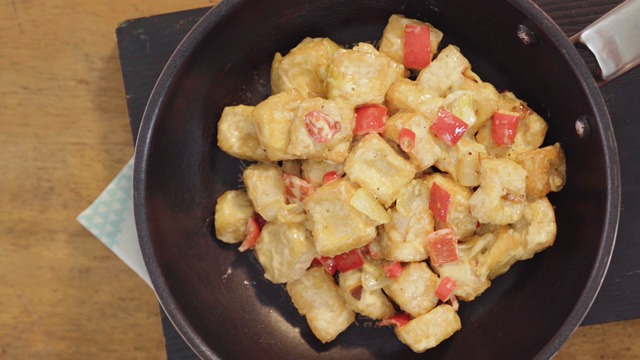 Max's-Style Tofu Sisig Recipe
Takes 30 minutes 
Makes 4 servings 
Max's-Style Tofu Sisig Ingredients
500 grams firm tofu (tokwa), cubed
1/4 cup mayonnaise
1 tablespoon all-purpose cream
1/4 teaspoon garlic powder
1/4 teaspoon onion powder
3 chopped siling labuyo
Salt, to taste
Ground black pepper, to taste
1 small white onion, chopped
1/4 cup red bell pepper, seeded, chopped
oil, for deep-frying
How To Make Max's-Style Tofu Sisig
1 Deep fry tofu until golden brown. Drain on paper towels. Transfer to a bowl.
2 Meanwhile, make dressing: Mix together mayonnaise, all-purpose cream, garlic powder, onion powder, and siling labuyo. Season with salt and pepper, to taste. Set aside.
3 Meanwhile, sauté bell peppers and onions. Remove from heat. Stir in tofu, sautéed vegetables, and dressing. Season to taste. Serve immediately.
***
ADVERTISEMENT - CONTINUE READING BELOW
Recommended Videos