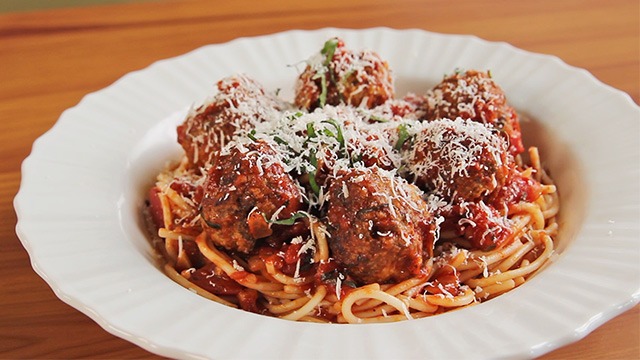 This savory and delicious meatball spaghetti recipe is an easy-to-make crowd-pleaser. 
2 tablespoons onion, chopped
2 tablespoons onion, chopped
400 grams canned crushed tomatoes
1/8 cup basil, thinly sliced
Spaghetti pasta, cooked according to package
1 In a bowl,combine ground beef and pork. Add breadcrumbs, Parmesan cheese, onions, garlic, egg, and basil. Season with salt and pepper then mix until well-combined. Form into balls, and set aside.
2 Heat oil in a pan over medium heat. Pan-fry the meatballs until cooked through. Drain on paper towels. Set aside.
3 Make the sauce: In a sauce pan, heat oil and butter over medium heat. Add onions and cook until translucent, then add the garlic. Add the crushed tomatoes and allow to simmer for about 5 minutes. Add the dried oregano, basil, and sugar. Season with salt and pepper. Mix until well-combined then add the cooked meatballs. Stir to completely coat the meatballs with the sauce, and allow to simmer for another 15-20 minutes until sauce has reduced.
4 Toss cooked spaghetti noodles in the sauce. Top with the meatballs, and garnish with basil and Parmesan cheese.