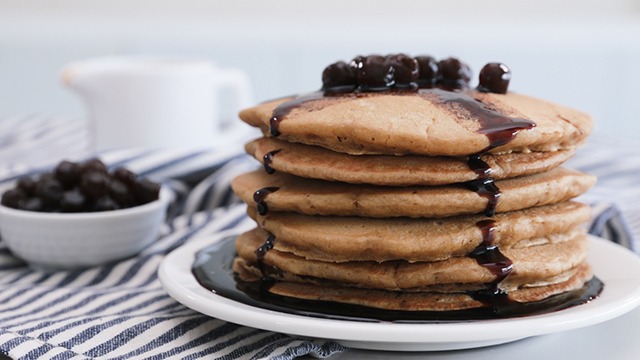 We know how much you love milk tea, so we thought it was high time someone made it into a flavor that could be served at any time of the day. After all, coffee drinkers get their fix from coffee-flavored dishes, so why not make milky tea-flavored recipes? 
With this recipe, we decided that you should not only be able to drink milk tea for breakfast but you should also be able to eat it, too.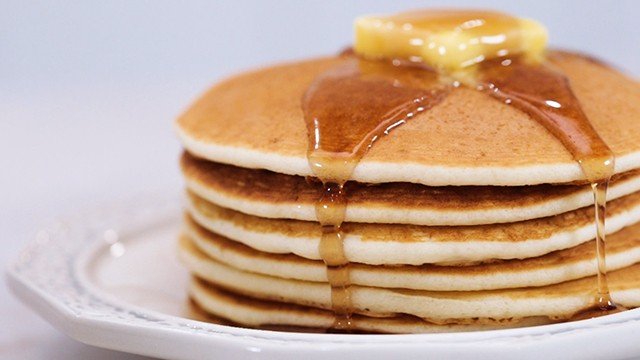 WATCH: How To Make Buttermilk Pancakes
Posted in:
Cooking
Pancake recipes are actually really simple recipes. Flour, baking powder, a little sugar, and salt are mixed into fresh milk and an egg to make the basic batter. Normally, you just add in pieces of fruits, chocolate chunks, and other ingredients when the batter is already in the pan but to get the rich milk tea flavor, we had to infuse the milk that makes the batter. 
While pancake syrup is delicious, we thought milk tea-flavored pancakes needed to have its own sweet syrup: the brown sugar syrup from the brown sugar milk tea. It's sweet and delicious and goes amazingly well with soft, tender milky pancakes.  
This flavored pancake is your favorite milk tea drink in edible form, and it's delicious! Here's the recipe:
Milk Tea Pancakes Recipe 
Takes 30 minutes
Makes 5 pancakes
1 cup fresh milk
2 bags black tea
1 1/4 cups all-purpose flour
1 tablespoon muscovado sugar
1/4 teaspoon salt
2 1/2 teaspoons baking powder
2 tablespoons butter, melted
1 large egg
1 cup black tapioca pearls, cooked, drained
1 cup brown sugar syrup 
1 In a microwave-safe mug, heat milk in the microwave for about 1 minute on High. Add tea bags. Steep for 3 minutes. Remove,  and discard tea bags. Set aside to cool.
2 Mix flour, sugar, salt, and baking powder in a medium bowl. Pour in cooled milk and melted butter. Fold using a rubber spatula until almost mixed. (Small pockets of flour are okay.) Add whole egg, and fold until just mixed again. Set aside.
3 Heat a nonstick frying pan over medium heat. Pour about 1/2 cup batter at a time in the center of the pan. (Adjust amount of batter depending on your desired pancake size.) When the tops begin to bubble, the edges are dry, and the bottom of the pancake is browned, flip and cook the other side until the centers are firm but spring back when lightly pressed. Transfer to a plate, and repeat with remaining batter.
4 Serve stacked on a plate with a spoonful of black pearls and drizzled with brown sugar syrup.
Here are more milk tea recipes you may want to try: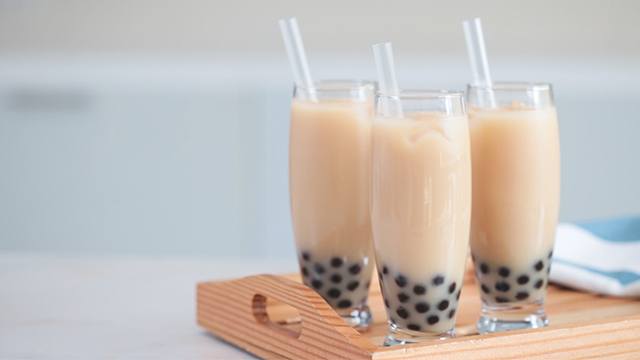 WATCH: It's Easy to Make Milk Tea at Home
Posted in:
Cooking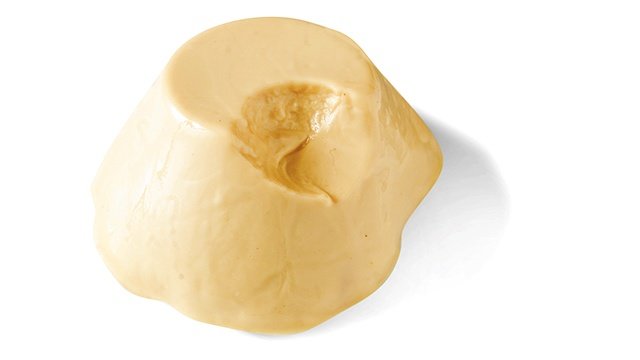 Milk Tea Panna Cotta Recipe
Posted in:
Recipe