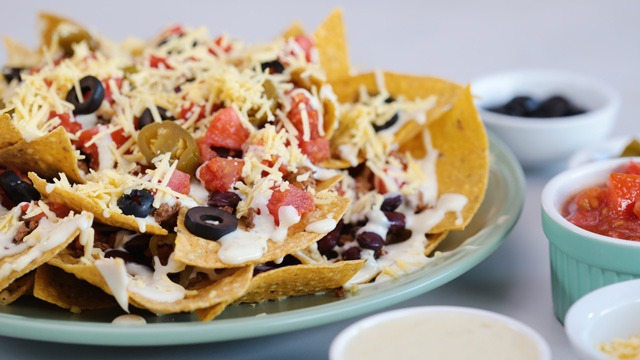 Gather your friends and family for a messy yet hearty meal that will 100% hit the spot. This loaded nachos recipe is the perfect dish to serve for a crowd because it comes complete with veggies, meat, carbs, and every flavor note you might want. It's tangy, cheesy, savory, and best of all, hearty enough to fill you up. 
This recipe's amazing tomato salsa makes a big batch but don't worry: it's got several uses. Keep it in a sterilized jar, and you can use it anytime you hold nacho nights, make huevos rancheros, or whenever you want to dip a chip into something delicious.  
Loaded Nachos Recipe
Takes 

40 minutes

Makes 8 servings + extra salsa

 
Tomato Salsa Recipe
1 red bell pepper, sliced

 

1/2 medium white onion

, chopped

1 pickled jalapeñ

o, or to taste

2 cloves garlic, peeled

 

2 tablespoons cilantro or 

wansoy

 leaves, minced

1 tablespoon taco seasoning 

 

1 tablespoon brown sugar
1 tablespoon lemon juice

 

250 grams tomatoes, halved

 

250 grams tomatoes, cubed

 small

Salt, to taste

 
Nacho Beef Recipe
2 tablespoons cooking oil 

1 clove garlic, minced

 

1/4 kilogram

 ground beef

 

1 teaspoon tomato paste

 

1 teaspoon taco seasoning

 

1/4 beef bouillon cube

 

1 can red kidney beans, drained

 
Nacho Cheese Recipe
1 pickled jalapeno, sliced

 

3/4 cup fresh milk

 

165 grams quick-melt cheese, shredded

 
Other Toppings 
2 pickled jalapenos, sliced

 

1/4 cup black olives, sliced

 

1 180-gram box nacho chips

 

1/2 cup cheddar cheese, grated (optional)

 
1 Make the salsa: In a blender, add red bell pepper, onion, jalapeño, garlic, cilantro or wansoy, taco seasoning, brown sugar, and lemon juice, and puree until smooth. Add halved tomatoes, and pulse until chunky. Transfer to a bowl, and stir in diced tomatoes. Taste and adjust seasoning. Set aside. (Color will darken as time passes.) 
Tip: To store the salsa, transfer into sterilized jars until full and refrigerate. It will keep for a week. 
2 Make the beef: In a small frying pan over medium heat, heat oil then saute minced garlic. Add beef. Sprinkle with salt. When it turns into a light brown, add tomato paste, taco seasoning, and beef bouillon cube. Mix and simmer for 10 minutes. Stir in kidney beans and cook for 3-5 minutes until heated through. Set aside.  
3 Make the cheese: In a blender, puree jalapeño and milk together until smooth. Pour mixture into a saucepan, and heat at the lowest setting. When it simmers, add in cheese and mix until melted. Put into a squeeze bottle if desired.  
4 Assemble your nachos: Place a single layer of nacho chips on a plate and layer with beef, salsa, cheese sauce, sliced olives, and sliced jalapeños. Top with another layer of nachos, and repeat. Top with shredded cheese. Serve immediately.   
Ingredient note: It's best to buy the reddest fresh tomatoes you can find. Use them as soon as you can as truly ripe tomatoes won't last a week. It's also advised to keep your tomatoes at room temperature as refrigeration will tamper with its flavor. Lighter colored tomatoes will yield less sweetness, less red salsa—although still quite delicious.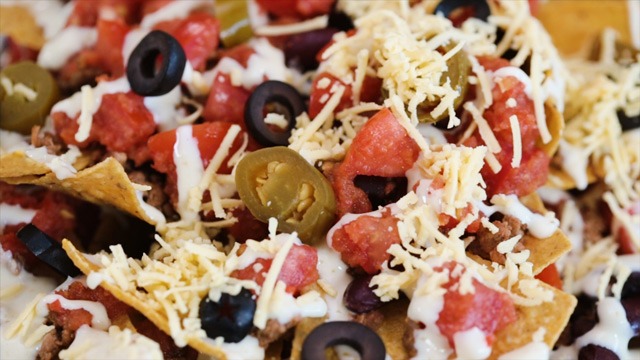 ALSO READ: 
ADVERTISEMENT - CONTINUE READING BELOW
Recommended Videos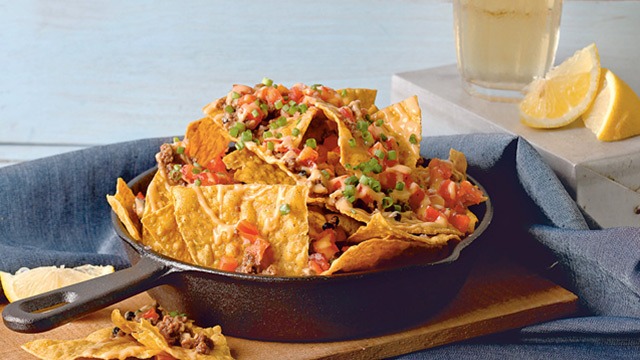 Pinoy Nachos
Posted in:
Recipe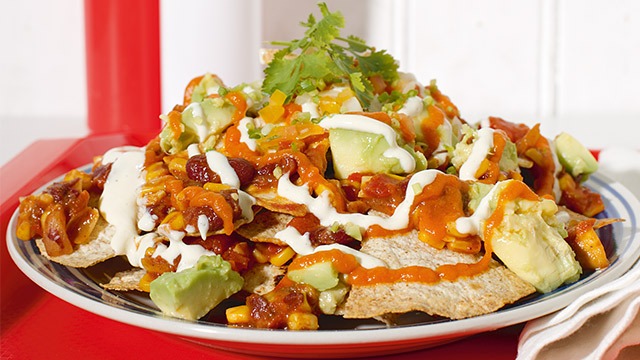 Easy Loaded Nachos Recipe
Posted in:
Recipe