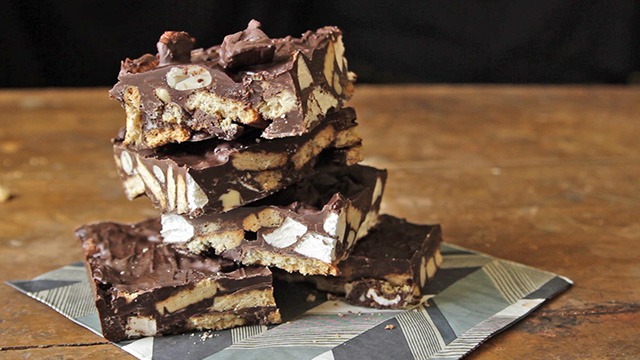 Make a big batch of rocky road bars for everyone!
Here's the recipe we used for the video above. We use the term "recipe" loosely though because aside from being a no-bake chocolate treat, you can customize these bars to your liking! Add a variety of your choice of chocolates, nuts, dried fruit, marshmallows and add as much or as little as you want!
No-Bake Rocky Road Bars
2 1/2 cups chocolate chips or chunks of your choice (we used dark chocolate)



1/8 cup soft unsalted butter


2 tablespoons light corn syrup




2 1/2 to 3 cups of mini-marshmallows or regular-sized marshmallows cut up into bite-sized pieces




2 cups biscuits broken into large chunks (we used McVities Digestives)




1/2 cup nuts (we used whole peanuts)




1/4 cup extras or mix-ins (we used white chocolate chunks but you can use dried fruit, chocoalte chunks, potato chips, etc.)




3/4 cup chocolate chips of your choice, melted (we used dark chocolate)
2 To the chocolate mix, add marshmallows, biscuits, nuts, and add-ins. Stir-well, making sure not to break too many things up.
3 Tip mix into a square or rectangular baking tin greased and lined with parchment paper. Even it out and top with reserved melted chocolate.
4 Place in the refrigerator to set for 1 hour or up to overnight. Once set, pull out of tin and cut into large, chunky servings.
ALSO READ:
WATCH: How to Melt Chocolate with a Double Boiler
CLICK HERE for more NO-BAKE DESSERT RECIPES