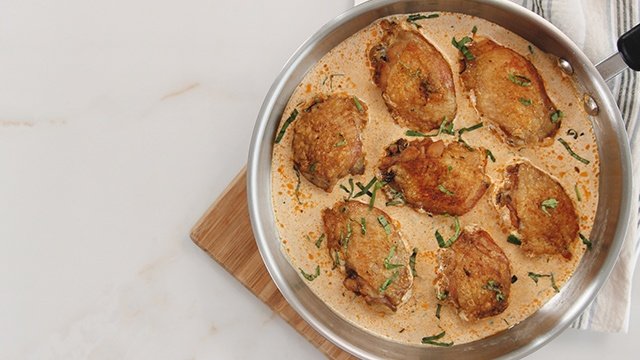 This pan-fried chicken recipe is cooked in an easy and delicious cream sauce made with garlic and sun-dried tomatoes. You can also just make the sauce and toss in spaghetti noodles.  
7 chicken thighs, skin on, excess fat removed
2 tablespoons oil, more for deep frying
5 cloves garlic, peeled, lightly crushed
4 sun-dried tomatoes, sliced thinly
1 cup all-purpose cream
2 tablespoons sun-dried tomato pesto
½ cup water
¼ cup basil leaves, sliced thinly, divided
salt and pepper, to taste
1 Add enough oil in a deep sauté pan for deep frying. Season chicken thighs on both sides with salt and ground black pepper to taste. Place chicken skin side down in the oil. Deep fry chicken until cooked through. Transfer to a plate, and set aside.
2 Remove excess oil from pan, leaving about 2 tablespoons. Add garlic and tomatoes, stirring, and cook until softened. Add cream, pesto, water, and half the basil. Stir to combine. Season with salt and pepper to taste.
3 Return chicken to the pan, and cook until just heated through. Adjust seasoning accordingly to taste. Serve while hot topped with more basil.