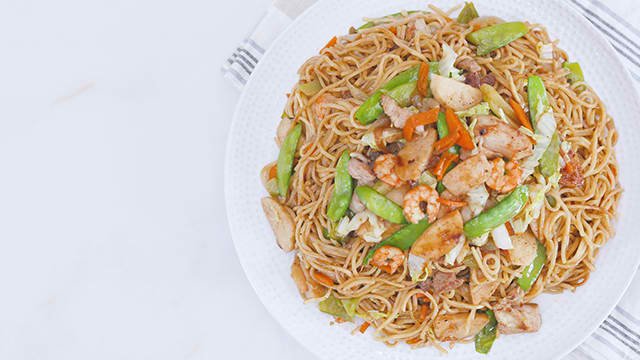 Pancit canton is a festive stir-fried noodle dish with pork, shrimp, and a medley of vegetables. It's a Pinoy favorite, often served at parties and get-togethers. You may also use chicken broth instead of shrimp broth and feel free to add as much veggies and toppings you like.
Pancit Canton
Serves 4
Prep time 15 minutes
Cooking time 20 minutes
1 1/2 tablespoon vegetable oil
2 tablespoons garlic, minced
1 medium white onion, sliced
1/4 kilo pork liempo, sliced
1/8 kilo shrimp, shell and head removed (heads set aside for broth)
5 pieces squid balls, sliced in half
2 tablespoons soy sauce
1 tablespoon sesame oil
1 medium carrot, julienned
1 medium sayote, sliced
1 cup snow peas (sitsaro)
1 head Chinese cabbage, sliced
salt
pepper
2 cups water, plus extra, if needed
400 grams egg noodles (pancit canton), uncooked
1 Heat oil in a wok or frying pan. Saute garlic and onions until translucent and fragrant. Add pork and cook until slightly brown. Add in shrimp and squid balls.
2 Add soy sauce and sesame oil. Add carrots, sayote, sinow peas, and cabbage. Season with salt and pepper. Simmer for 5 minutes. Take out half of the veggie, pork, and shrimp mixture and set aside.
3 Add pancit canton and mix until the noodles have absorbed the liquid. Simmer for 3-5 minutes or until noodles are cooked. If the noodles are dry, add more stock. Top with the reserved veggie mixture when ready to serve.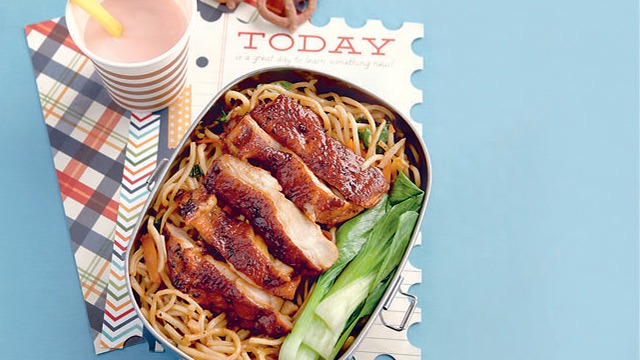 Easy Pancit Canton with Chicken Barbecue
Posted in:
Recipe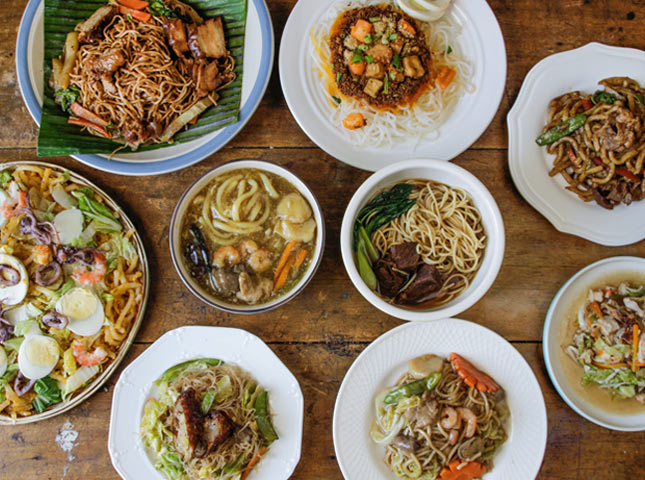 Yummy.ph's Guide to Filipino Pancit
Posted in:
Cooking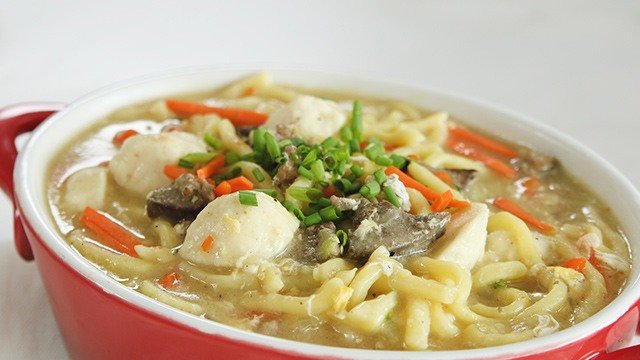 WATCH: How to Make Pancit Lomi
Posted in:
Cooking