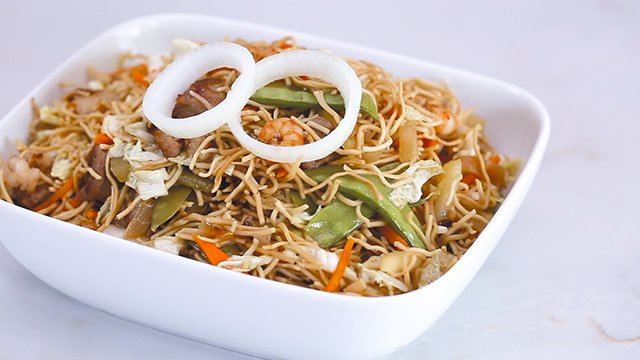 This pancit dish originated from Lucban, Quezon Province is cooked with miki lucban (dry noodles) and vinegar. It is usually served on a banana leaf with vinegar as a sauce on the side (to be poured over the noodle dish).
It is also called "habhab" because it is eaten without utensils: one takes the noodle dish as close to the mouth as possible and is eaten from the banana leaf.
Pancit Habhab (Pancit Lucban)
Serves 3-4
Prep time 10 minutes
Cooking time 10 minutes
3 tablespoons canola oil
1 tablespoon garlic, chopped
2 tablespoons white onion, sliced
3/4 cup pork liempo, sliced
1/2 cup shrimp, peeled
1/4 cups carrot, julienned
1/4 cup snow peas (sitsaro)
1/3 cup sayote (chayote), julienned
2 tablespoons soy sauce
2 tablespoons fish sauce (patis)
1/4 cup cane vinegar
250 grams miki lucban
1/4 cup water
1/4 cup Chinese leafy cabbage, sliced
salt, to taste
ground black pepper, to taste
1 Heat oil on a wok over medium high heat and sauté onions and garlic. Add the pork belly to the wok and cook until lightly browned, then add shrimps and cook for another 2 minutes.
2 Add the carrots, sitsaro, sayote, soy sauce, vinegar, and patis. Stir well and bring to a simmer. Add the noodles and cabbage and toss well, then season to taste.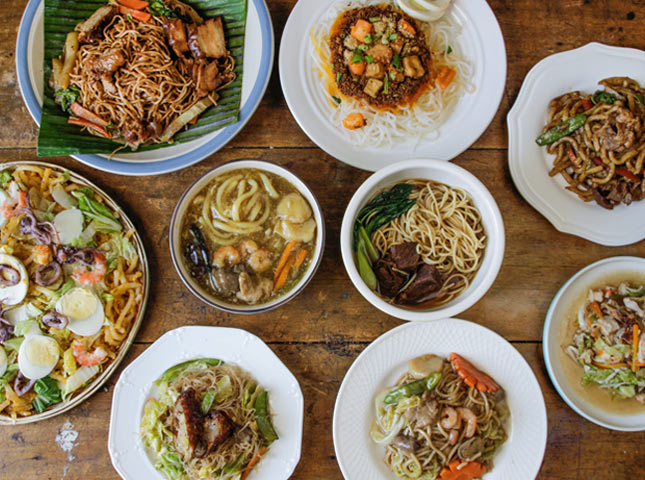 Yummy.ph's Guide to Filipino Pancit
Posted in:
Cooking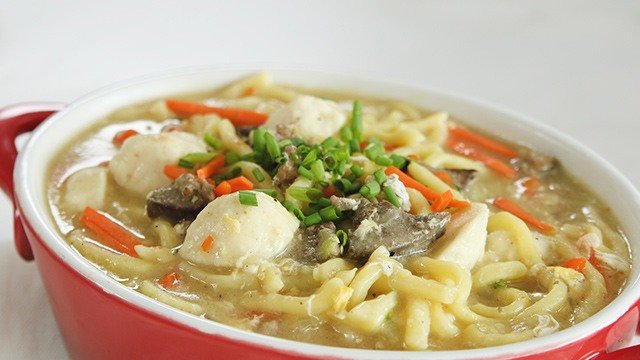 WATCH: How to Make Pancit Lomi
Posted in:
Cooking