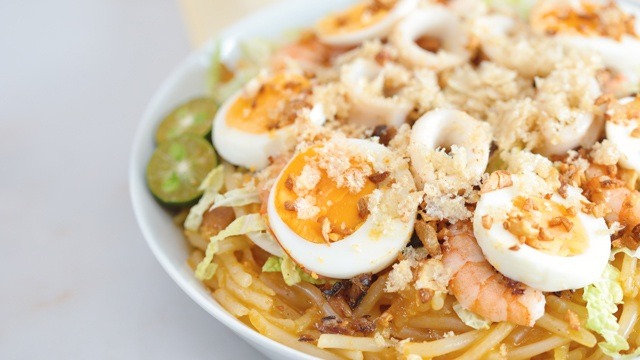 There are many ways to make pancit as there are ways to make adobo and sinigang dishes in the Philippines. However, there is only one pancit that's extremely hearty, lusciously rich, and incredibly loaded with toppings you can't even see the noodles underneath. 
How do you make Pancit Malabon?  
Pancit Malabon is a noodle dish that originated in Malabon, Metro Manila, a city whose food is largely influenced by the Chinese because of its rich trading history. This pancit version uses thicker rice noodles and the sauce—a thick mixture cooked with fish sauce, crab fat, and annatto seeds—is a really tasty one, peppered with flavors from the sea.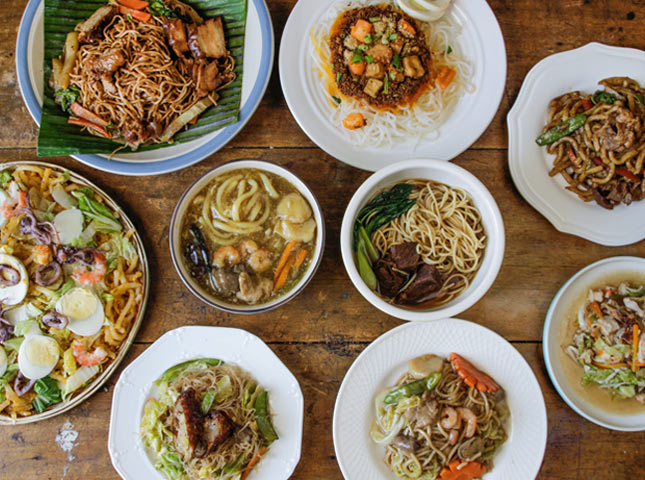 Yummy.ph's Guide to Filipino Pancit
Posted in:
Cooking
Pancit Malabon Recipe  
Serves 4
Cooking time 20 minutes
Prep time 30 minutes
1 250-gram pack thick rice noodles
hot water (for soaking noodles)
2 tbsp corn oil
1/2 kilo shrimp, peeled and deveined
salt, to taste
pepper, to taste 
1/4 kilo squid, sliced
1/2 cup tinapa flakes
For the sauce:
1-2 tablespoons corn oil
l1 small white onion, minced
3 cloves garlic, chopped
1/4 kilo pork belly, sliced
1 tablespoon fish sauce (patis)
1/2 teaspoon ground black pepper
3-4 cups shrimp stock
1/4 cup chicharon, crushed
1/4 cup water (1/4 cup water + 1/4 cup annatto seeds, strained)
4 tablespoons cornstarch dissolved in 4 tablespoons water
For the toppings: 
1 cup Baguio pechay, shredded
2 tablespoons toasted garlic bits
2-3 medium hard-boiled eggs, peeled and sliced
1/4 cup chicharon, crushed
calamansi, to serve
1 Prepare noodles: Soak noodles in hot water for at least 30 minutes to 1 hour. Place noodles over boiling water for another 10-15 minutes or according to package directions. Set aside.
2 Heat oil in a pan over medium heat. Place shrimp and season with salt and pepper, cook for about 2-3 minutes or until color changes and cooked through. Set aside.
3 Using the same pan, add in squid and cook for about 2-3 minutes or until cooked through. Set aside. Add oil and cook tinapa flakes until golden brown. Set aside.
4 Make the sauce: In a large pan over medium heat, add oil, sauté onion and garlic. Add pork belly and cook for 3 to 5 minutes or until pork belly is cooked through. Add fish sauce and ground pepper. Mix well. Add shrimp stock, chicharon, and annatto water. Cook for another 5 minutes and thicken the sauce with cornstarch mixture.
5 Add cooked noodles and mix until sauce is well incorporated.
6 Transfer to a serving dish, top with Baguio pechay, shrimp, squid, sliced eggs, toasted garlic, and chicharon. Serve with calamansi on the side.
ADVERTISEMENT - CONTINUE READING BELOW
Recommended Videos