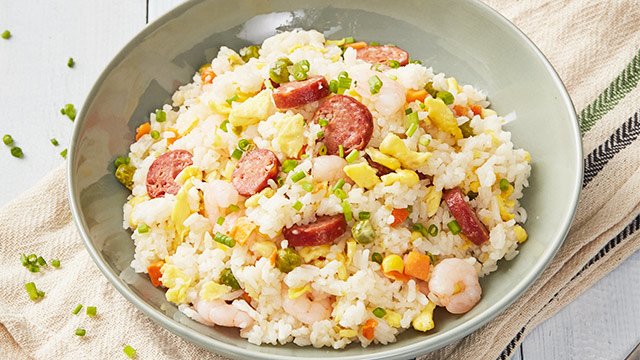 Fried rice is the quintessential home cook-friendly, fuss-free dish that is, more often than not, a welcome addition to breakfast or at times, even a complete meal. It's almost unbelievable how versatile the fried rice is, and is the type of dish you can also get creative with. Toss in your favorite mix of vegetables or chunks of leftover meat from dinner; or keep it simple and make the Filipino-favorite sinangag, made with leftover rice and crisp garlic bits.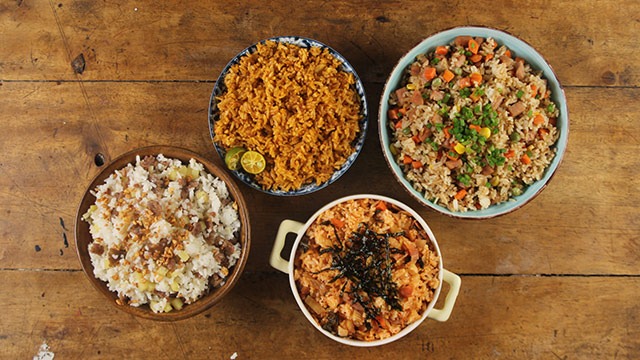 WATCH: 4 Fantastic Fried Rice Recipes
Posted in:
Cooking
Surprisingly, making fried rice can be a tad technical but can be easy as pie with tips on how to cook it and what equipment to use. We've listed everything down to guide home cooks through the process—time to bring out that wok!
1 Use leftover rice.
Or, use leftovers in general! The magic of this dish is that any odd bits that are left in your refrigerator make delicious additions to fried rice—think of it as a leftovers remix. You can throw in adobo flakes, chopped roast chicken, frozen peas, last pieces of your vegetable grocery haul, and whatever was left of last night's beef stir-fry.
The reason days-old rice is recommended for fried rice is because it is more dry and firm, and can toss up in oil much easier that freshly-cooked soft rice. A sign of a good fried rice is when the grains do not clump together and fall apart from each other easily.
If refrigerated, break up the day-old rice with a large spatula or spoon once it hits the hot pan to make sure it doesn't get mushy over the cooking process.
2 Do the prep work.
Fried rice is fast—everything comes together in only a few minutes, so be prepared to add one thing after the other! Have your chopped garlic, onions, and other aromatics ready by your stove. Crack your eggs ahead of time and place them in a bowl. Using leftover cuts of meat? Chop them up into bite-sized pieces and have them at arm's reach so you can easily toss them in.  
3 Use a wok or kawali.
There will be a lot of mixing and tossing action for fried rice, so you'll need a lot of space and high edges in a pan to make room for all of it. A wok is a Chinese frying pan that has a rounded bottom and high edges.
In the Philippines, the aluminum wok or kawali is often used instead—and makes the perfect pan for fried rice. The wideness of the pan gives a lot of space for the ingredients to cook without steaming, and the high edges means that you can push ingredients to the side while adding more. Find a kawali in any grocery store or home store, and you'll find that it's a versatile pan for frying and stir-frying at home.
4 Cook over high heat.
This is a must—rice firms up better over high heat and is prevented from steaming and turning into mush. Be generous with a neutral-tasting frying oil, such as canola oil, and get it very hot. Add the rice in batches to get the best results, tossing and mixing constantly so that each grain of rice gets coated in oil—the goal is that the outer skin of the grain becomes firm and toasty.
ADVERTISEMENT - CONTINUE READING BELOW
Recommended Videos
5 Add mix-ins according to cooking time.
Meat, veggies, and aromatics that need to be cooked through should go into the pan before the rice. For best results, cook these ingrdients in the frying pan, remove and set aside, and add them back in after frying the rice.
A classic Filipino sinangag, or garlic fried rice, requires chopped garlic to be toasted until golden brown in a generous pour of oil before the addition of rice. This makes sure that everything is cooked through properly and that flavor stays on-point.
If using leftover cooked meat and vegetables as add-ins to a fried rice, add them into the mix after the aromatics and rice to heat them up.
6 Garnish with refreshing greens.
Fried rice is heavy on the oil, starch, and mix-ins. Cut through the heaviness with a sprinkle of fresh garnishes: Chopped green onions, wansoy, leeks, or parsley. It'll be a refreshing addition to the overall dish!
ALSO READ: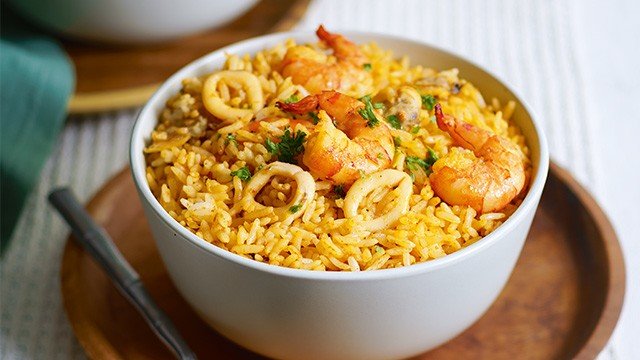 Seafood Aligue Fried Rice Recipe
Posted in:
Recipe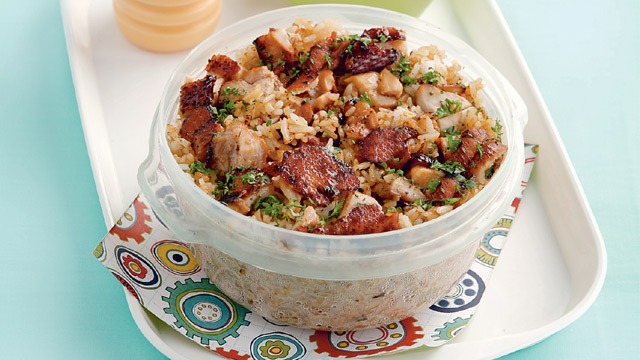 Barbecue Chicken Fried Rice
Posted in:
Recipe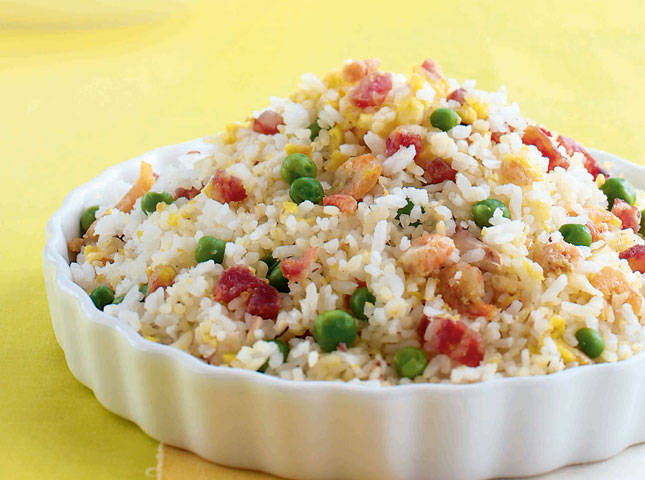 Yang Chow Fried Rice Recipe
Posted in:
Recipe