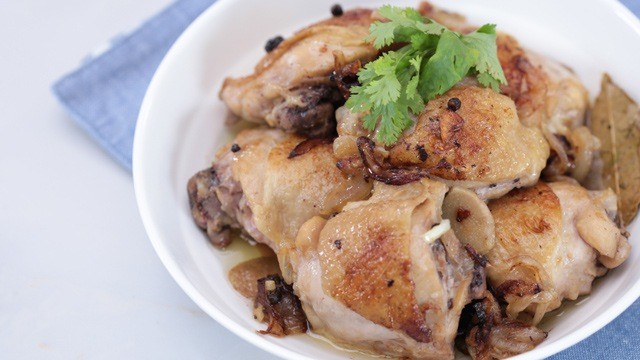 Pinatisang Manok is a simple Filipino chicken dish made by marinating chicken in a delicious mix of ginger, patis (fish sauce), and peppercorns. It is a simple marinade that coats the chicken with delicious savory flavors. It's a delicious meal in minutes!
Pinatisang Manok Recipe
Prep time 5 minutes
Cooking time 20 minutes
Serves 5
6 cloves garlic, minced
1/4 cup ginger, sliced
1 small white onion, sliced
2 bay leaves
1 tablespoon peppercorns
3 tablespoons fish sauce (patis)
1 kilo chicken thighs
1/4 cup oil
cilantro leaves, for garnish (optional)
1 Make the marinade: combine the onion, ginger, garlic, fish sauce, peppercorns, and bay leaves in a bowl. Add the marinade to the chicken thighs.
2 In a heavy frying pan, heat the pork oil over high heat. Sauté the chicken thigh, 4 minutes per side.
3 Add the marinade and reduce completely over medium heat.
4 Serve warm and garnish with cilantro leaves.
ALSO READ: