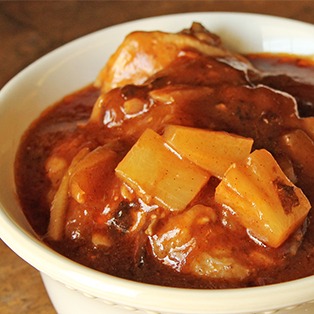 Pineapples add a delicate sweetness to this tomato-based stew!

Pininyahang Manok  (Chicken in Pineapple Sauce)
2 tablespoons oil
2 tablespoons ginger, minced
3 cloves garlic, minced
1 medium onion, sliced
500 grams chicken thighs 
2  tablespoons patis (fish sauce)
salt and pepper, to taste
1 cup tomato sauce
1 can pineapple chunks (20-ounce can)
1 Saute ginger, garlic, and onion in oil. Add chicken and patis, then saute for 10 minutes or until the chicken turns slightly brown.
2 Add the tomato sauce and season with salt and pepper. Bring to boil then let simmer for 15 minutes.
3 Add the can of pineapple chunks along with the syrup. Simmer for 5 to 10 minutes. serve with steamed rice.
CLICK HERE for more CHICKEN RECIPES