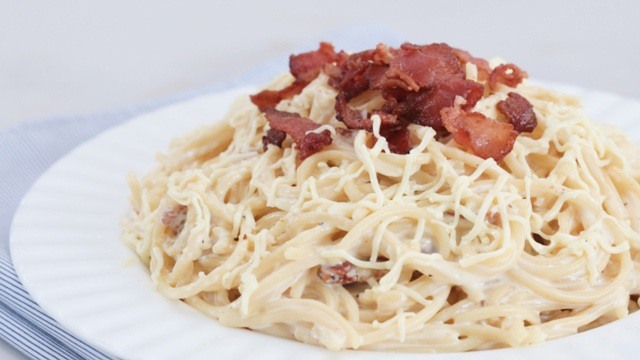 Pinoy-style carbonara is always going to be a crowd favorite. This local recipe is adapted from the no-egg version of the spaghetti carbonara to cater to the local taste. This version makes use of all-purpose cream, bacon, and quick-melting cheese to deliver a luscious sauce tossed in spaghetti noodles. While there are those who will cry that this nothing like the real carbonara, this is one version that is hands-down a Pinoy favorite pasta. 
Pinoy-Style Carbonara Recipe
Takes 20 minutes
Makes 4 servings 
400 grams spaghetti pasta
7 bacon slices, chopped
1 tablespoon all-purpose flour
1 1/2 cups all-purpose cream
1/2 cup quickmelt cheese, grated, more to serve
Salt, as needed, to taste 
Ground black pepper, to taste 
1 In a large pot, bring about 2 liters of salted water to a boil. Add pasta and cook for 8 minutes. Drain, reserving about 1/2 cup pasta cooking water, and set aside. Keep warm. 
2 Meanwhile, in a large wok over medium heat, cook bacon. Remove bacon from the pan and transfer to a plate. Remove any excess bacon fat from the pan until only about 2 tablespoons is left in the pan. 
3 Sprinkle in flour, and stir to mix into the bacon fat. Cook for 30 seconds. Pour in cream. Stir. Cook until hot. Add half the bacon back to the wok. Stir. Add and stir in cheese until it has melted. 
4 Once mixture is hot, turn off the heat. Add cooked pasta. Toss to mix. Add reserved pasta water to loosen the sauce. Season with salt and pepper to taste.
5 Use tongs to plate and top each with reserved bacon and more grated cheese. Serve while hot. 
ALSO READ: