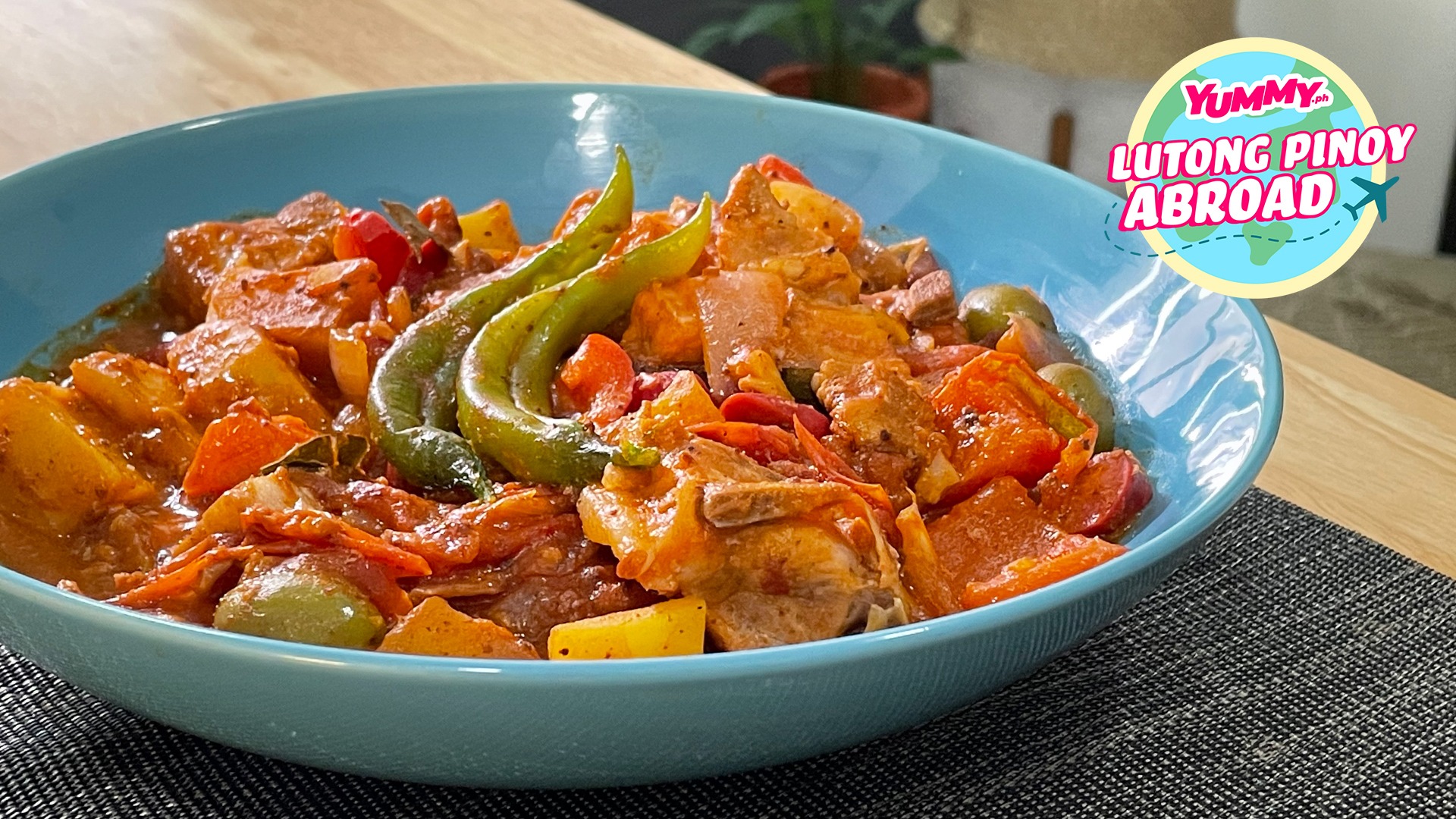 Caldereta (or kaldereta) is usually made with beef but in this episode of Lutong Pinoy Abroad, Louisa Andrade makes the classic Filipino favorite with pork and cooking cream. 
Pork Caldereta Recipe 
Serves 3 to 4 people 
500 grams pork belly and ribs, cubed
6 cloves garlic, lightly crushed
1 medium red onion, quartered
3-5 pieces bay or laurel leaves
1 cup tomato sauce
fish sauce, to taste
1 teaspoon soy sauce, or to taste
3 medium kamote or potato, cubed
1 medium carrot, cubed
1 red bell pepper, cubed
1/2 cup pitted green olives, optional
1 85-gram can liver spread, optional
2 pieces hotdog, sliced, optional
cooking cream, to taste, optional
2 pieces green chilies
1 Place the pork chunks in a pot and add enough water to cover the meat. Boil pork until tender. Set aside. 
2 In a saute pan over low heat, add the garlic and slowly cook it until softened.
3 Add the red onions and laurel leaves. Season with salt and cook until the onions are translucent.
4 Add the tomatoes and enough water to soften the tomatoes. Once softened, add tomato sauce, liver spread, fish sauce, and soy sauce. Cover and allow to simmer.
5 Add the red bell peppers, carrots, kamote, and hotdogs.
6 Once tender, add the pork chunks and some of the broth into the tomato mixture. Add the olives and green chilies. Continue cooking until the vegetables are cooked through.
***