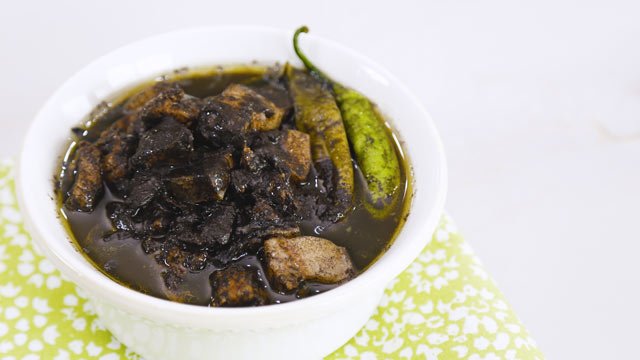 Pork dinuguan or pork blood stew is a Filipino dish with pork belly simmered in a rich mixture of vinegar and pig's blood. 
1 tablespoon cooking oil
1 tablespoon garlic, chopped
1 medium-sized onion, chopped
1 kilo pork, (use pork belly or pork loin), cut into cubes
1 kilo pork blood
1 cup vinegar
1 cup water
2 pieces long green chilies (siling pangsigang)
2 tablespoons brown sugar
salt, to taste
pepper, to taste
1 Saute the garlic and onion in pre-heated oil until translucent.
2 Add the pork and cook until some of the fat from the pork has rendered.
3 Add water, vinegar and the pork blood. Simmer until thick or for 30 minutes.
4 Add in the long green chilies and sugar. Season with salt and pepper Let it simmer over low flame for 15 minutes. Serve warm.