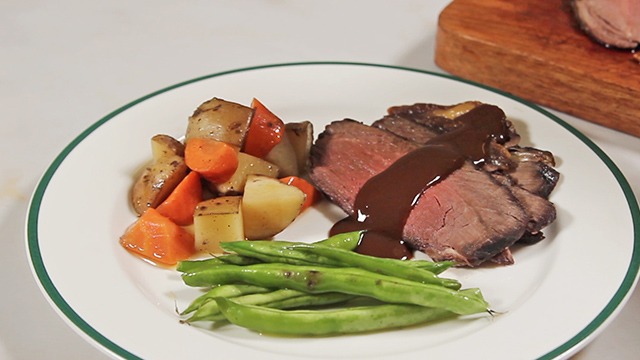 Roast beef is the perfect dish for special nights with family and friends. Plus, it doesn't take much time or effort to make! You can also cook vegetables in the same pan for a bright and flavorful side dish.
1 kilogram rib-eye, patted dry
2 medium carrots, peeled and cubed
1 bunch green beans, trimmed 2 tablespoon canola oil
salt and ground black pepper, to taste
2 Place beef on a cutting board. Sprinkle salt and pepper generously all over beef. Set aside.
3 Add potatoes, carrots, and beans into a large bowl. Drizzle with oil. Sprinkle with salt and pepper to taste. Toss to coat. Spread seasoned vegetables into a small roasting pan. Place beef on top of vegetables.
4 Place in preheated oven, and roast uncovered until beef reaches your desired doneness. Use a meat thermometer to check for meat's internal temperature (130?F for medium). Remove from oven, and let rest at least 15 minutes before slicing and serving. Serve with roasted vegetables and beef gravy.