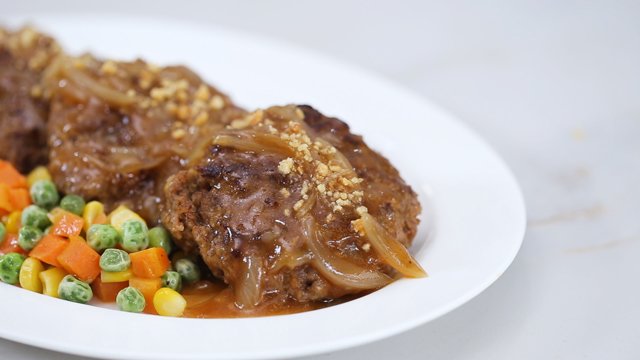 It's time you tried making Salisbury steak at home! Make your patties from scratch for the best version of this comfort food classic.
Salisbury Steak
Prep time 15 minutes
Cooking time15 minutes
Serves4-6

500 grams beef, use lean ground beef
1/2 cup breadcrumbs
1 tablespoon catsup
2 teaspoons mustard
1 teaspoon Worcestershire sauce
1 beef bouillion cube
salt
1 tablespoon olive oil
1 tablespoon butter
1 white onion, thinly sliced
2 cups beef stock
1 tablespoon catsup
1 teaspoon liquid seasoning
1 teaspoon Worcestershire sauce
3 teaspoons cornstarch, or as needed
pepper
1 Make the meat mixture: Combine ground beef, breadcrumbs, ketchup, mustard, Worcestershire sauce, bouillon, salt, and pepper. Mix until well combined. Form into 4-6 patties.
2 Heat oil and melt the butter in a frying pan. Increase heat to medium-high. Fry the patties in batches until the beef changes color and is no longer pink in the center. Transfer beef to a platter
and pour off excess grease from the frying pan.
3 Make the gravy: using the same frying pan, saute onions over medium heat. Stir and cook until golden brown and soft. Add beef stock, ketchup, liquid seasoning, and Worcestershire sauce. Dissolve cornstarch in a little beef stock and add to the sauce. Stir and cook to reduce. Adjust seasoning with salt and pepper. Add more stock if the sauce is too thick.
4 Add the cooked beef patties to the gravy. Spoon gravy on top of the patties and simmer for a minute. Serve with fried potato wedges and buttered mixed vegetables, if desired.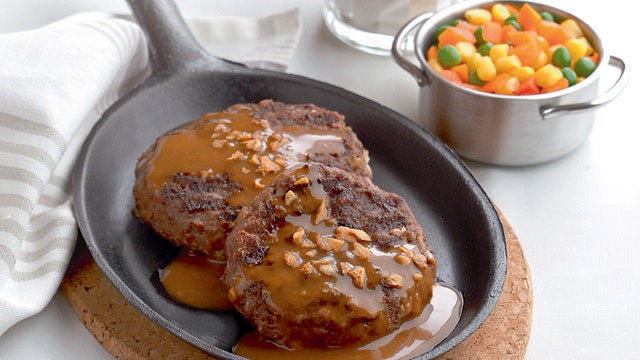 Sizzling Salisbury Steak
Posted in:
Recipe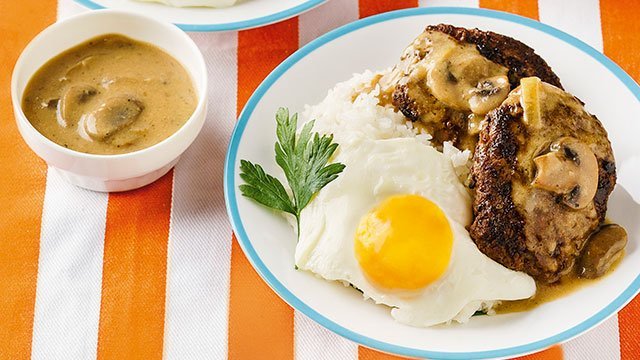 Burger Steak with Gravy Recipe
Posted in:
Recipe