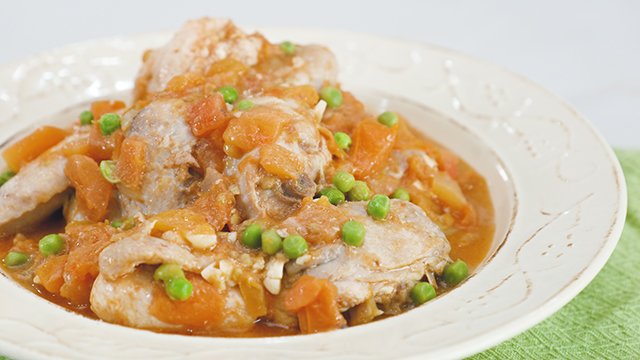 Chicken braised in tomatoes makes for an easy chicken dinner recipe! Remember to use fresh tomatoes for this Filipino favorite. It comes together in one pot, too!
Sarciadong Manok Recipe
Prep Time 10 minutes
Cooking Time 20 minutes
Yield 3 to 4
2 tablespoons canola oil
1 1/2 tablespoons garlic, chopped
1 1/2 tablespoons onion, chopped
2 pieces laurel leaf
3 cups tomatoes, chopped
1 1/2 teaspoons tomato paste
1 kilo chicken parts
1 tablespoon fish sauce (patis), or to taste
1/4 cup water
1/4 cup peas
1 Heat oil in a pot over medium heat. Sauté onions, garlic, laurel leaves, and tomatoes until tomatoes are softened. Add tomato paste and continue to sauté for a minute, then pour in the patis and add the chicken.
2 Cook the chicken for 3-4 minutes while turning the pieces. Pour in the water and let simmer for 10-15 minutes or until chicken is cooked. Add the peas in the last 2 minutes of cooking. Season to taste.