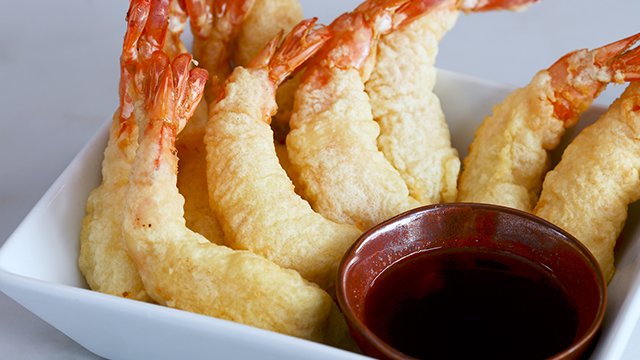 Tempura is a Japanese dish made of seafood or vegetables which are coated in batter and deep-fried. This shrimp tempura recipe makes it easy to recreate this Japanese dish at home. Remember to use ice-cold water when preparing the batter—it makes for a light and crispy batter! 
Shrimp Tempura 
8 pieces shrimp or prawns (sugpo), shelled and deveined with tails left intact
1 cup tempura flour (available in the Asian/ international aisle of most groceries)
salt, to season
pepper, to season
1 piece egg
1 cup water, ice-cold
canola oil, for deep-frying
3 tablespoons all-purpose flour
1 Make the tempura: Lay the prawns flat on a chopping board, belly side down. Make shallow slits along the back to prevent the prawns from curling when fried. Set aside.
2 Season tempura flour with salt and pepper; set aside. Place egg in a bowl, beat lightly, then add cold water. add tempura flour mixture and mix lightly, being careful not to overmix the batter. Set aside and keep cold.
3 When ready to fry, heat oil in a deep wok or casserole. Dredge prawns in all-purpose flour and dust off excess. Dip in tempura batter and deep-fry in batches until golden, about 3 minutes over medium heat. Drain on paper towels.
ALSO READ: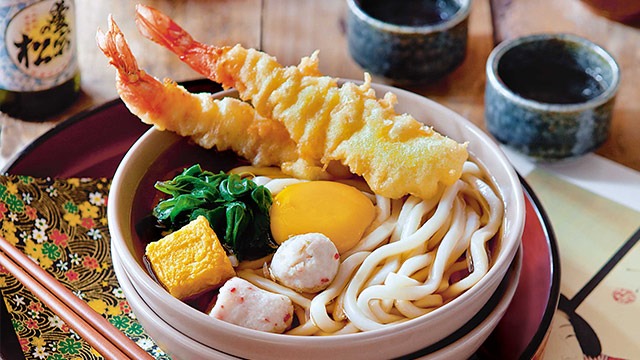 Tempura Udon Recipe
Posted in:
Recipe