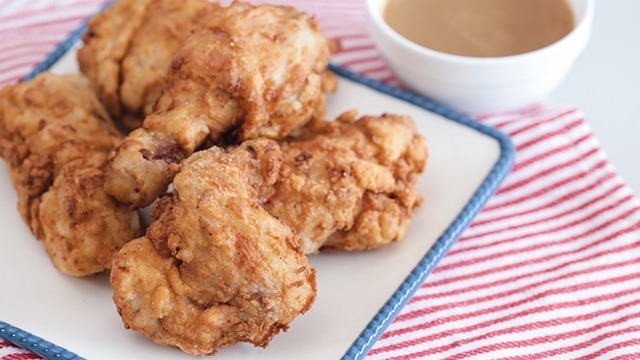 Southern-style fried chicken has juicy meat covered in the crispiest, crunchy skin. Try this easy recipe and combine buttermilk and store-bought fried chicken seasoning to make the skin extra flavorful.
Southern-style Fried Chicken Recipe 
1 cup plain yogurt
1 1/2 tablespoons fried chicken seasoning
1/2 kilo chicken, (a mix of drumsticks, wings, and thighs)
1 cup all-purpose flour
1 teaspoon fried chicken seasoning
cooking oil
gravy, to serve (optional)
1 Combine buttermilk or yogurt and fried chicken seasoning. Place in a large zip-top bag or container. Add chicken pieces; mix well. Cover and marinate in the refrigerator overnight.
2 Preheat oil in a deep, heavy-bottomed pan until it registers 325°F on a deep-fry thermometer. Drain chicken pieces from yogurt marinade.
3 Combine flour and chicken seasoning on a plate. Dredge chicken in seasoned flour. Deep-fry chicken until golden and crisp. Drain on paper towels to remove excess oil.
4 Serve immediately with gravy or ketchup on the side.