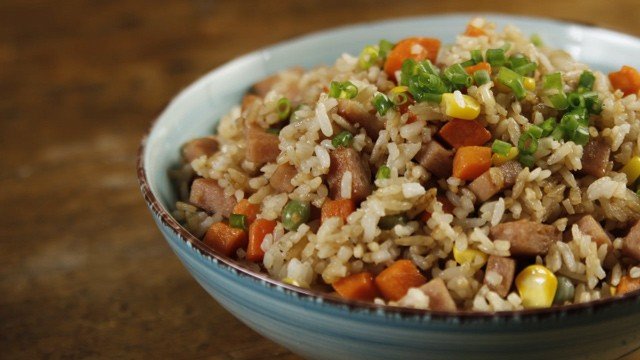 Always on the go? This Spam fried rice recipe is so easy, you can make it in a cinch.
1 tablespoon vegetable oil
2 cloves garlic, minced
1 cup Spam, diced
1 1/2 cups frozen mixed veggies
3 cups cooked rice
1 1/2 tablespoon soy sauce
1/2 tablespoon fish sauce
1/4 teaspoon sesame oil
salt and pepper, to taste
sliced green onions, for garnish
1 Heat vegetable oil in a frying pan or wok. Add garlic and diced Spam. Cook until light golden brown.
2 Add frozen mixed veggies. Cook until tender.
3 Add cooked rice and toss to combine.
4 Add soy sauce, fish sauce, and sesame oil. Toss to combine.
5 Season with salt and pepper. Top with sliced green onions.