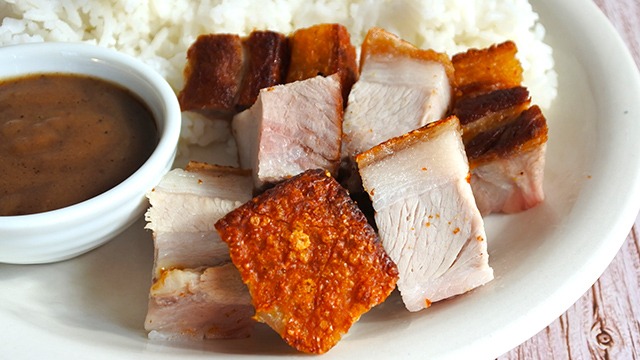 This isn't your ordinary lechon kawali! Just when you thought lechon kawali couldn't get any better, we decided to do this it: we made it spicy. 
To make a super tasty spicy lechon kawali means simmering the pork in a spicy mix of ingredients. Instead of just marinating it, it's simmered just like a lechon kawali recipe would instruct you to do. Just add enough water to tenderize the pork then reduce that mixture so it's still tasty and not watered down. 
Once tender, you need to dry out the skin of the pork. This is the real secret to crispy pork. The drier it is, the crispier it gets when it's fried. There's another benefit to well-dried pork. You not only will blister and produce pork crackling with a crunch that will delight your ears as well as your taste buds, but you will also reduce oil splatters. 
Another trick to cooking lechon kawali is to start cooking the pork in cold oil. It won't splatter as much compared to starting with hot oil and then placing the pork in it. You'll notice there are fewer splatters with this easy technique combined with a well-dried piece of pork. 
Have you ever tried a spicy one? Here is what you'll need plus the instructions on how to do it: 
Spicy Lechon Kawali Recipe 
Takes 80 minutes plus cooling/drying 
Makes 6 servings
1 kilo pork liempo, skin on
½ cup fish sauce
1 medium red onion, chopped
1 head garlic, minced
¼ cup calamansi juice
1 teaspoon black peppercorns
¼ cup siling labuyo, chopped
oil, for frying
water, as needed
1 In a medium pot, add pork, fish sauce (patis). red onion, garlic, calamansi juice, black peppercorns, and siling labuyo. Add enough water to cover the meat. Bring to a boil then simmer for around 40 minutes or until the pork is fork-tender. Add water as needed to prevent the liquid from drying out before the pork is tender. 
2 Remove the pot from the stove and transfer the pork to a shallow bowl or tray. Let the pork cool and dry completely, uncovered, overnight in the refrigerator. (Speed up the drying by using a fan, air fryer, or oven toaster to dry the pork skin quickly.) 
3 When ready to cook, add enough cooking oil into a medium frying pan to reach halfway up the sides of the pan. Place the lechon, skin side down, into the cold oil. Turn on the heat, and heat the oil and the pork over medium heat.
4 Once heated, cook the pork until the skin is puffed and crisp. Flip and brown the meat on all sides, basting with the hot oil as needed to keep the pork golden brown and delicious.
5 Once browned, remove from pan. Let cool slightly before using a sharp knife to slice the pork. Serve with your choice of vinegar or lechon sauce.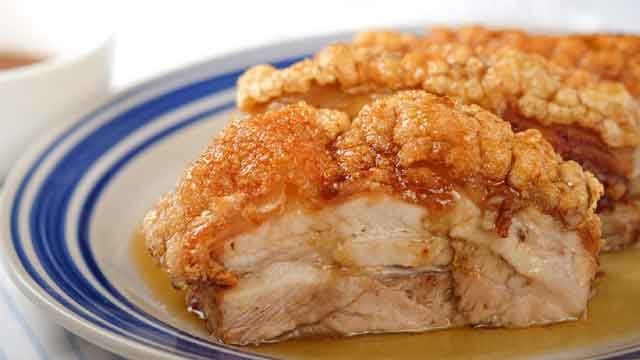 These Recipes Make Lechon Kawali Better
Posted in:
Cooking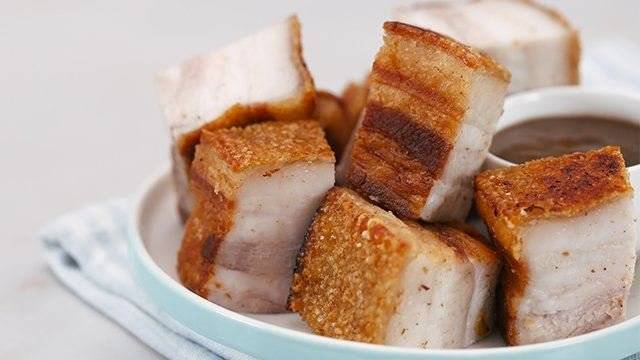 WATCH: How To Cook Lechon Kawali
Posted in:
Cooking
ADVERTISEMENT - CONTINUE READING BELOW
Recommended Videos