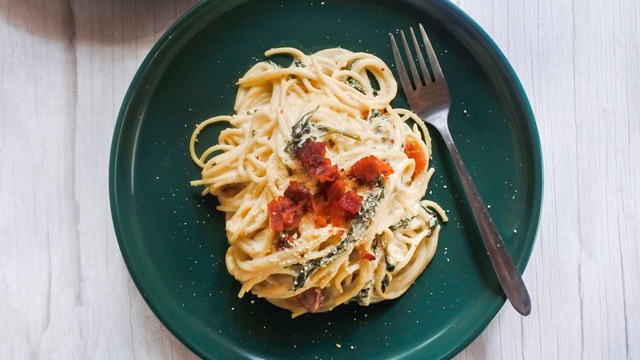 When you see the ingredient "spinach", the leafy green you know you're going to use will be the kang kong. That's perfectly alright because the kang kong is a kind of spinach. 
The water spinach or more locally known as kang kong is the most common and readily available kind of spinach in local markets. That's what we used in this super creamy pasta recipe and it's delicious. We also used Philadelphia cream cheese because we know that when it's available, it's the cream cheese of choice for bakers. This creamy cheese is the OG ingredient when making any kind of cheesecake recipe!
So, if you love cream cheese, this is the pasta that you need to try to make at home! Here's the recipe: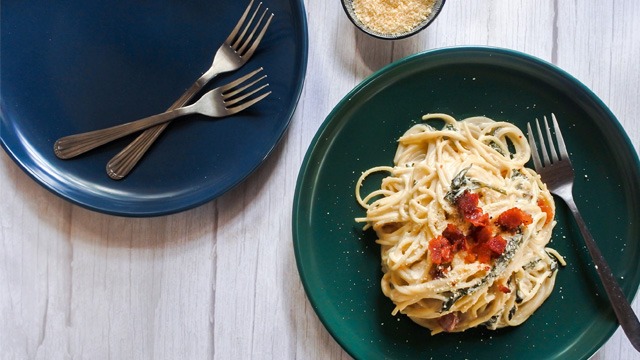 Spinach and Cream Cheese Pasta Recipe 
Takes 20 minutes
Makes 4 servings 
Spinach and Cream Cheese Pasta Ingredients 
1 400-gram pack spaghetti 
Water, as needed
1 tablespoon canola oil 
8 slices bacon, chopped 
1 medium white onion, peeled, finely chopped
1 bundle kang kong, leaves only, roughly chopped
1 226-gram block cream cheese, softened, cubed 
1/2 cup evaporated milk 
1/4 cup grated Parmesan cheese
Salt, to taste 
Ground black pepper, to taste 
How To Make Spinach and Cream Cheese Pasta 
1 Bring a medium pot of water to a boil. Add 1 tablespoon salt. Once boiling, add spaghetti. Cook 7 minutes or until al dente. Drain, reserving 1 cup pasta water, and set aside. Keep warm. 
2 Meanwhile, in a large sauté pan over medium heat, heat oil. Add bacon and cook until crispy, stirring as needed. Remove bacon from the pan and set aside. 
3 Add onions to the remaining fat. Cook onions until softened, about 3 to 5 minutes, lowering heat as needed to prevent browning. Add kang kong leaves and stir. Cook until wilted, about 3 minutes. 
4 Add cream cheese, evaporated milk, 1/2 cup reserved pasta water, and Parmesan cheese. Stir to melt the cream cheese into a thickened sauce. Season with salt and ground black pepper to taste. 
5 Add cooked spaghetti and toss until well combined. Add half the bacon and toss. Season with salt and ground black pepper again to taste as desired. Add more of the reserved pasta water or just plain water as needed to thin down the sauce. 
6 Serve while hot with more bacon on top.
***