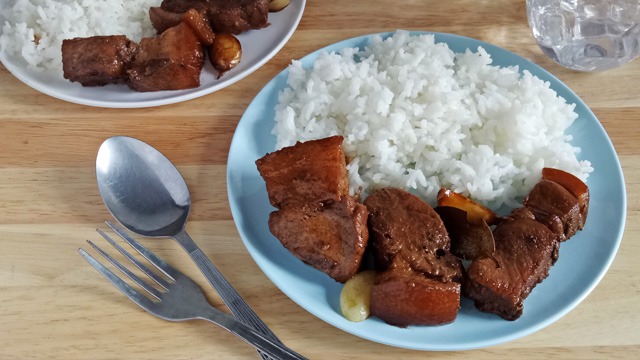 When you think of Filipino adobo, the most common way of making this classic stew is with the usual ingredients: soy sauce, vinegar, garlic, laurel leaves, and black pepper. The meat is marinated in this flavorful mixture before being cooked. The amount of vinegar is what makes this dish distinct and true to its name: to adobo a dish is to preserve it, in this case, in vinegar.  
For this adobong baboy recipe, however, we take the adobo one step closer to "malinamnam" territory. We still use the same ingredients but swap out a common ingredient that everyone has and replace it with an ingredient that many of us have but usually throw out.
READ THESE: MORE ARTICLES ON ADOBO
We removed the water and replaced it with a flat lemon-lime soda, such as Sprite or 7-Up. Everyone has probably encountered a soda where the spirit or the carbonated bubbles have disappeared. It has gone flat. It's the bubbles that make the soda so refreshing! Without those signature bubbles, a soda is just a super sweet beverage that's no longer appetizing to drink. 
Soda in cooking isn't unheard of. We use the same technique when we make our Pinoy pork barbecue. It tenderizes the meat while enhancing the other flavors in the marinade. 
Using a lemon-lime soda like Sprite in this pork adobo recipe not only makes this pork dish super flavorful in a unique way, but it also makes the pork super tender faster, too. We take out the usual marinating time, too, so you can serve this within the hour you start cooking it!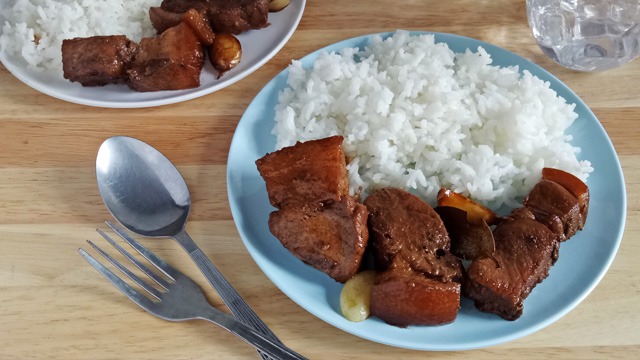 You have to try this adobo! Here's the recipe: 
Sprite Pork Adobo Recipe 
Takes 50 minutes 
Makes 6 servings 
2 tablespoons oil
1/2 kilogram pork belly, cubed
1/2 cup vinegar or sukang puti
1/2 cup soy sauce
2 cups lemon-lime soda such as Sprite
6 cloves garlic, whole
2 dried laurel leaves
1/2 teaspoon coarsely ground black pepper, or to taste 
1 In a pot over medium heat, heat oil. Add and sear the pork.
2 Add the vinegar and let it come to a boil then simmer until reduced slightly. Add the remaining ingredients: soy sauce, soda, garlic, laurel leaves, and pepper. 
3 Increase heat to high, and bring to a boil. Cover and lower the heat to simmer. Simmer 30 minutes or until pork is tender.
4 Simmer the sauce until thickened. Serve with steamed rice.
ALSO READ: 
ADVERTISEMENT - CONTINUE READING BELOW
Recommended Videos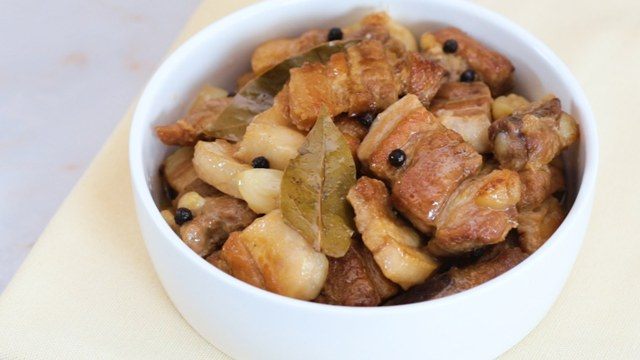 Here Are 7 Easy Ways To Cook Your Adobo
Posted in:
Cooking
***
Thinking about what to cook next? Join our Facebook group, Yummy Pinoy Cooking Club, to get more recipe ideas, share your own dishes, and find out what the rest of the community are making and eating!
Got your own version of the classic dishes? Pa-share naman! Get your recipe published on Yummy.ph by submitting your recipe here!