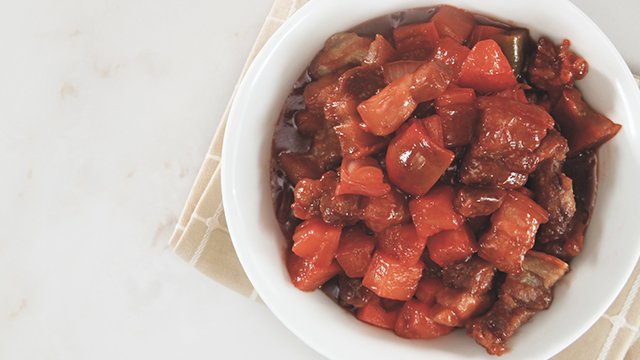 Looking for a quick dinner recipe? This take on sweet and sour pork has banana ketchup, fried pork pieces, onions, bell peppers, and pineapples tossed in a sweet-tangy sauce. It's really easy to make!
1 cup all-purpose flour
1/2 cup cornstarch
salt and pepper, to taste
cooking oil, for frying
1 kilo pork belly, cut into 2-inch cubes
1 medium onion, cut into quarters
1 bell pepper, cut into big cubes
1 medium carrot, sliced into chunks
1 cup pineapple chunks
1 teaspoon soy sauce
1/2 cup banana ketchup
3/4 cup pineapple juice
2 teaspoons sesame oil
1 Make the breading: Combine the all-purpose flour, cornstarch salt, and pepper.
2 Dredge the pork pieces in the flour mixture and fry until golden brown. Set aside.
3 Drain excess oil. Sauté the onion, red bell pepper, carrots, and pineapple chunks.
4 Add the ketchup, pineapple juice, soy sauce and sesame oil. Let it simmer for 10 minutes.
5 Return the cooked pork in the pan and toss to coat with the sauce. Serve.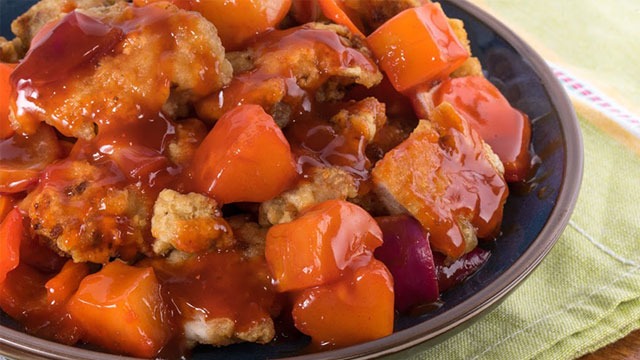 Sweet and Sour Chicken Recipe
Posted in:
Recipe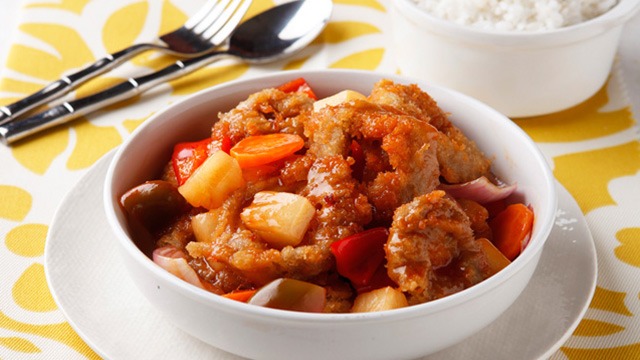 Sweet and Sour Squid Recipe
Posted in:
Recipe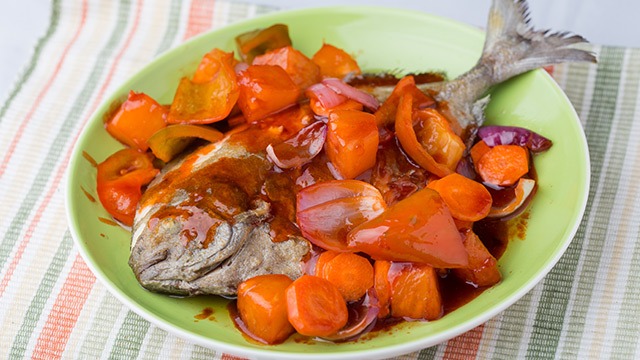 Sweet and Sour Pampano Recipe
Posted in:
Recipe