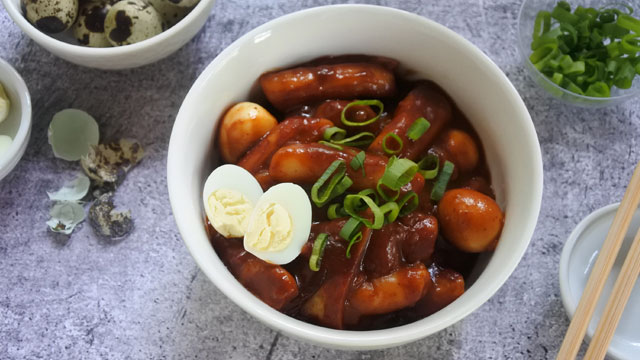 TTeokbboki is a simple Korean street food that you can easily make at home. The big issue is getting your hands on some Korean ingredients, particularly the rice cakes, fish cakes, and the gochujang or Korean red pepper paste. It's the paste that makes this street food extra delicious and saucy! 
Want to try making it? It's a good thing then that there are many Korean groceries and other Asian groceries located in various parts of the metro, so you will find it easy to get these ingredients. 
We have a tteokbokki recipe that adds more flavor and a hearty addition: onions in the sauce and pugo or quail eggs to the mix. 
Here's the recipe: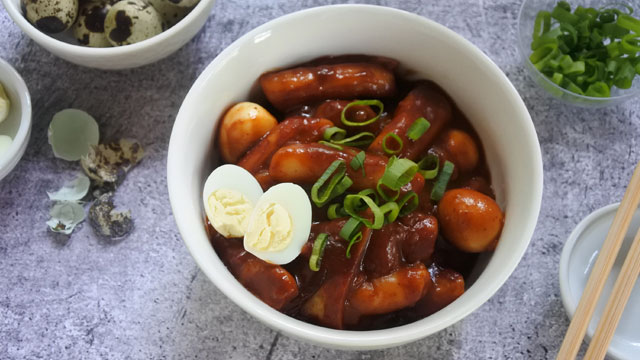 Tteokbokki Recipe 
Takes 20 minutes
Makes 4 servings 
Tteokbokki
 Ingredients 
2 1/2 cups chicken stock
3 tablespoons gochujang (Korean red pepper paste)
1 teaspoon gochugaru (Korean red chili flakes) 
1 tablespoon honey 
1 teaspoon sesame oil 
1 medium white onion, thinly sliced
1 280-gram pack Korean rice cakes 
2 pieces Korean fish cakes, cut into bite-sized pieces
12 quail eggs, cooked and peeled
Green onions, chopped, for garnish 
Water, as needed
How To Make Tteokbokki 
1 In a small pot filled with water over medium heat, cook quail eggs for 3 minutes when water comes to a boil. Remove eggs from the water and cool slightly over running water before peeling. Set aside. 
2 In a large frying pan over medium heat, heat the stock and the sauce ingredients: gochujang, gochugaru, honey, sesame oil, and onions. Stir sauce ingredients together until combined. 
3 Add tteokbokki and fish cakes until heated through. Bring to a simmer and reduce until sauce is thickened and rice cakes and fish cakes are tender. (This can take 5 to 10 minutes.) 
4 Add the cooked quail eggs. (Reserve one or two eggs for garnish.) 
5 Transfer to a shallow bowl and garnish with green onions and reserved quail eggs, halved. Serve.
Serve leftover tteokbokki in a bibimbap bowl. Here's what to do: 
Bibimbap with Tteokbokki Recipe 
Takes 15 minutes
Makes 4 servings  
Bibimbap
 

with

 

Tteokbokki

 Ingredients 
For gochujang sauce:
3 tablespoons gochujang (Korean red pepper paste)
4 tablespoons sesame oil
1 teaspoon soy sauce
3 cloves garlic, minced
1 teaspoon ginger, minced
1 teaspoon roasted sesame seeds
1 teaspoon cooking oil, or as needed
For toppings: 
1/2 cup canned button mushrooms, sliced thinly
1/2 medium zucchini, sliced into thin half-moons
1/2 medium carrot, sliced into thin strips
1 cup bean sprouts (togue), sauteed in 1 teaspoon sesame oil 
Leftover tteokbokki 
4 small eggs, fried 
4 cups Japanese rice, cooked
Salt, to taste 
How to Make Bibimbap
 

with

 

Tteokbokki 
1 Make the gochujang sauce: mix gochujang, sesame oil, soy sauce, garlic, ginger, and sesame seeds together in a small bowl. Set aside.
2 Heat cooking oil over medium heat in a heavy-bottomed pan. Sauté and season vegetables separately: mushrooms for 3 minutes, carrots for 2 minutes, zucchini for 5 minutes, and bean sprouts for 3 minutes. Set aside.
3 Prepare 4 bowls with 1 cup rice each, then arrange mushrooms, carrots, zucchini, bean sprouts, and tteokbokki on top of the rice in a circle, leaving the center empty. Add a fried egg in the center. Serve immediately with gochujang or leftover tteokbokki sauce if desired.
***