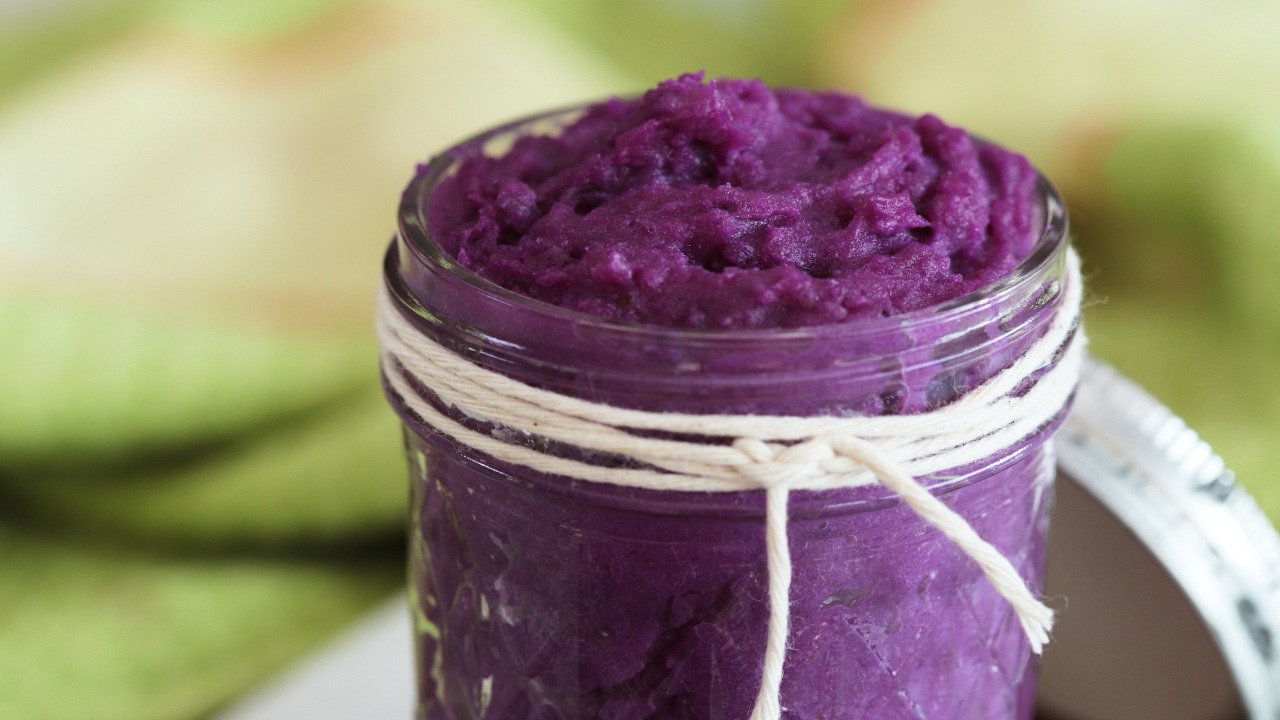 Ube halaya or ube jam is the purple-colored jam most Pinoys are familiar with. Many trek to Baguio just to buy the delicious version that is sold there but if you can't make the trip, there are other ways of getting your ube fix. 
You can make ube halaya at home. 
All it takes is a quick trip to the palengke to find some ube and make homemade ube halaya. That gloriously purple tuber is easy to transform into jam. Here are our best tips on how to do that: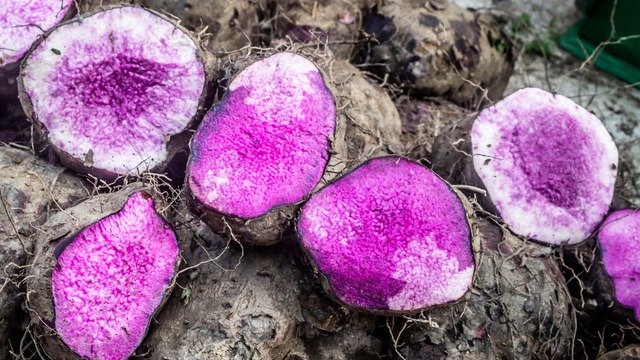 1 Use ube, not purple kamote. 
The first thing you need to know is that ube is not kamote. Those purple kamote that you might find in supermarkets are not ube and taste very different.
You will know it is ube because of its tough, bark-like outer skin. It's not smooth like the kamote. You will most probably find it with huge chunks cut off which is how you'll see the brilliant purple hue inside. This is perfect. Ube can grow very thick and can grow over one foot long if not yet harvested. You can buy what you need and not have to pay for more if you don't need to. 
Finally, buy the darkest ube you can find. If the ube doesn't ooze that pretty purple color, the ube halaya you make won't be as brilliant either.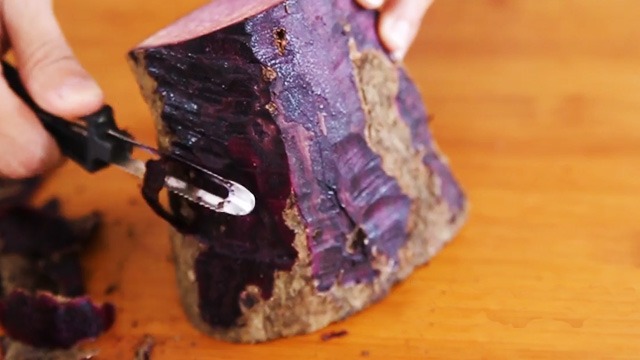 2 Thinly peel the ube. 
Now that you can have your ube, you will need to begin preparing it by peeling that hard bark-like skin off. However, we don't want to peel it off completely. Despite its toughness, it's actually very thin. The best way to remove that tough outer layer is by using a vegetable peeler. Peel only until you remove the tough brown layer. 
Word of warning: that gorgeous purple color stains! You might want to wear gloves when peeling the ube to avoid the stains. You should also immediately wash your chopping board, too.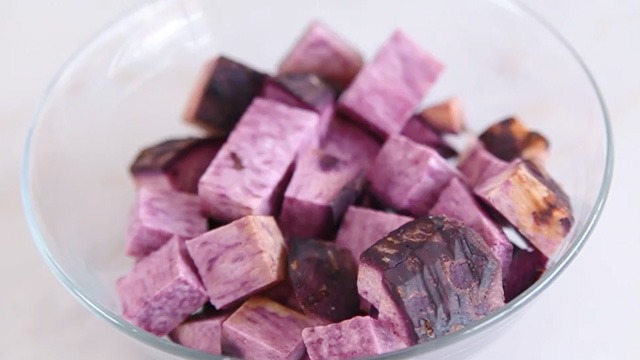 3 Cube it before steaming or boiling. 
The best way to cook ube is to steam or boil it. Steaming will tenderize the cubes enough to mash it but we highly recommend boiling the ube in water instead since it's easier and faster.
ADVERTISEMENT - CONTINUE READING BELOW
Recommended Videos
Just add enough water to cover the ube in a saucepot. Bring to a boil. Now, you'll see the water turn a deep dark purple color from the ube. We don't want to waste that natural food coloring! The trick to boiling it so you won't lose any of that gorgeous color is to simmer it until the water is almost dry. You'll want to see a thickened sauce in the pot between the ube cubes and this is the concentrated natural food coloring that we want to keep in our ube halaya. Remove the ube from the flame immediately and let it cool just enough to mash it finely.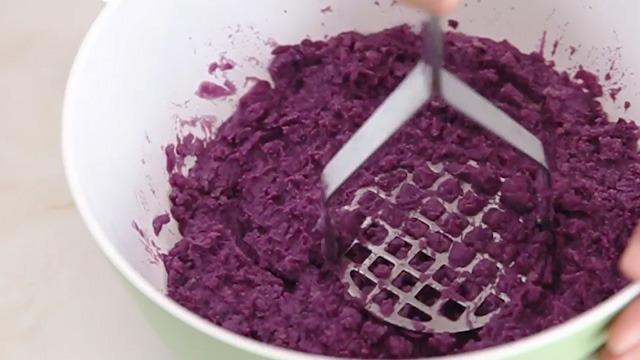 4 Use a fork or a potato masher. 
Use a fork if you don't have a potato masher but we find that the potato masher is one kitchen gadget that does the job easily and quickly.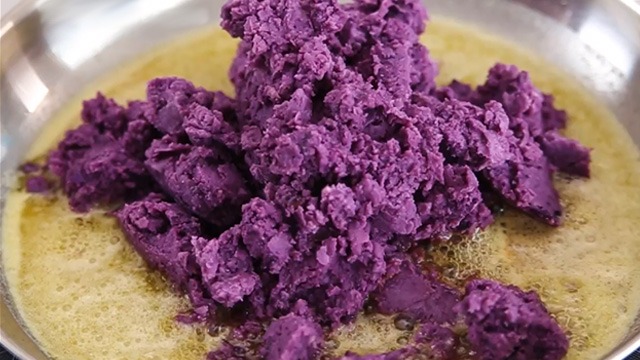 5 Cook the ube halaya. 
Ube jam is not diet food. To make ube halaya, you'll be using lots of butter. You'll be using either sugar and fresh milk or condensed milk to give it the richness and sweetness that you want in your ube halaya. You can use evaporated milk instead of fresh milk if that's what you have. You can even skip the evaporated milk all together to make it dairy-free! This is after all homemade and you can tweak the recipe as you like. 
However, what you will have to do is cook this over a low flame, stirring regularly, to prevent the ube from scorching on the bottom. You'll know it's ready when all the ingredients are absorbed by the ube, the mixture is nice and thick just like an ube halaya should be, and it looks and tastes great.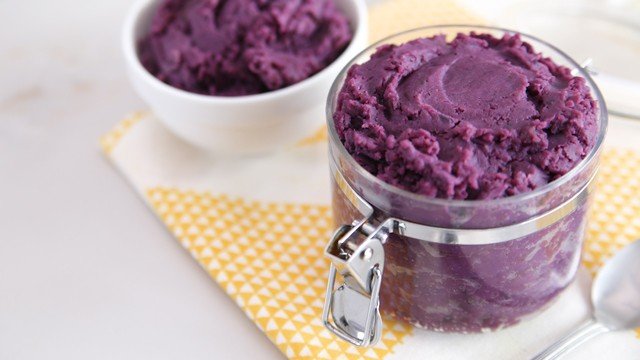 WATCH: How To Make Ube Halaya
Posted in:
Cooking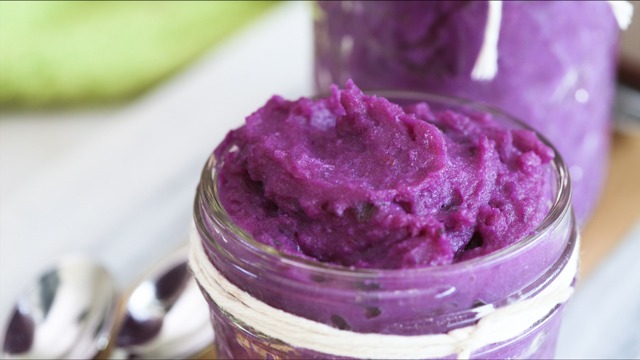 6 Let it cool and serve or use as desired. 
Take it off the heat and prepare for the longest wait of your ube-loving life. You'll want to transfer this to a container with a lid. You can of course immediately dig in but if you're willing to wait, let it cool completely with the lid on and then store in the refrigerator until ready to eat. 
Ube jam can be the ingredient to many of your favorite desserts! Here are some decadent ube recipes that you can try once you make your own homemade ube halaya: