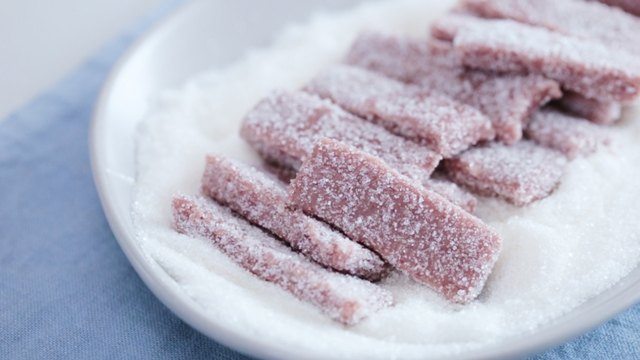 Pastillas is a well-loved Filipino milky treat made with ingredients you can easily find at home. While the no-cook pastillas version is a great alternative, this one is laced with an equally well-loved Pinoy flavor: ube! You will love this chewy candy laced with ube flavors. 
Ube Pastillas
1 cup condensed milk
1 cup ube halaya
3/4 cup powdered milk
1 teaspoon vanilla extract
1/4 cup white sugar, for rolling
1 Place condensed milk in a nonstick pan over medium-low heat. Stir constantly until thick, about 8-10 minutes.
2 Add powdered milk and vanilla extract, mix until well incorporated. Cook for another 3-5 minutes or until it forms a soft dough.
3 Transfer to a greased baking pan, flatten with a spatula and let cool completely.
4 Using a greased knife, slice into logs and roll in sugar.