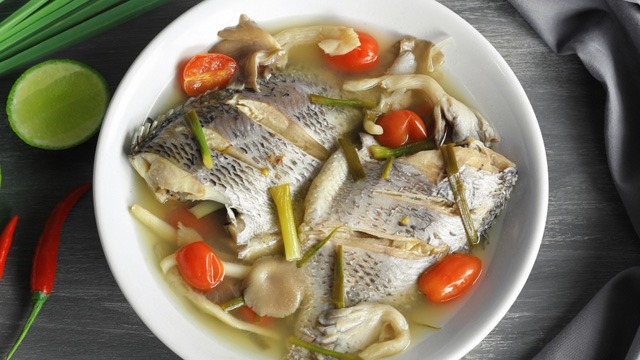 Cooking fish can be a frustrating task. If you often eat fish that has been overcooked, you may want to change your cooking method. Why not try poaching fish instead? 
Poaching is cooking food gently in heated water, usually in water that is barely simmering. This is very different from water that is boiling or even simmering. In fact, the temperature of the water is just high enough to heat the water enough to cook the food but low enough that you can barely see bubbles on the surface of the water.   
If you think about it, this is where sous vide is very similar to poaching since both cooking methods are in a liquid at a stable temperature. The main difference between these two cooking methods is that when you poach food, it's done in a pot on the stove where the food that you're cooking is submerged in the heated liquid.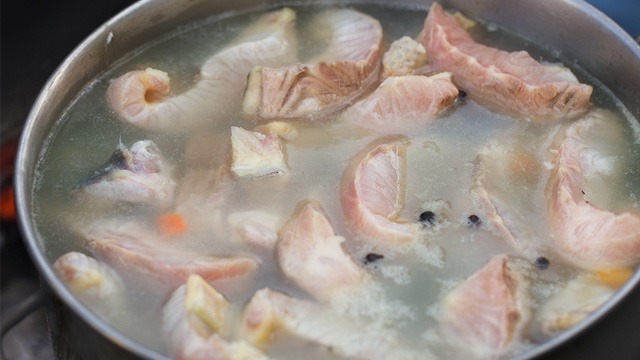 In sous vide, the food you want to cook is sealed and vacuum-packed commonly in a marinade. The food never comes into contact with the barely simmering water. Since the food is in a marinade, the food is basically cooked in it and absorbs its flavor. 
This is why poaching is particularly perfect for cooking fish since the fish is in a flavorful liquid. It cannot dry up! Plus, fish cooks quickly and absorbs the flavors in the poaching liquid. The result is succulent fish that's definitely moist and tasty. Best of all, this cooking method works for almost any fish as well as different kinds of meat. 
To try the method, here's how to simply poach fish: 
1 Fill a large pot with fish, vegetable, or chicken stock plus aromatics such as onions, leeks, and ginger and seasonings such as soy sauce, patis, and calamansi juice. 
2 Bring stock to a simmer then lower heat slightly until bubbles are barely appearing on the surface of the water, around 180 degrees F or 83 degrees C. 
3 Add fish. Let poach in the liquid until the fish is opaque and firm but still flakey, around 10 minutes. Remove from the poaching liquid and serve immediately. 
You can also poach in oil, it doesn't have to be in water. This is also called confit. Oil can be heated until just hot, around 120 degrees F or 50 degrees C. The fish should not sizzle at all once placed in the oil. Maintain the heat until the fish is cooked through which may take longer than if it were in water. Remove and serve immediately.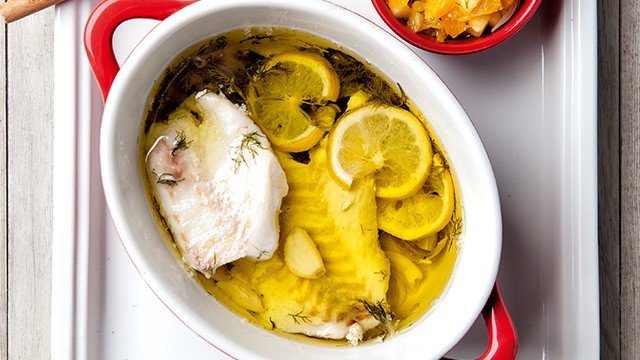 Poached Fish in Olive Oil Recipe
Posted in:
Recipe
***
Thinking about what to cook next? Join our Facebook group, Yummy Pinoy Cooking Club, to get more recipe ideas, share your own dishes, and find out what the rest of the community are making and eating!
Got your own version of the classic dishes? Pa-share naman! Get your recipe published on Yummy.ph by submitting your recipe here.
Yummy.ph is now on Quento! Click here to download the app on Android and IOS, and enjoy more articles and videos from us and your other favorite websites!