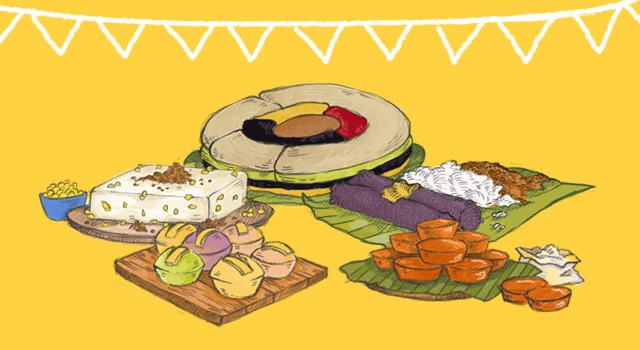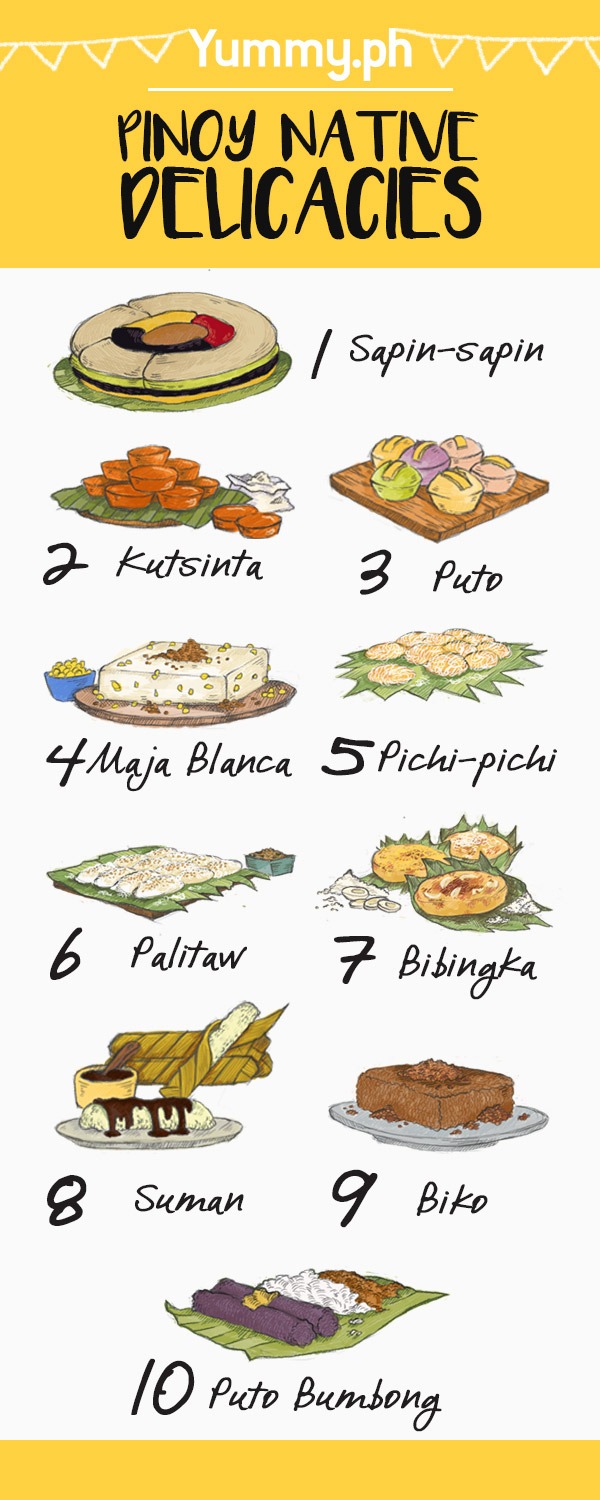 Sapin in Filipino means "to layer", and that's exactly how this tri-colored delicacy got its name. Sapin-sapin is a soft and chewy rice cake that usually has three differently-colored and flavored layers: purple, yellow, and white! The purple layer is usually flavored with ube, the yellow layer with langka or jackfruit, while the white is infused with macapuno or young coconut. It is also usually served with latik (toasted coconut curds) on top.
This steamed rice cake is a favorite mid-day snack in the Philippines. It is made with a mixture of rice flour and tapioca flour, sweetened with brown sugar, and colored with atsuete or annatto seeds. It also uses lihiya, lihia, or lye water to give it that signature springy texture, and is served with freshly grated coconut or niyog!
Puto is another kind of steamed rice cake, but unlike the kutsinta which is relatively chewy and sticky, puto is usually lighter and fluffier in texture. Classic puto are also white, although they can be colored or flavored depending on your preference. These soft and sweet rice cakes can be eaten as a snack or as a side with dinuguan (pork blood stew).
Maja blanca is a type of corn and coconut pudding thickened with cornstarch and topped with latik or toasted coconut curds. It is one of the Filipino delicacies whose history can be traced back to the Spanish colonization of the Philippines; the Filipino version of the Spanish manjar blanco, a milk-based pudding featuring almonds. Maja blanca's creamy, velvety texture is accentuated by the crunch of the sweet corn and chewy latik topping, and is best served cold.
This soft but chewy Filipino dessert is difficult to just have one of; pichi-pichi comes in bite-sized servings that are quite addicting! It is made from grated cassava or kamoteng kahoy and flavored with refreshing and mild pandan. After steaming, it comes out as a gelatinous and sticky ball that is rolled in cheese or grated coconut to enhance its flavor and make it easy to pick up! It's sometimes paired with grated cheese to give it a classic sweet-salty flavor combo! 
Palitaw gets its name from the Filipino word litaw, which means "to emerge". While palitaw is also a kind of rice cake, unlike puto or kutsinta, it is boiled and not steamed. During the boiling process, raw palitaw will sink to the bottom of the pot, and will float or emerge from the bottom when it's cooked! It is then rolled in a mixture of sugar and freshly grated coconut and then topped with toasted sesame seeds or peanuts. 
Bibingka is one of the Filipino delicacies that is most commonly enjoyed during the holidays. It's a rice cake made with coconut milk with slices of salted egg usually baked into it. Traditionally, bibingka is baked using a terra cotta oven that uses hot coals on top and at the bottom to heat the banana leaf-lined clay pot that holds the batter. When it is cooked, it is then smeared with margarine and topped with sugar and freshly grated coconut.
ADVERTISEMENT - CONTINUE READING BELOW
Recommended Videos
Suman is a glutinous rice cake that is usually wrapped in banana leaves and steamed. It's a great Filipino delicacy to have for breakfast, merienda, or dessert. Like most Philippine delicacies, different Philippine regions have different local versions of suman. For example, Pangasinan and Ilocos Norte have tupig, Dumaguete has budbod, while Bohol, Leyte, and Davao have moron. There are also other versions of suman that use corn instead of rice and palm leaves instead of banana!
Biko is a sweet glutinous rice cake that is topped with latik (toasted coconut curds). Traditionally, biko is made by cooking malagkit or glutinous rice low and slow in coconut milk, brown or muscovado sugar, and pandan. However, with the advent of rice cookers, you can now also pre-cook the glutinous rice and then finish it by transferring it to a pot with the caramelized coconut milk syrup before letting it set. Want to jazz up your biko with something tart and fragrant? Try using calamansi rind instead of pandan!
Puto bumbong is another one of the Filipino delicacies that are in demand during the holidays, just like bibingka. It is a glutinous rice cake, a type of puto, that is named as such because it is steamed in bumbong or bamboo tubes. Puto bumbong gets its distinctly purple color from pirurutong rice, a type of black or purple species of rice that is mixed and ground with glutinous rice before steaming.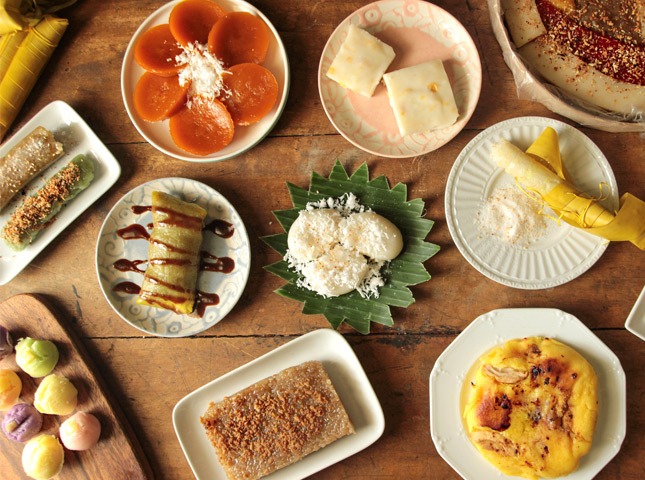 The Yummy.ph Guide To Kakanin
Posted in:
News + Trends