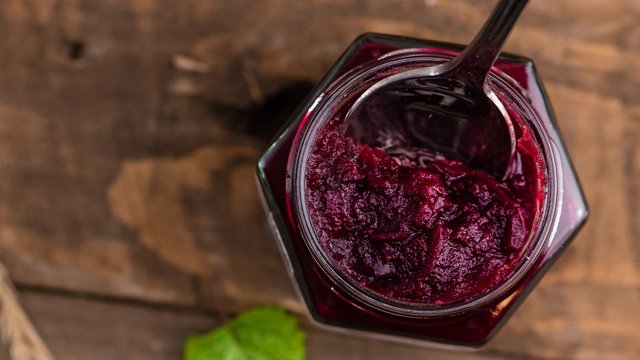 It isn't too unusual to find berries and other fruit in savory dishes. In fact, a dash of berry goodness helps give classic rich sauces a bit of sweet finesse. If you've made a rich stew with a deeply savory sauce or a roast with tasty pan drippings, try stirring in a teaspoonful of berry jam, puree, or syrup. It'll round out the flavors and help keep things nice and mellow.
Jam is also the perfect base to start a barbecue sauce if you like your smoky meats paired with something sweet. Grilled pork chops are made even more delicious with a sweet barbecue sauce served with it. Pump up the flavor even further by stirring in garlic chili sauce, cayenne pepper, red pepper flakes, sriracha, or any spicy ingredient for a kick that will complement the sweetness of a jam-based barbecue sauce.
Here's a tip: if you've got only a few spoonfuls of jam left, use it in place of honey when making a vinaigrette to toss in with your salad. Or, heat up those last few spoonfuls of your favorite jam and brush it onto fried chicken wings or grilled pork ribs. It creates a sticky, shiny glaze with a sweetness that's perfect for a delectable family lunch over the weekend.
Tips by Chino L. Cruz from "Chino's 10 ideas" feature in Yummy February 2017 issue with additional text from Roselle Miranda.