We bet the pancit palabok is one of your favorite orders at the popular fastfood chain. Guess what? We found that it's easy enough to hack at home, as long as you have the ingredients. It's a simple recipe but the combination of flavors is what makes it delicious and appetizing. Topped with crushed chicharon, slices of egg, and all the ingredients that made the sauce, this is one recipe you will want to keep handy for those times when the craving hits and there's no delivery fast enough to satisfy it.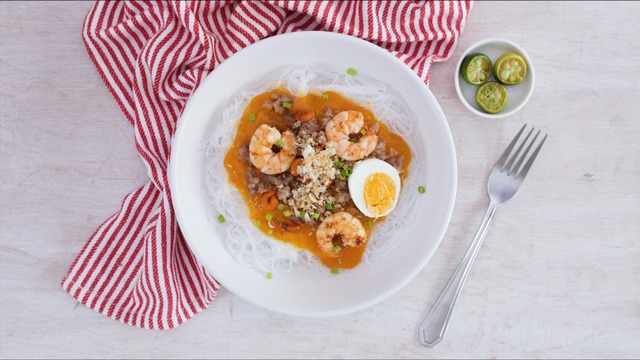 Jollibee-Style Palabok Recipe
Takes 20 minutes 
Makes 2 servings 
2 tablespoons canola oil 
1/2 cup ground pork 
6 pieces shrimp, peeled, deveined
1 tablespoon atsuete (annatto) seeds 
1 tablespoon hibe (small dried shrimp)
1/4 pork bouillon cube  
1/4 shrimp bouillon cube 
2 tablespoons cornstarch dissolved in 1 cup water
2 1/2 cups cooked pancit bihon, cooked according to package directions  
1 medium hard-boiled egg, sliced 
2 calamansi, halved 
Green onions, chopped, for garnish 
Chicharon, crushed, for garnish 
Salt and ground black pepper, to taste 
1 In a frying pan over medium heat, heat oil. Add pork and cook pork until cooked through. Using a slotted spoon, remove pork from the oil and set aside. 
2 In the same pan with the oil, add shrimp. Cook shrimp until opaque and orange, stirring. Remove from the oil using a slotted spoon and transfer to a plate. 
3 Still using the same pan, add atuete seeds. Cook seeds until it colors the oil, about 1 minute, stirring. Remove and discard seeds. Add hibe and cook until crisp. Remove from the oil. Add pork and shrimp bouillon pieces, and cook until dissolved. Pour in slurry. Bring to a boil then simmer until thickened, stirring. Season with salt and ground black pepper. 
4 To serve, place cooked bihon onto a plate. Top with sauce. Garnish with ground pork, shrimp, egg slices, green onions, crushed chicharon, and a side of calamansi. 
Craving other Jollibee fastfood recipes? Here you go: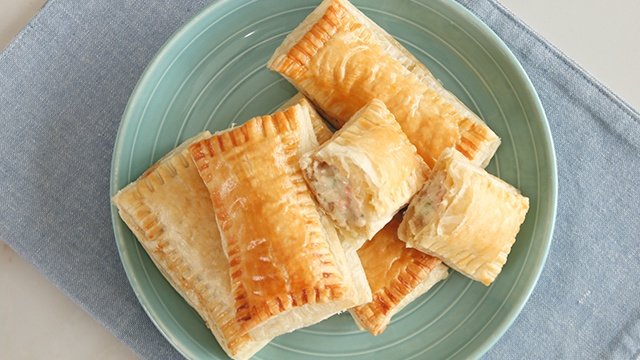 WATCH: How to Make Tuna Pie
Posted in:
Baking
ADVERTISEMENT - CONTINUE READING BELOW
Recommended Videos