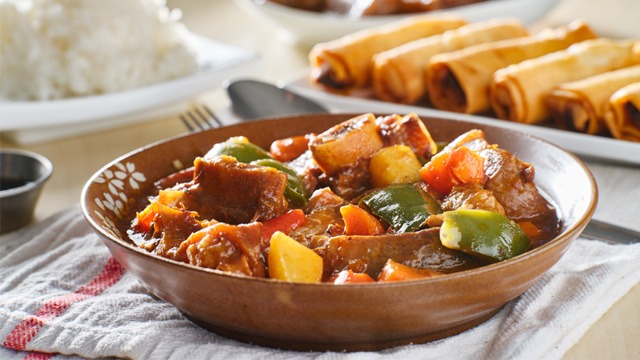 Beef kaldereta is our local beef stew. This long-cooked dish is a classic Filipino dish that was commonly only served during fiestas because of the effort and time needed to cook it. What makes our version unique from other beef stews is the addition of bell peppers which gives the stew a distinct flavor. 
There are three ways to cook kaldereta to ensure the beef is soft and tender to the bite:
• slow cook
• braise
• pressure cook 
You might be wondering what the difference between slow cooking and braising is. Both are long cooking processes that involve a heavy-bottomed pot, commonly a Dutch oven that has a tight lid or similar cookware, some cooking liquid, and heat. The big difference between the two is this: braising doesn't have to be on the stovetop. It can be done in the oven. This relieves you from hovering over the gently simmering pot and allows you to do other things. 
Pressure cooking the beef however requires a special kind of pot: a pressure cooker. This pot can come in a few forms: a mechanical pot with a tight-fitting lid that locks in place and a whistle or an electronic pot or multicooker that can accomplish more than one cooking processes. 
Whichever way you decide or the recipe instructs you to cook the beef, you know that the beef will be super tender and succulent. You're going to need kaldereta recipes and here are some of the best ones: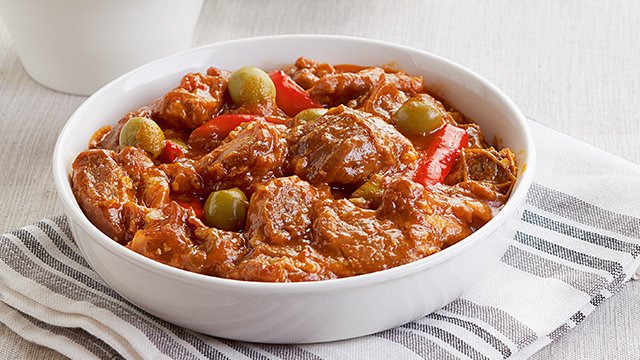 1 Classic Beef Kaldereta Recipe  
If classic is the way you want to go, here is the delicious version that we all know and love. This version uses olives to give it that delicious briny taste that goes wonderfully well with the tomatoes and bell peppers.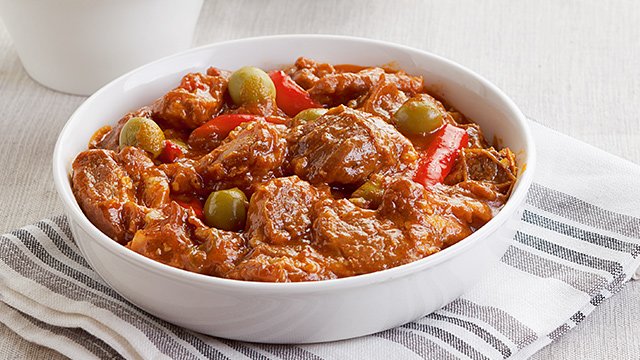 Beef Kaldereta Recipe
Posted in:
Recipe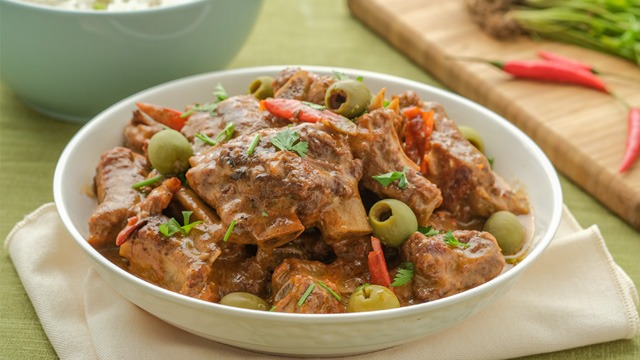 2 Short Ribs Caldereta Recipe 
Short ribs or the part of the ribs that is more cartilage than bone is supremely tasty and very beefy in taste. These choice cuts are the popular cut that Koreans love! For this recipe, use it to cook a super delicious caldereta that has all the flavors you love with a meaty stew like this one.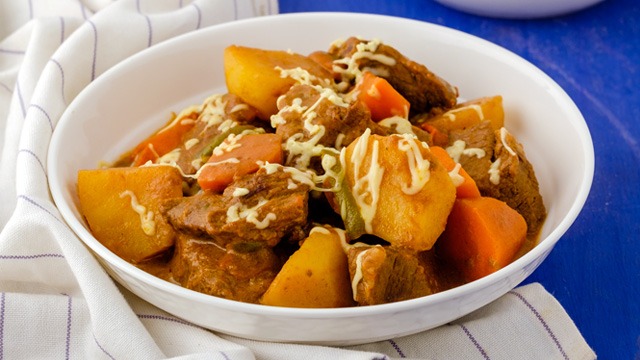 3 Cheesy Kaldereta Recipe  
Beef and cheese? Why not? Cheese can make any dish more delicious, but in the case of caldereta, it makes it delicious creamy and salty at the same time. 
ADVERTISEMENT - CONTINUE READING BELOW
Recommended Videos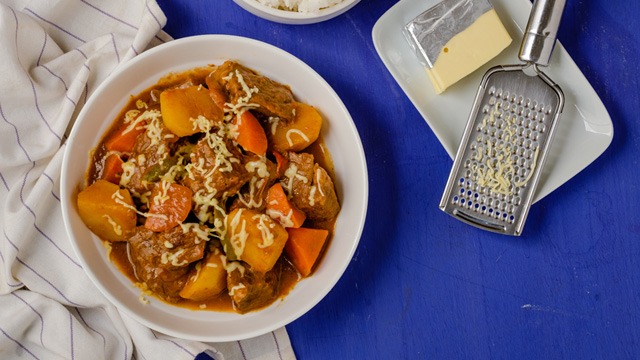 Cheesy Kaldereta Recipe
Posted in:
Recipe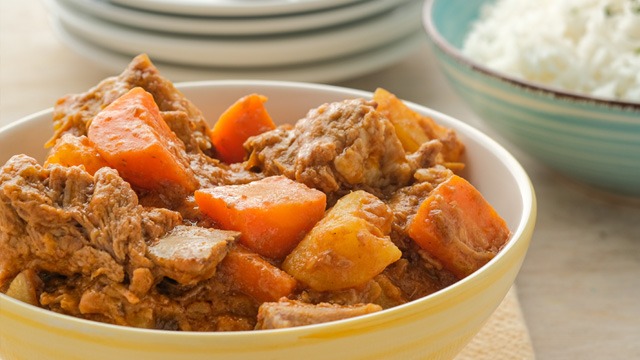 4 Kaldereta with Liver Spread and Peanut Butter Recipe 
Cheese may sound like a common mix-in for many dishes, but here's another unique suggestion: add some liver spread and some peanut butter into the stew instead. Liver spread may be a common ingredient for many kaldereta recipes but for some people, peanut butter is the ingredient that is just as necessary, too. It delivers a delicious creaminess without using dairy and gives it a nutty complementary flavor that is appetizing!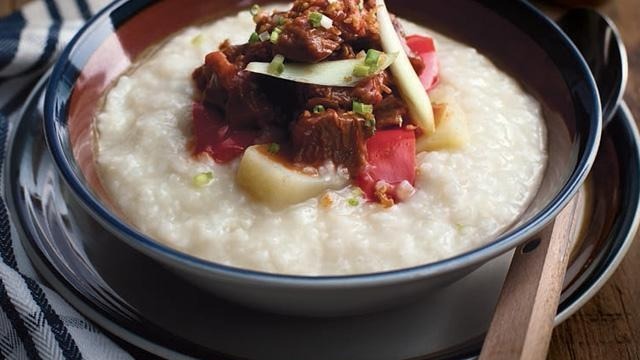 5 Arroz Caldo with Beef Caldereta Recipe 
If you have tasted lugaw made with beef bulalo or beef shank, then you know that beef can be just a addicting as chicken when it comes to this rice porridge recipe. In the case of this recipe, you can make your typical lugaw, goto, arroz caldo, or congee. Just top it with beef kaldereta for a meaty topping that makes it the star of the meal.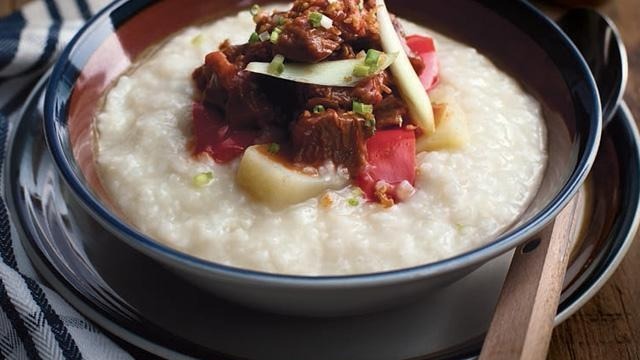 Arroz Caldo with Beef Caldereta
Posted in:
Recipe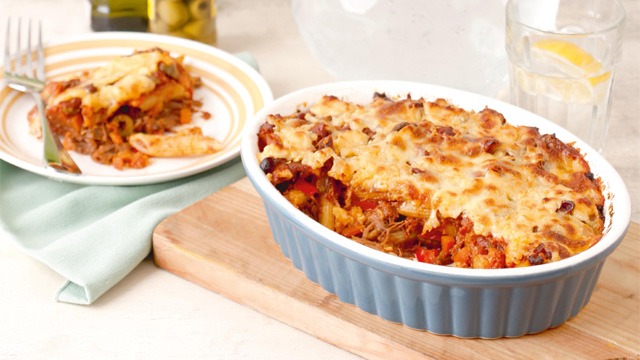 6 Baked Penne with Kaldereta Recipe 
Penne is not your typical baked pasta choice but in this case it's a delicious and genius choice. That's because the longer pasta can be the hiding place of strands of the shredded beef that you simmered beyond the fork-tender stage and into the fall-apart stage. Add these succulent beef strands in the sauce that the penne is tossed in and you've got a recipe that is bound to be addictive with every forkful.
You can even just lump the shredded beef onto soft tortillas for soft tacos for Taco Tuesday nights with the family. 
Shredded Beef Kaldereta Soft Tacos
Posted in:
Recipe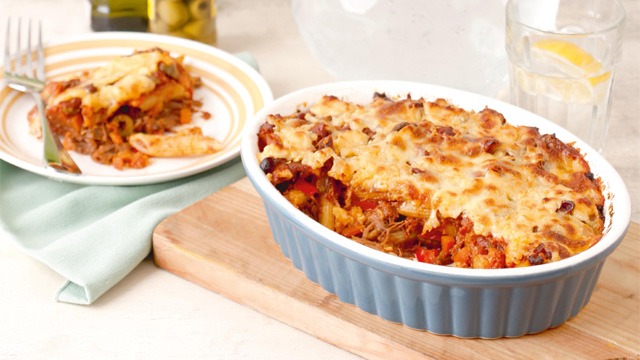 Baked Penne with Kaldereta
Posted in:
Recipe
How do you like cooking and serving your kalderetang baka? Give one of these recipes a try and see if you have discovered a new way to fall in love with kaldereta all over again.   
***
Thinking about what to cook next? Join our Facebook group, Yummy Pinoy Cooking Club, to get more recipe ideas, share your own dishes, and find out what the rest of the community are making and eating!
Got your own version of the classic dishes? Pa-share naman! Get your recipe published on Yummy.ph by submitting your recipe here.