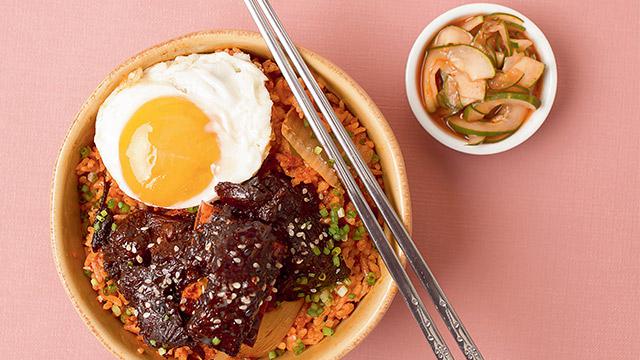 The kimchi might be your first introduction to Korean condiments. This fermented cabbage and chili powder concoction is one of the most popular Korean condiments 
There are many vegetables that you can make into kimchi, including kimchi made of cucumbers, red radishes, daikon or labanos, green beans or Baguio beans, carrots, and even asparagus spears. However, the most traditional is made from the long and napa cabbage or Chinese cabbage. This long, thick, and tightly bound cabbage has thick and wide white ribs which are the signature feature of this kind of cabbage.
Kimchi may be added to rice and if you're a big fan of this fermented, spicy cabbage, you'll love these kimchi fried recipe versions: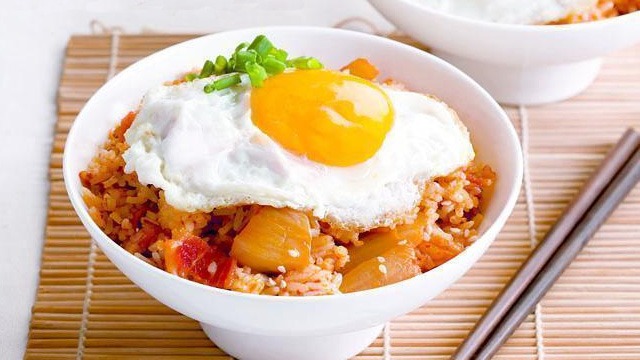 1 Kimchi Fried Rice Recipe 
A basic kimchi rice recipe can be a glorious and super flavorful fried rice recipe that you can make that has the best flavor. There's a reason why this basic kimchi fried rice recipe is so well loved!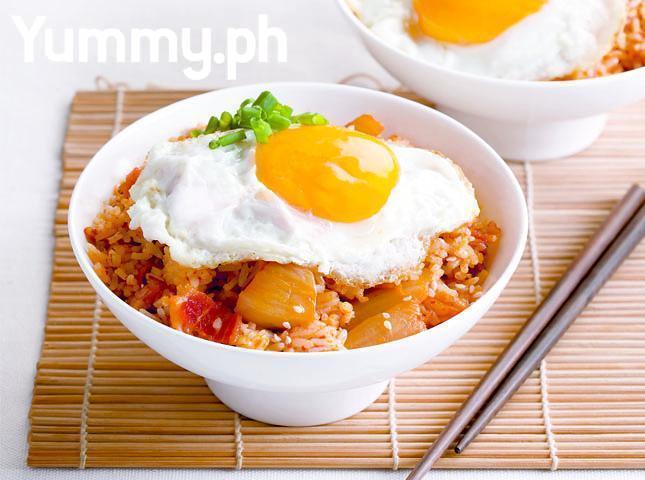 Kimchi Fried Rice
Posted in:
Recipe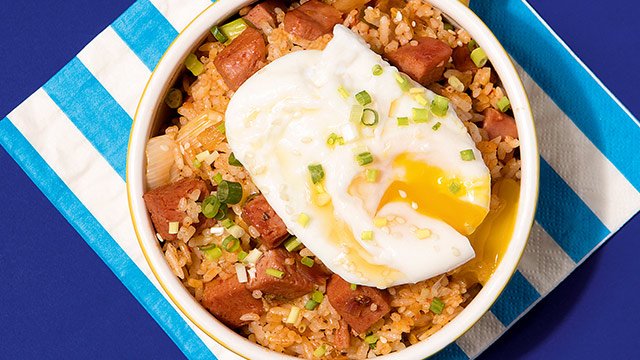 2 Kimchi and Spam Fried Rice Recipe 
You can always raid the kitchen cabinets for ingredients if you find you are short on ingredients. That could be why this recipe uses canned meat instead of pork chunks. However, if you're a fan of SPAM, you know exactly why this recipe is just as popular as the original kimchi fried rice recipe.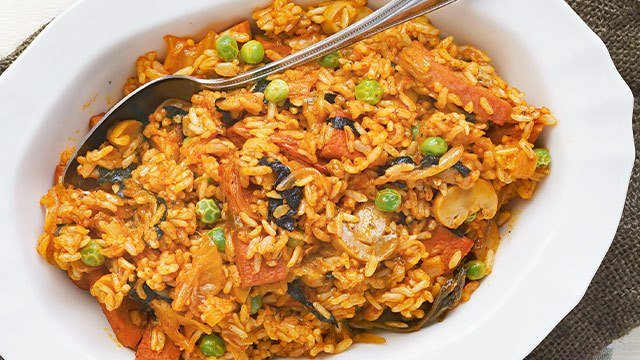 Kimchi and Spam Fried Rice Recipe
Posted in:
Recipe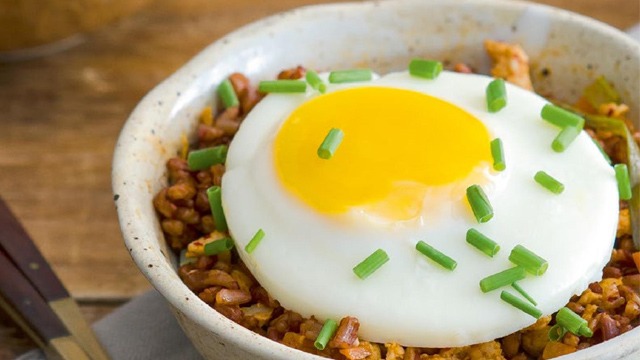 ADVERTISEMENT - CONTINUE READING BELOW
Recommended Videos
3 Kimchi Red Rice Bowl Recipe 
Anyone who is turning to alternative rice variants knows that the red rice is one of the heartier rice. This rice needs to be tenderized for longer than the typical white rice which is produced to be softer, fluffier to cook and eat. That's why if you are cooking red rice or any other rice variant, this hardy rice kernel needs more attention. It's a great rice to use for fried rice, such as in this kimchi rice recipe, since it can hold it's shape better, even if it's a little overcooked.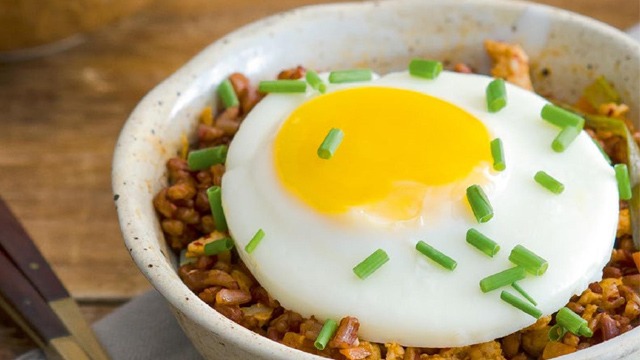 Kimchi Red Rice Bowl Recipe
Posted in:
Recipe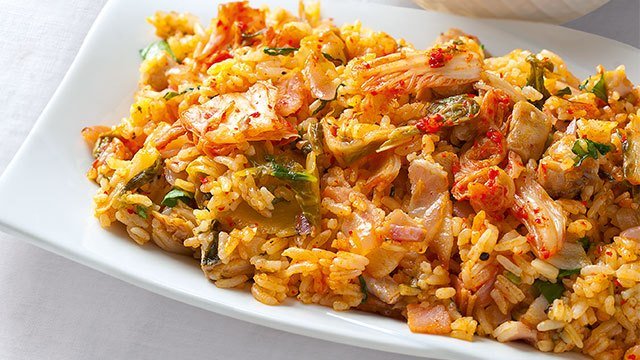 4 Chicken and Kimchi Fried Rice Recipe 
Chicken is a fantastic substitute for the other white meat and in this recipe, it's just as satisfying and meaty as you want it to be. Plus, since chicken doesn't need to be tenderized, it's the faster cooking meat option that you can whip up in minutes.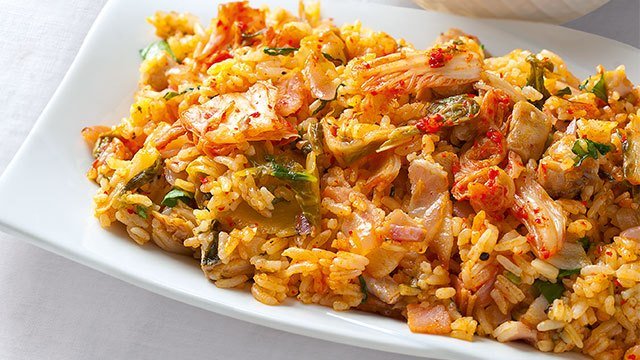 Chicken and Kimchi Fried Rice Recipe
Posted in:
Recipe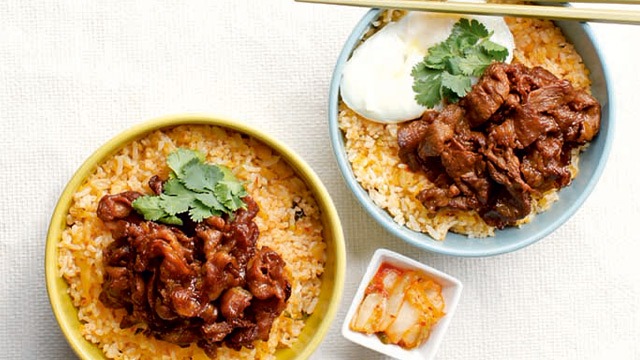 5 Bulgogi and Kimchi Fried Rice Recipe 
Bulgogi is basically a Korean-style tapa with its salty, sweet, and umami-packed marinade. If you are thinking of having kimchi rice for breakfast, this is a great recipe to try for a different taste in the morning. Since tapa and bulgogi have different marinades but use similar cuts of beef, you can switch out the marinade and make the one you're craving to eat.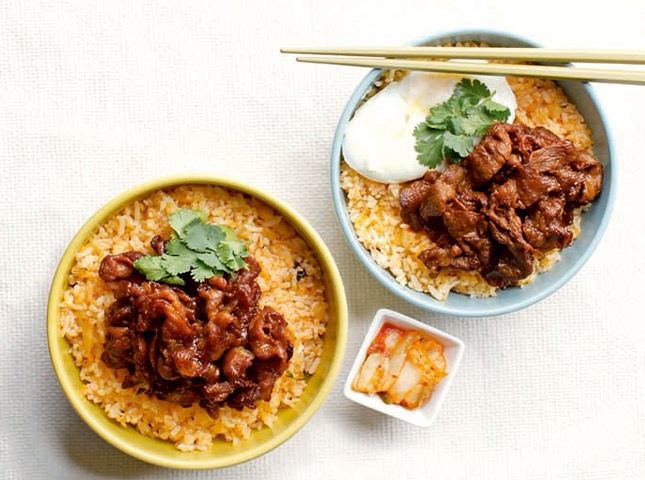 Bulgogi and Kimchi Rice Topping Recipe
Posted in:
Recipe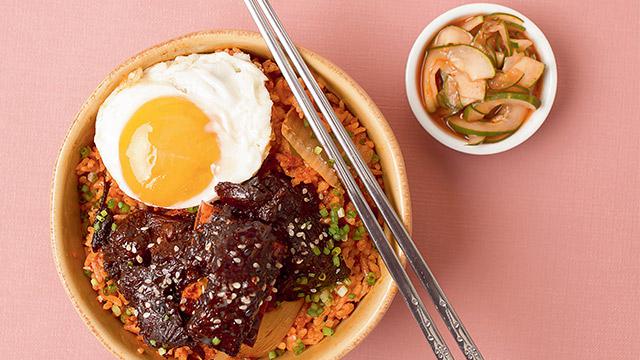 6 Beef Short Ribs and Kimchi Fried Rice Recipe 
Got time on your hands or do you have leftover beef short ribs that you can use to top your rice bowl with? This is a great recipe to make your kimchi fried rice meal worthy of being a hearty dinner. Beef short ribs are super meaty chunks of beef with pieces of ribs. These are classic Korean beef cuts but require time to make these tender. If you have a pressure cooker, these will be ready in half the time! If you have time but no pressure cooker, you can simmer these in the flavorful sauce until tender. Then you can serve it with your favorite kimchi fried rice recipe.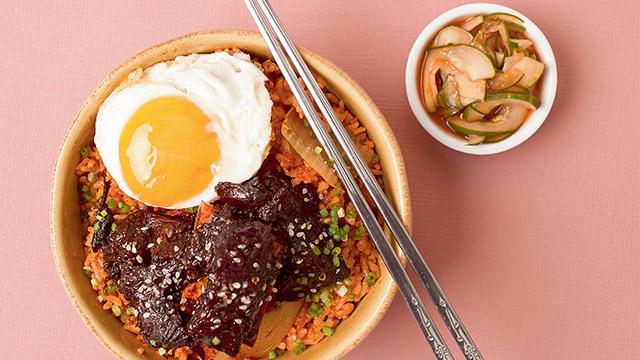 Beef Short Ribs with Kimchi Rice
Posted in:
Recipe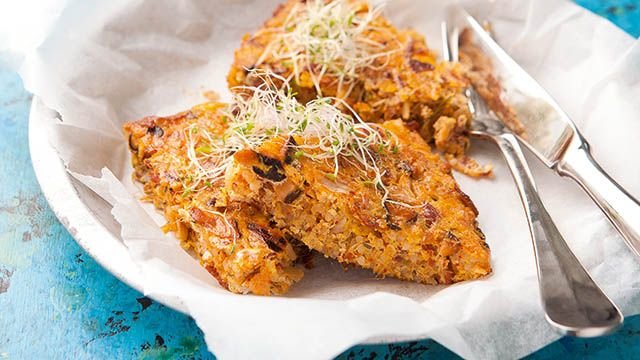 7 Bacon and Kimchi Frittata Recipe 
Want to change things up and serve your kimchi rice a different way? If you have eggs to spare, the kimchi rice is made into a one-pan meal filled with everything you love about your kimchi rice but in frittata form. Just slice and serve!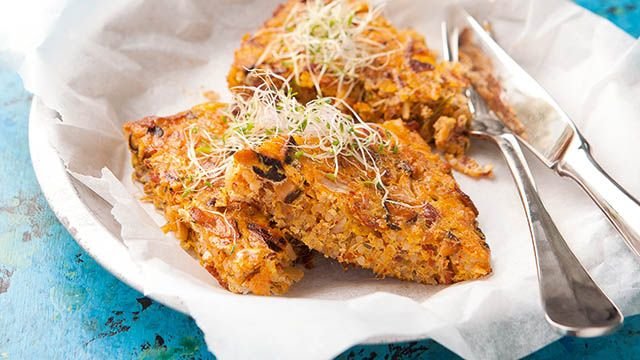 Bacon and Kimchi Frittata Recipe
Posted in:
Recipe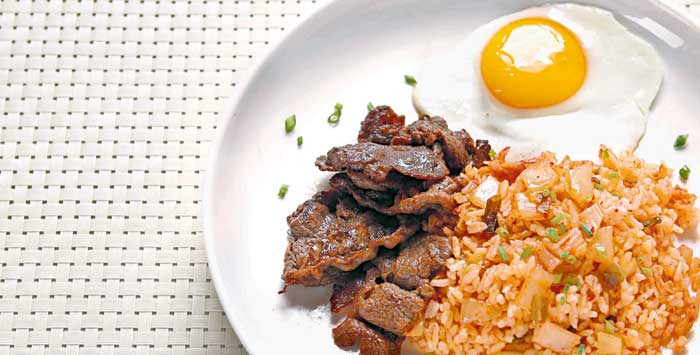 8 Korean-Style Steak and Eggs Recipe 
Kimchi fried rice can become boring if you're having it the same way over and over again! Why not make it fusion with this Korean kimchi fried rice paired with the classic steak and eggs? No need to make your steak more flavorful since your fried rice is already loaded with flavor! 
Korean-style Steak and Eggs
Posted in:
Recipe
ALSO READ: 
***
Thinking about what to cook next? Join our Facebook group, Yummy Pinoy Cooking Club, to get more recipe ideas, share your own dishes, and find out what the rest of the community are making and eating!
Got your own version of the classic dishes? Pa-share naman! Get your recipe published on Yummy.ph by submitting your recipe here!