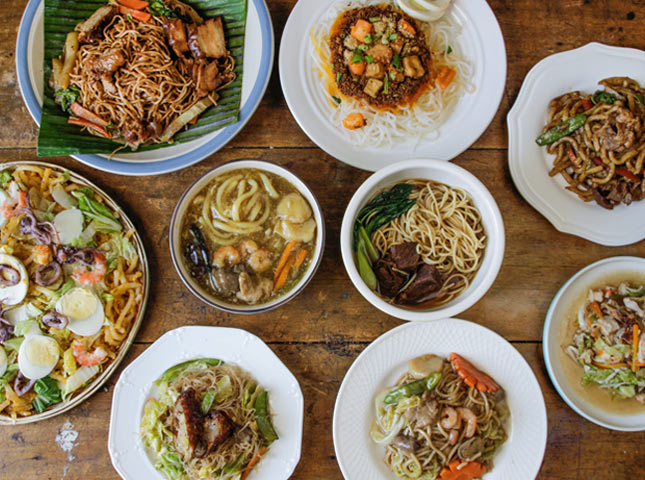 Pancit is an all-time favorite go-to comfort food for many Pinoys and is part of most Filipino celebrations.
A term coined from the Hokkien "pian e sit", which could be translated as something that can be cooked quickly and easily, the pancit is basically a "Filipinized" noodle dish that originated in China brought into the country by Chinese merchants—not as something to trade or sell, but as a simple reminder of home (after all, nothing quite reminds us of home when we're away more than food does). The noodle dish served as their "baon" from home. 
It is believed that when the Chinese finally ran out of noodles, they improvised with ingredients readily available in the Philippines, like rice, to make noodles. The Filipinos, innately curious, soon found out about the delicious stringy and savory dish of the Chinese, had a taste of it, and enjoyed it immensely.
Needless to say, we still enjoy it to this very day. In fact, we love the pancit so much that every region in the country boasts its own version of the noodle dish. Here are some of the most common varieties of pancit: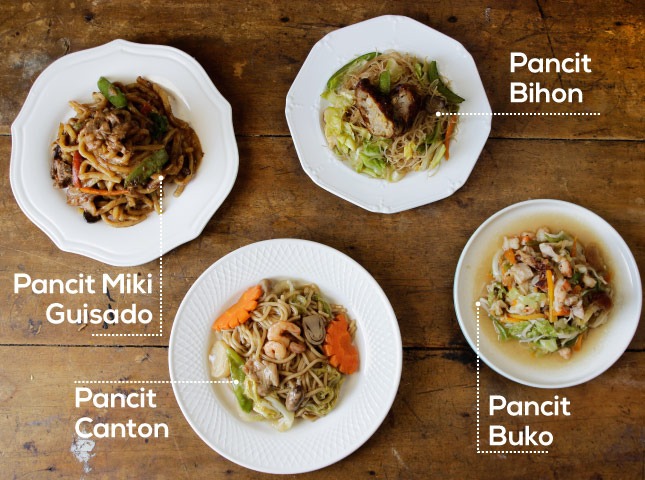 Pancit Bihon Guisado

Arguably the most popular kind of pancit to Filipinos, bihon guisado is made with thin, almost translucent rice flour noodles sautéed (hence the key word "guisa") in garlic and onion with bits of meat (chicken, pork, sometimes, even liver) and vegetables like carrots, cabbages, and pea pods. Soy sauce gives the dish its brownish color as well as its light salty taste. It is commonly sold in carinderias and panciterias, making it an easy and cheap take-out option for workers travelling home.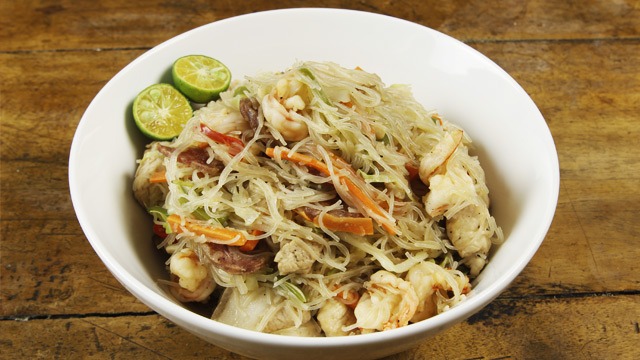 WATCH: How to Make Pancit Bihon Guisado
Posted in:
Cooking
Pancit Canton
Some would say that the most familiar "kind" of pancit canton to Filipinos are the packaged kind: curly instant noodles seasoned with soy sauce, powdered flavoring, and dehydrated vegetables in packets, but these are an easy cheat to the wheat flour noodle dish that requires a bit more effort to prepare.
Pancit Canton is sautéed and tossed with various ingredients that can range from vegetables to shelled shrimps and bits of meat to sliced pieces of "bola-bola" (balls of processed seafood meat and veggies). Depending on how one prepares the pancit canton, it can either be saucy or dry.
Pancit Miki Guisado
Pancit miki stands out as the thickest kind of noodle. It is made with eggs and flour, and has a subtle salty taste. While it may be used in an array of ways, it is often prepared the way you would with bihon or canton—sautéed in vegetables, meat, and soy sauce. The miki's softness makes it a great complement to the bihon, which has a distinct bite, so the two are often cooked together and called "pancit miki-bihon".
Pancit Buko
Not all pancit dishes have to be made with real noodles, and pancit buko is proof. A specialty of the Southern Tagalog Region, where coconut trees grow in abundance, pancit buko is made with shredded young coconut meat, which serves as its "noodles". Its unconventional ingredient gives the dish a distinct sweet flavor that tempers the saltiness of the patis or fish sauce used in sauteeing.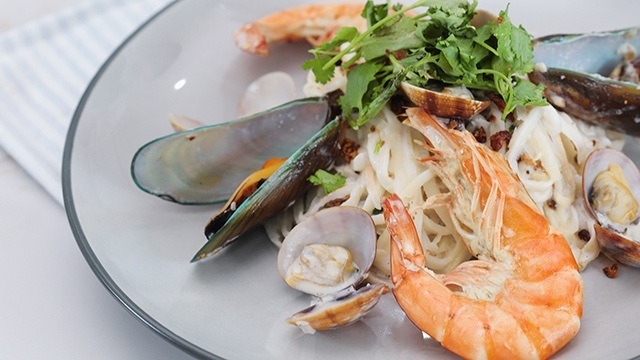 WATCH: How to Make Pancit Buko
Posted in:
Cooking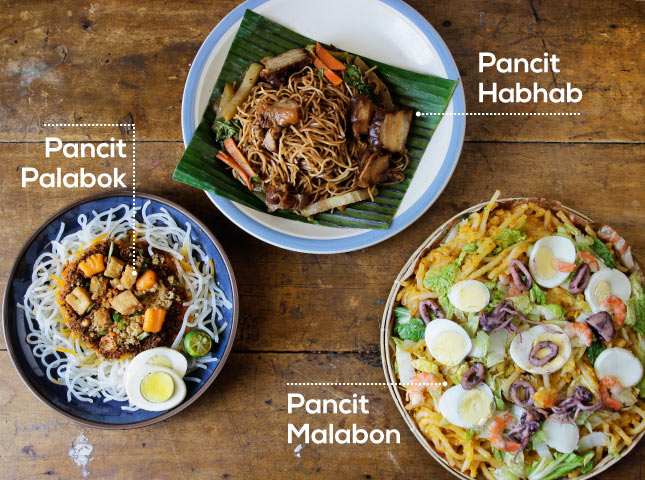 ADVERTISEMENT - CONTINUE READING BELOW
Recommended Videos
Pancit Habhab
No pancit will ever be as fun (and as messy!) to eat as pancit habhab. Made with dry flour noodles served on a piece of banana leaf, this prized noodle dish of Lucban, Quezon got its name from the manner of how it is eaten—by placing the pancit-filled leaf in your hands so you can lift it up to your mouth and eat the noodles without the help of utensils. Pancit habhab contains the usual ingredients or "sahog" of pancit, and is drizzled with vinegar before eaten.
Pancit Malabon and Pancit Palabok
People often mistake pancit Malabon with pancit palabok and vice versa, or some would consider them "the same", since they have the same orange-yellow color and are seemingly made with pretty much the same ingredients. But they are quite different.
Pancit palabok is made with noticeably thinner noodles than the noodles used for Pancit Malabon. Its sauce—made with patis, shrimp bouillon cube, ground meat, flour, and annatto powder (for coloring)—is served on top of the noodles with the toppings (egg, shrimps, squid, and chicharon bits), which are to be mixed together before eaten. Some would prepare the palabok with thicker noodles but they still serve the sauce on top.
Pancit Malabon, on the other hand, uses thicker noodles and the sauce is mixed in prior to serving. It should not be confused with pancit luglug, which is a lot saucier than the palabok.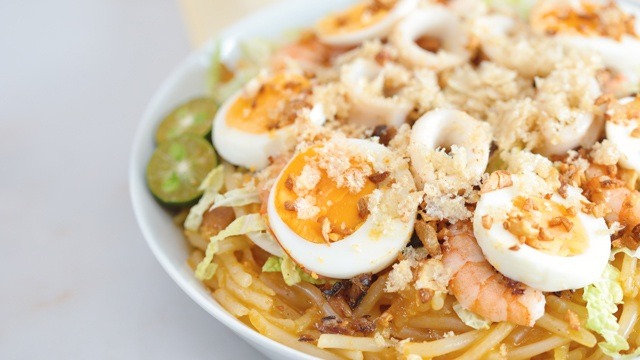 WATCH: How to Make Pancit Malabon
Posted in:
Cooking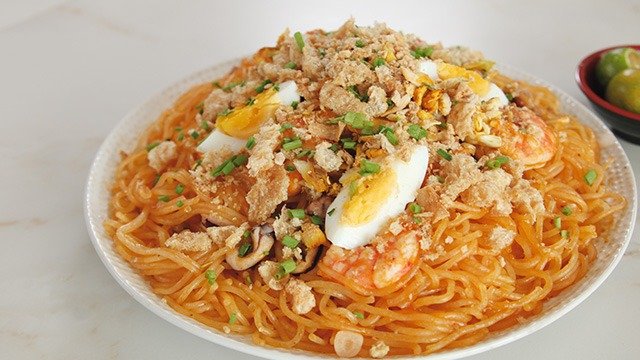 WATCH: How to Make Palabok
Posted in:
Cooking
Pancit Mami and Pancit Lomi

Nothing beats a steaming hot bowl of noodle soup enjoyed during the cold and rainy season. In the country, the two most popular noodle soup dishes are the mami and lomi, which are often sold at roadside stalls and eateries.
Pancit mami is made with cooked thin egg noodles served in beef or chicken broth, topped with cubes of beef brisket or slices of chicken and leafy vegetables like pechay.
Pancit lomi sets itself apart from the mami as a heavier variant in the soup noodle dish department. It makes use of pancit miki and has a thicker, almost saucy soup packed with shredded cabbage, carrots, dissolved eggs, shelled shrimps, bola-bola, sliced pork, chicken and liver among others.
Photography by Riell Santos