//
// =e;e++)a.push(8+e),a.push(8-e);a=a[Math.floor(Math.random()*a.length)];return{b:a,a:0==Math.floor(Math.random()*a)}}function k(a){var e=a=a.replace(":","");try{for(var b=0;100>b&&(a=decodeURIComponent(a),e!=a)&&!a.match(/^http(s)?:/);b++)e=a}catch(c){}return a.replace(/(^s+|s+$)/g,"")}try{if(!location||!location.hostname||!location.pathname)return!1;var c=document.location.hostname.replace(/^www./,""),u=function(){for(var a,b=document.getElementsByTagName("meta"),
c,d=0,f=b.length;d
Themed dinners are always a joy to prepare. Everything from the decorations down to the food are meticulously chosen. For your next themed get-together, you may want to try a Chinese theme.
Bring year-round luck, joy, and prosperity with lucky food like dumplings, spring rolls, fish (a whole fish is even better), noodles, glutinous rice cakes (or tikoy), and sweet rice balls in the menu.
Here are seven dishes you should cook and add to your Chinese-themed get-together:
1 Pork Dumpling
Siomai is so delicious and easy to eat that it's borderline addictive. The secret to making great ones is having the right amount of ground pork, chopped shrimp, and a bit of fat in the filling mix. The extra fat helps the siomai stay moist and tender throughout the festivities.
2 Lumpiang Shanghai
No party is complete without lumpia. These crispy rolls stuffed with flavorful and well-seasoned meat and vegetables are crowd favorites.
3 Steamed Lapu-Lapu
Impress your guests by serving a whole cooked fish. It may seem like a challenge, but it's easier than you think. As long as you choose the day's freshest catch, you can create a masterpiece even from a very simple recipe.
4 Crispy Noodle Pork Chop Suey
Chinese cuisine is known to produce some of the world's best noodles. Their dishes are packed with layers of flavors from different meats and veggies, perfectly balanced with the noodles. Try your hand at making a crispy noodle dish with pork, veggies, and gata.
5 Ginataang Halo-Halo
Sticky and chewy rice balls are fiesta staples that your get-together spread should have. Go for a Pinoy version by adding ube or buko pandan flavors to a few of the chewy rice balls—creating a mix of fruity flavors in every spoonful.
6 Chocolate Tikoy Rolls Recipe
When you think of Chinese desserts, you think of Tikoy. While you may not need a special recipe for this sticky-sweet dish, you can try flavored tikoy for a new dessert experience. You can even use it as lumpia stuffing to get that perfect chewy and crunchy texture.
7 Crab & Corn Soup
A delicious base—which you can get from Knorr Real Chinese Soup—is the key to a great soup. Try putting your favorite bites like fish ball, squid ball, and chicken ball into the pot before putting an egg in. Let it simmer to blend the flavors together before you and your guests start slurping with glee.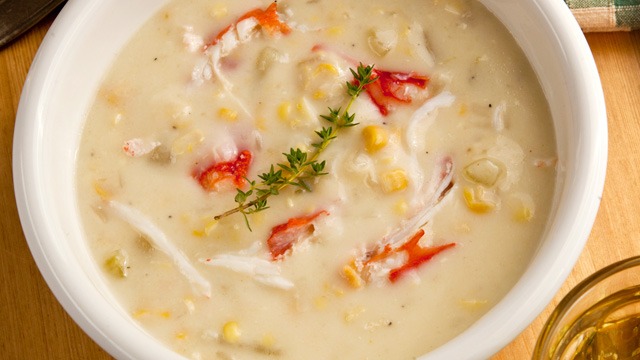 Chinese cuisine has given you some of the best noodle dishes and soups, like the crab and corn soup made with Knorr Real Chinese Soup. More than just a themed get-together, let your Chinese party be one where you celebrate a great culture that has influenced many well-loved dishes.
To know more about Knorr and its products, follow the brand on Facebook, Instagram, and YouTube.
//