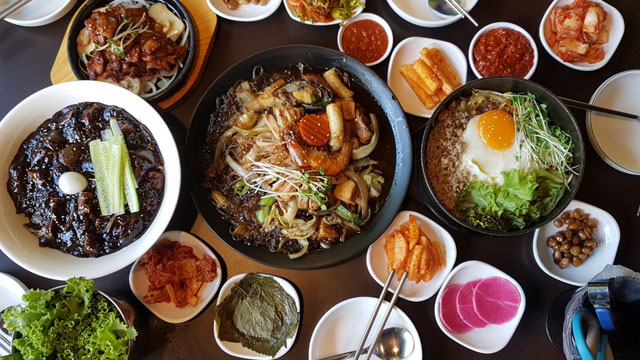 Did you know that Koreans also celebrate the new lunar year just like the Chinese do? The Korean New Year also falls on the same date as the Chinese New Year since the Koreans also follow the lunar calendar. All this means is that the new year begins on the first new moon after twelve moon cycles or approximately every 29.5 days have passed. This is why the lunar year falls on a different calendar date every year.
The Philippines and Korea have a long-standing love affair. Many Pinoys adore Korean pop culture, while Koreans appreciate Filipino hospitality and the relatively low cost of English education. So, this lunar year, you can celebrate Seollal, or the Korean New Year at the same time as the Chinese New Year.
Whether you're celebrating it as the Chinese or Korean New Year, it is a significant traditional festival. It's a fortnight's worth of celebrations, commencing on New Year's Day. Just like Christmas here in the Philippines, the lunar year celebration revolves around family reunions and honoring the deceased family members seeking continued guidance by offering food portions along with their meals.
This year, you might want to try exploring the different Korean dishes you might not have tried or go back to all-time favorite dishes to express your Korean appreciation through these gastronomic dishes:
1 Tteokguk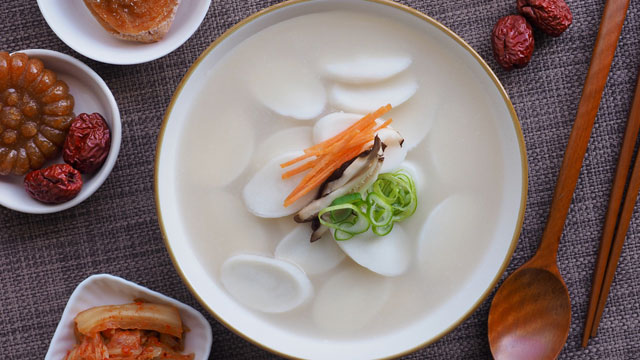 Almost all happy gatherings are punctuated with good food and established rituals. One of these dishes includes having a bowl of tteokguk or rice cake soup prepared with sliced rice cakes in beef broth. The soup base must be flavorful and evoke a rich umami taste like a good homemade stock should be. The rice cake used for this soup is unsweetened and fashioned like a long cylinder also known as tteok. For the soup, the rice cake is cut into tiny oval shapes. The white oval form indicates a bright and prosperous new year, while the thickened collagen-laden broth denotes a fresh start for the new year. 
2 Mandu  
Another new year must-try is mandu or kimchi dumpling. When added with your soup, it adds another subtle profile.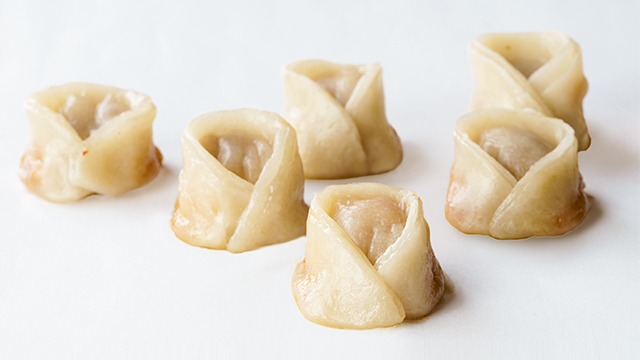 Meaty Dumplings (Korean Mandu) Recipe
Posted in:
Recipe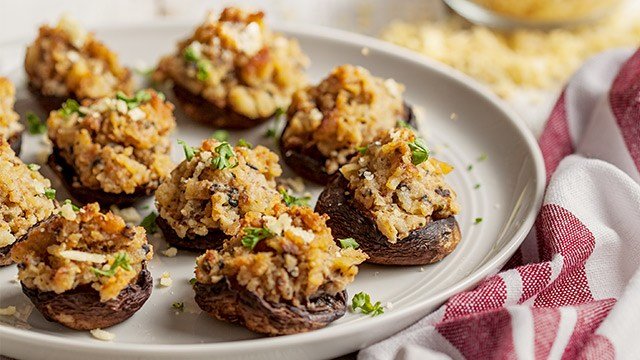 3 Pyogo Jeon
Plant-based enthusiasts would be happy with a dish like Pyogo Jeon or stuffed shiitake mushrooms. What makes this dish difficult to re-create is the traditional carving on the mushroom, which you can forego since it does not have any bearing on the taste.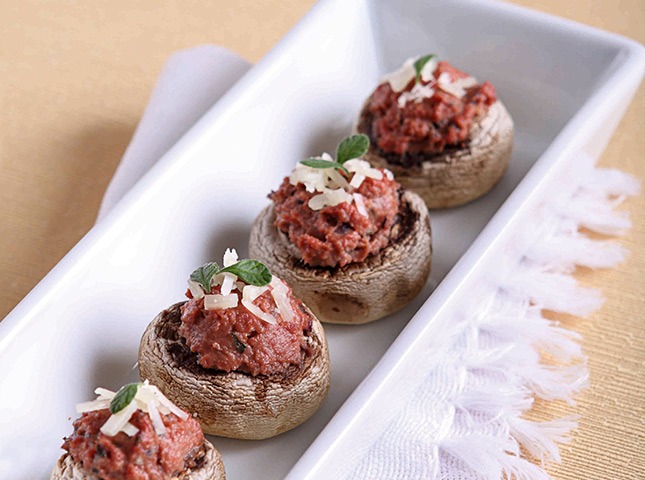 Pate-Stuffed Mushroom Bites Recipe
Posted in:
Recipe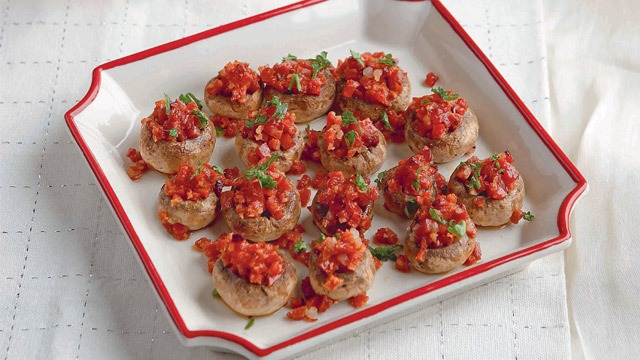 Chorizo-Stuffed Mushrooms
Posted in:
Recipe
4 Wanjajeon
The wanjajeon or pan-fried meatball in egg batter is an easy dish to try which is just meatballs, but log shaped like our own embutido and cut crosswise to become mini patties. These are then battered and fried to crispy perfection.
5 Bulgogi 
Pan-fried battered food or jeon are expected New Year fare, but for the beef, why not skip the egg and flour and go with the classic beef bulgogi. Celebrations as important such as this can be marked with an extra serving of beef.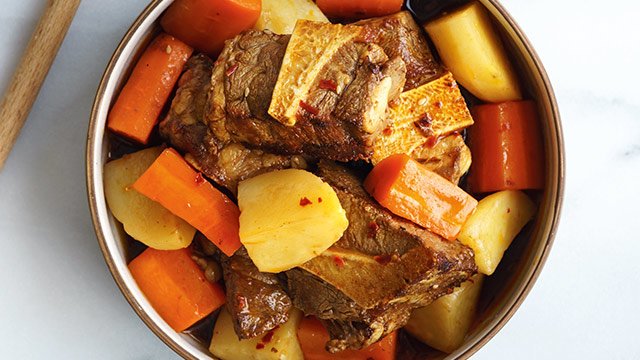 6 Galbi Jjim
The beef stew of Korea or also known as galbi jjim differs from the usual braising method often used in Western cuisine since it does not include searing the meat first. Instead, the ribs are parboiled in water with a few aromatic vegetables before braising in a sweet and flavorful braising liquid. Cooking the ribs in a water bath is a way of removing extra fat and blood from them. After removing the fat from the ribs, boil them in a bit of water and use the stock that results as a base for the braising liquid. Chestnuts, jujubes, pine nuts, and ginkgo nuts are traditional garnishes for this meal, and they add a touch of elegance to the presentation. However, the ribs are still excellent, even if the garnishes are unavailable.
7 Galbi 
Korean braised pork ribs or galbi will have you forgetting your grill temporarily. These excellent ribs are tender to the extreme. Gochujang sauce which has a slight sweetness is used with red pepper flakes. Ribs are the perfect braising meat option. We recommend increasing the amount of ginger you use because pork tastes fantastic when you use a lot of ginger. You can cook on a stovetop, guided by the same ingredients. You can opt to add more vegetables like carrots.
ADVERTISEMENT - CONTINUE READING BELOW
Recommended Videos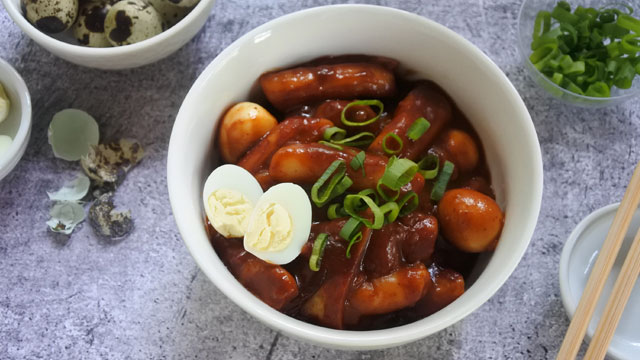 8 Tteokbokki 
Do you know the original version of tteokbokki was soy sauce-based and sauteed with vegetables? Local folklore cited this dish revived the king's appetite back in the Joseon Dynasty.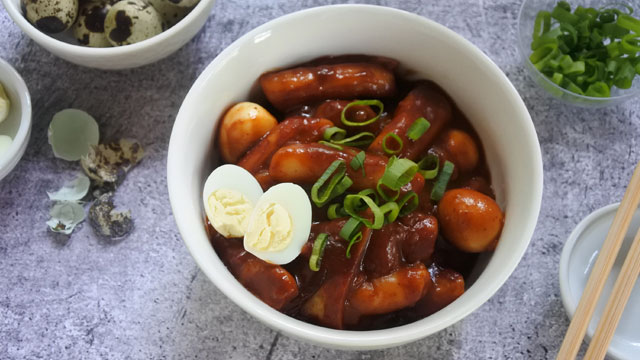 WATCH: How To Make Tteokbokki
Posted in:
Cooking
9 Nabak
Slightly reminiscent of our atchara is nabak or water kimchi. The radish, cabbage, pear or apple slices, and scallions are kept in a jar to ferment. It is a refreshing side dish to the savory meat dishes on the dining table.
10 Crab omelet 
Eggs are always a staple side dish; the crab meat omelet is from imitation crab and minced vegetables available in your pantry but using the crab meat as the mold to make the fancy heart-shaped design.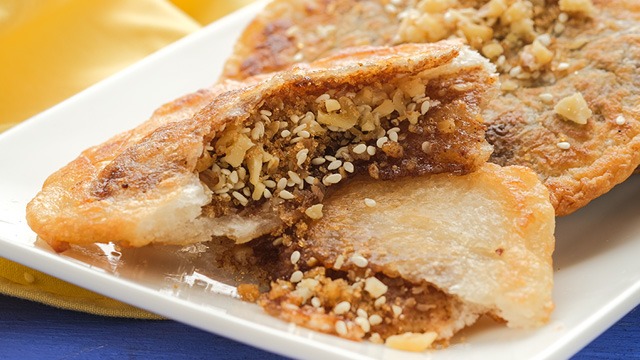 11 Hotteok
For dessert, try the sweet Korean pancake or hotteok. Hotteok tastes like a bready pancake packed with cinnamon sugar. Because it is a yeasted dough, you get a remarkable rise that mimics a soft bread, but the cooking method gives it the crisp outsides of a pancake cooked in a skillet.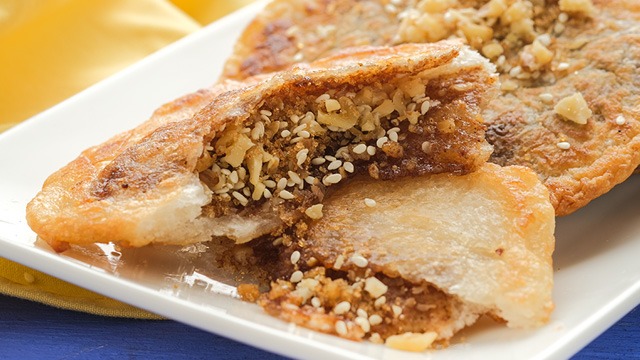 Korean Pancake (Hotteok) Recipe
Posted in:
Recipe
These are just some exciting culinary suggestions for this new lunar calendar. Still, for whatever reason, if you find yourself wanting the reliable taste of Korean ramen the world has fallen in love with, we recommend these tips to make your instant noodle meal more flavorful: 
• To enhance soup taste, add dried mushrooms and leeks while boiling your water.
• Try the milky version by scooping a tablespoon of milk powder in your broth and adding a teaspoon of gochujang paste.
• Add meat like a strip of bacon; add one beaten egg and sesame oil to your broth, top your ramen with crispy shredded nori.
• Do not overcook your noodles.
You can even go back to the tried and tested but much loved crispy twice-fried chicken, have a beer, and just relax while watching your K-Pop fix.
***